Among a mass of shitty news this Monday, the Academy Awards nominations were announced and "Little Women" director, Greta Gerwig, was snubbed, although the movie nailed six other spots, including Best Picture — no female directors nominated at all, just bullshit.
I saw it Christmas Day with two of my daughters and really, really loved it. Instead of a dated piece from a way-long-ago time, this version felt like right now.
Except for the baby little men who are scared of their own shadow…
The "Little Women" problem with men is very real. I don't say that lightly and am very alarmed.
In the past day have been told by 3 male friends who usually trust me that they either refuse to see it or probably won't have time. Despite my saying it's tied for #1 of 2019.

— Janet Maslin (@JanetMaslin) December 21, 2019
Via Vox this morning:
At the Golden Globes, "Little Women" only managed to scrape up nods for Saoirse Ronan's turn as Jo March and for Best Original Score.
It didn't win in either category.
Greta Gerwig's screenplay has a WGA nomination, but her direction went unnoticed at the Directors Guild Awards.
And the Screen Actors Guild Awards ignored the movie completely.
Little Women is one of most successful movies of 2019.
It has a 95-percent fresh rating at Rotten Tomatoes, a score of 91 at Metacritic, and it's grossed $60 million at the box office.
It is, in many ways, the kind of movie that we think of as awards bait.
It's an adaptation of a beloved novel.
It stars half the hottest young talent in Hollywood, plus Meryl Streep.
It's the sophomore outing of a director whose first film was heavily acclaimed and awarded.
"Little Women" is the kind of movie that award voters traditionally eat up with a spoon.
Yet the biggest awards bodies in film seem to be generally overlooking it, to the extent that its Best Picture nomination has the whiff of a consolation prize.
These consistent snubs fit neatly into another narrative about Little Women that's been forming over the past few months.
It goes roughly like this: Men aren't watching Little Women.
They don't care that it's supposed to be great.
They don't care about the cast of stars or Gerwig's directorial vision or all the critical buzz.
They just aren't willing to watch it.
…
Some analysts have described this narrative as a "media guilt-trip campaign," arguing that it's perfectly fine for people to watch whatever kind of movies they personally want to watch, and that Little Women's strong box office showing proves that it doesn't need men's interest to be a hit.
But Little Women's anemic showing when it comes to awards demonstrates that men's consistent disinterest in a "woman's picture" like Little Women comes with real consequences.
However, the reality is this:
Teddy Roosevelt wrote that he "worshipped" Little Women. Stephen King said it inspired his writing. George Orwell and John Paul Stevens ranked it as a favorite book.

The only men who have nothing to learn from Little Women are those whose masculinity is too fragile to see it. https://t.co/RxYNyh1nz8

— Sarah Kaplan (@sarahkaplan48) December 18, 2019
Strong, talented women are a way-good thing. And they need to be recognized for their achievements, just like fucking men. We need a lot more Gerwigs kicking ass in all categories — today Bernie Sanders supposedly told Elizabeth Warren last December a woman couldn't win the presidency this year.
Sanders denied it: '"It is ludicrous to believe that at the same meeting where Elizabeth Warren told me she was going to run for president, I would tell her that a woman couldn't win. It's sad that, three weeks before the Iowa caucus and a year after that private conversation, staff who weren't in the room are lying about what happened. What I did say that night was that Donald Trump is a sexist, a racist and a liar who would weaponize whatever he could. Do I believe a woman can win in 2020? Of course! After all, Hillary Clinton beat Donald Trump by 3 million votes in 2016."'
Shit…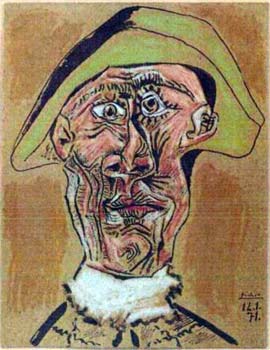 (Illustration: Pablo Picasso's 'Harlequin Head,' found here),