(Illustration, Jim Lehrer, found here).
The awesome PBS journalist Jim Lehrer died today, age 85.
He was the real voice of top-notch integrity of the Fourth Estate, an entire generation's worth of reporting in the white-light of truth and reality. I started my journalism career in the mid-1970s, about the same time Lehrer teamed-up with Robert MacNeil to create the origins of the PBS news operation, and was part of my daily TV-news watching line-up. Although they were considered a bit bland compared to CBS or ABC (not to mention the popularity of 'Uncle' Walter Cronkite), the programs were detailed and comprehensive.
A remembrance via The Week this afternoon:
Judy Woodruff, managing editor of PBS NewsHour, said in a press release that the beloved journalist died "peacefully in his sleep at home" on Thursday.
"I'm heartbroken at the loss of someone who was central to my professional life, a mentor to me and someone whose friendship I've cherished for decades," Woodruff said.
"I've looked up to him as the standard for fair, probing and thoughtful journalism and I know countless others who feel the same way."
PBS President Paula Kerger said the network is "deeply saddened" by Lehrer's death, noting that he "exemplified excellence in journalism throughout his extraordinary career."
Lehrer served as PBS anchor for 36 years, founding PBS NewsHour with Robert MacNeil.
He also moderated 12 presidential debates, which PBS notes in its press release is the most of anyone in U.S. history, and wrote numerous novels, memoirs, and plays.
Journalists paid tribute to Leher on Thursday, with CNN's Jake Tapper remembering him as a "wonderful man and superb journalist," Fox News' Bret Baier calling him "one of the best debate moderators and an inspiration to a whole generation of political journalists — including this one," and The Washington Post's Robert Costa writing, "I will miss him, particularly the love of country and politics he brought to everything he did."
In this awful age of 'alternative facts,' we need more news people like Lehrer…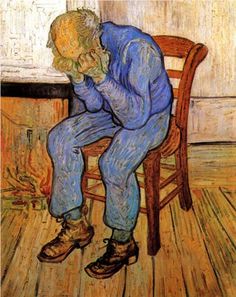 (Illustration: Vincent van Gogh's 'Old Man in Sorrow (On the Threshold of Eternity)' found here).