A snapshot of Black Friday in a world dominated by a horror which would be funny if not for nuclear codes, and so forth, and the way-precarious position we're in until Jan. 20, and maybe beyond:
JUST IN: President Trump snaps at reporter objecting to the President's false claims about the election: "You're just a lightweight. Don't talk to me that way. I'm the President of the United States. Don't ever talk to the President that way." pic.twitter.com/RbTKItjs9L

— The Hill (@thehill) November 26, 2020
Yesterday the tide was set — per HuffPost last night:
Reuters White House correspondent Jeff Mason asked Trump if he will concede when the Electoral College votes for President-elect Joe Biden.

"Well if they do, they made a mistake, because this election was a fraud," Trump replied, before launching into a tirade about the number of votes Biden got compared to former President Barack Obama.

When Mason interrupted this lengthy digression, Trump snapped, "Don't talk to me that way."

"You're just a lightweight. Don't talk to me that way. I'm the president of the United States. Don't ever talk to the president that way," he added.

This tone typified much of the press conference, in which the president evaded questions about whether he will attend Biden's inauguration, persistently alleged widespread voter fraud, attacked election officials, and complained that his successor shouldn't be allowed to take credit for a COVID-19 vaccine.
After this shit, Jake Tapper at CNN gave the T-Rump a burn (also HuffPost):
The excellent journalist @jeffmason1 is on the other end of this spectacle.

Jeff will still be working at the White House after January 20, 2021. https://t.co/OJoGCvzUrG

— Jake Tapper (@jaketapper) November 27, 2020
Which most-likely lead to this — via UK's Independent:
The staffer in charge of the optics of this tiny Resolute Desk must be a secret resister

His makeup artist has clearly always been one of us#DiaperDon pic.twitter.com/EaH1RC433I

— Lindy Li (@lindyli) November 27, 2020
Further from the Independent:
Donald Trump has angrily declared Twitter a national security threat after #DiaperDon went viral following a news conference in which he repeatedly complained about perceived injustices.

"Twitter is sending out totally false 'Trends' that have absolutely nothing to do with what is really trending in the world. They make it up, and only negative 'stuff'," the US president tweeted without providing evidence in the early hours of Friday morning.

Mr Trump did not say which trending topic upset him, but following Thursday's press briefing, which saw him furiously assail a reporter from behind a surprisingly small desk, the hashtag #DiaperDon surged towards the top of Twitter's trending list in the US and UK.

"For purposes of National Security, Section 230 must be immediately terminated!!!" Mr Trump added, in reference to part of a 1996 law which protects websites from lawsuits over content posted by users. Any changes to these protections would fundamentally change how the internet works.
…
Star Wars star Mark Hamill later tweeted: "Maybe if you behave yourself, stop lying to undermine a fair election & start thinking of what's good for the country instead of whining about how unfairly you are treated, you'll be invited to sit at the big boy's table #DiaperDon"
Paul Campos at LG&M this morning had bestest-final take:
I notice the UK papers are all over this, while the Respectable Media in the US aren't talking about it, even though #DiaperDon is the #1 trending hashtag in the world — a fact which the president of the United States considers to be a national security crisis.

Let me repeat that: The fact that #DiaperDon is the top trending hashtag on Twitter is considered a national security crisis by a man who has the authority to unilaterally order the launch of nuclear weapons.

People who are too young to remember these years, or are born later, are never going to be able to really understand what it was like.
I mean I barely can and I'm actually here.
All I can say is…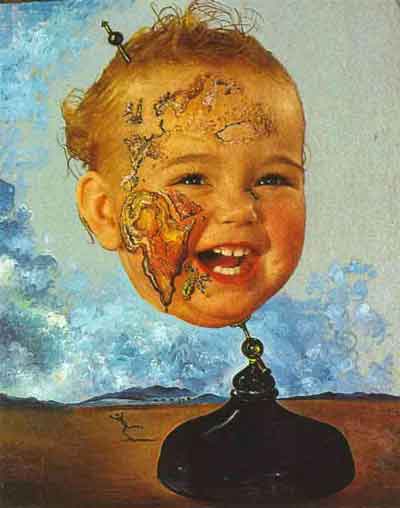 (Illustration: Salvador Dali's 'Baby Map of the World,' found here).