As we await the hopefully forgone conclusions of the Electoral college vote today, there's a related side-note with an awesome interview with the way-great Cher this morning at the Guardian — I've had an incredible crush on her since 1965 as a sophomore in high school. She's 'only' two years older than I, so there was a chance…
When she and Sonny appeared on Dick Cark's "Where The Action Is," it was mind-blowing as shit.
Although she's been in the news lately for helping in the liberation of Kaavan the elephant, her remarks on shittiness of the T-Rump is priceless:
How has Donald Trump changed the culture of the United States?
"It's toxic," she says.
"People who just disagreed with each other before are now enemies. I hate to even call him a president because all he does is watch TV."

In October, Cher recorded a song for Joe Biden's presidential campaign, Happiness Is Just a Thing Called Joe, a reworked version of a number from the 1940s musical Cabin in the Sky.
I tell her I love it and ask if Biden has said anything to her about it.
"Well, yes, I think he loves it, too." She pauses.
"I said if Trump can't be in the White House, he's going to burn it down. He's trying to block Joe at every moment. He's the most vindictive person I've ever witnessed. I think he's fighting so hard because he's going to be prosecuted when he gets out of the White House."
Could he end up in prison?
"Oh, I hope so. I'll be dancing around."

When she talks about Trump she sounds traumatised.
She tries not to mention his name.
"I hate him," she says.
Have you hated anybody like this before?
"No, in my whole life, never. I pretty much disliked Bush when he started those wars, and I could say for a minute it was touch and go for hate. But the one thing I know is he loves America and Trump doesn't."
Read the whole piece, Cher continues to be just marvelous. Wish there were more — I haven't seen "Mamma Mia! Here We Go Again," her latest, but all the rest of her films, yeah.
List of her 30-best music (ranked) here.
One of my way-many favorites:
Cher's closing words are right-on: '"Making people happy. It sounds corny, but I mean it. I love being able to take an audience and move them to a different place."'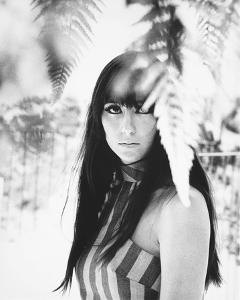 (Illustration: 'Cher,' found here).