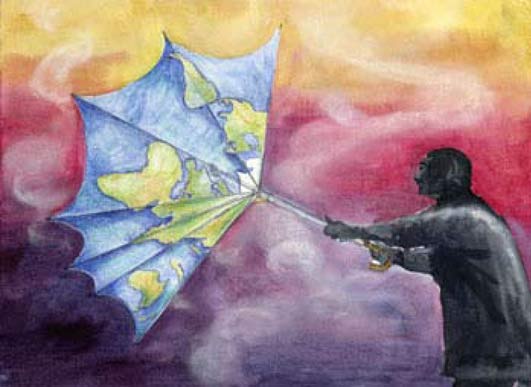 (Illustration from the UN's International Children's Painting Competition, and found here).
One of the top-tier news stories the last few cycles has been the weather in Texas, and really, throughout the southern US as a whole, and really, weather in general and how grisly our living enviroment is right now. Although here in California's Central Valley the weather isn't too bad, a bit overcast, but pleasant — not so in Texas.
Another offshoot of climate change on the weather (CNN):
On a normal day, the Houston Society for the Prevention of Cruelty to Animals gets 25-30 calls reporting animal cruelty.

But since winter storms have pummeled Texas with power and water outages, that number has spiked to around 150 per day, the organization told CNN.
"The neglect is already there," Julie Kuenstle, Houston SPCA vice president of communications, said. "But these extreme and now deadly temperatures exacerbate the situation."
Note the word, 'exacerbate,' a whatever which makes shit worse. Global warming is making weather and people worse. And we're not being serious about addressing the problem.
Texas is an eye-opener (via NPR yesterday):
"The extreme weather events that we're experiencing this week across the central, southern and now the eastern United States do yet again demonstrate to us that climate change is real, and it's happening now, and we're not adequately prepared for it," said Sherwood-Randall, who also serves as deputy national security advisor.

"Power grids across our country, particularly in Texas, are overloaded by the demands that are placed on them under these circumstances, and the infrastructure is not built to withstand these extreme conditions," she added.
And there's more to come.
A look at crisis in preparation, which actually means it's a 'crisis' in preparing for a crisis — we're still not anywhere near ready for these approaching/already-here environmental circumstances. A quick glimpse at the Texas problens this morning at the Guardian — apparently, not only are we not ready, we're maybe close to a near-final warning mark:
When California saw widespread power blackouts last year during wildfires and a summer "heat storm," Republican lawmakers from Texas were quick to deride the coastal state's energy policies.
"California is now unable to perform even basic functions of civilization, like having reliable electricity," tweeted Senator Ted Cruz during the record-breaking heatwave in August.

Those Republicans, including Cruz, had to swallow their words this week as a massive winter storm took out the Lone Star state's power grid, leaving nearly 4 million people without electricity and heat amid polar temperatures.

The crises in California and Texas are different, in scale and severity.
One faced fire, the other an ice storm.
But experts say the power outages in both states make one thing clear: neither is prepared for the chaos of the climate crisis.

"There's a lot of similarities, between what has happened in Texas and California," said Roshi Nateghi, a researcher at Purdue University who studies infrastructure sustainability and resilience.
"In both cases, you had an extreme climate or weather event. And in both cases, the states were not prepared."

Over the past two decades, across the United States, severe weather has been the main cause of sustained power outages, Nateghi said.

An analysis of Department of Energy data published in September found weather-related power outages are up by 67-percent since 2000.
Climate change is expected to continue fueling hotter heatwaves, more bitter winter storms and more ferocious hurricanes in the coming decades.
As both California and Texas have discovered in recent years, power plants, generators and electrical lines are not designed to withstand the catastrophes to come.
And all the while, the fossil fuels that both states rely on to power these faulty systems are driving the climate crisis, and hastening infrastructural collapse.

"We're already seeing the effects of climate change," said Sascha von Meier, a professor of electrical engineering at the University of California, Berkeley.
"There will be more of this and it will get worse."
…
Von Meier herself loses power often due to shutoffs, and was without electricity at her home in Bay Area hills for nearly 24 hours last fall during fire season.
"With a local grid, rather than having these very clumsy rotating power outages, where an entire neighborhood gets shut up completely, our neighborhood could have kept at least the basics running," she said.

"What's happened in California and Texas are warning signs," said Nateghi.
"These are signs we need to act now, and rethink our systems."
Climate change unfortunatly is far from being just a state or region issue, it's a whole-planet thing.
In that regard and just in the nick, the US officially returned today to the Paris Agreement, the 2016 UN accord on climate change signed by 196 countries with an aim to bring the world to below 1.5-degrees Celsius compared to pre-industrial levels, which would hopefully avert 100-percent pure disaster.
In his shit-kicking, sadistic chaos, the T-Rump officialy pulled the US out of the agreement in the fall 2019, which began a one-year process, so we've only been out of the pact since this past November — 107 days ago.
However, Joe Biden in his first day in office (among a shitload of environmental action Orders), re-signed us, and after a 30-day waiting period, we're back on board.
Biden noted the reinstatement this morning in a video speech to the Munich security conference in the sense time is of the dramatic essence as '"we can no longer delay or do the bare minimum to address climate change. This is a global existential crisis, and all of us will suffer if we fail."'
America's climate envoy, John Kerry, warned this year's international climate talks are the "last, best hope" of avoiding bad, bad shit happening off increasing global heat.
Kerry's is an obvious close-to-final admonition for action:
Today, the United States ?? re-joined the #ParisAgreement – the international response to the climate crisis.

But what exactly is the Paris Agreement? And how does it work? pic.twitter.com/JOnm9s7iRf

— UN Climate Change (@UNFCCC) February 19, 2021
Biden will host a global climate leaders summit  April 22, with the next U.N. climate conference is scheduled for November in Glasgow.
UN Secretary-General António Guterres also noted the lost time today: "For the past four years, the absence of a key player created a gap in the Paris Agreement; a missing link that weakened the whole."
Meanwhile, Kerry directly-nailed on that absence (ABC News):
Kerry attacked former President Donald Trump, blaming his administration for being "inexcusably absent for four years."

"A lot of us thought that the failure of this enterprise might rest on one word. The word was Trump," he said Friday morning to members of America Is All In, a coalition of states, cities, private businesses and other groups led by Mike Bloomberg to keep the U.S. on track to meet its Paris climate goals.
And later today:
At the Munich Security Conference Friday, Kerry lamented that the world is "not close to where we need to be" in part because the U.S. wasn't leading.

"Three years later, three years wasted," he said.
"Around 2030 is the date in which we have to get the world now on the right path in order to cap the warming at that level of 1.5 [degrees Celsius]. So we are absolutely, clearly, without question inside the decisive decade … it's what people will do in the next 10 years that matter."

Those warnings come as world leaders urge the Biden administration to implement an ambitious agenda to reduce America's emissions, which compromise about 13-percent of the world's total.

Kerry did not announce any new steps as the administration continues to review its climate policies.
But the former secretary of state and presidential nominee pointed to Biden's plan for a Leaders' Climate Summit on Earth Day, as well as to COP26, the United Nations climate summit in Glasgow, Scotland, this November.

In stark terms, he told conference attendees that climate change is a "threat multiplier" already causing displacement and mass migration, conflict and humanitarian crises.

"When tensions are already high somewhere and resources are increasingly scarce, the embers of conflict just burn brighter," he said.
"And when farmers can no longer make a living because the weather is so extreme and unpredictable, they become increasingly desperate. Many, according to some studies, hundreds of millions, will be forced from their homes … if it is not managed well, it can literally begin to undermine countries, homes, peace, and stability."

In fact, Kerry tied the crisis in Texas to climate change, saying,
"This week in the state of Texas, we've seen unprecedented extreme cold related to climate because the polar vortex penetrates further south because of the weakening of the jet stream related to warming."
And so it goes, but will the call be answered…
25 years and my life is still
Tryin' to get up that great big hill of hope
For a destination