Joe Biden continues, even connecting with the hard-to-handle youngsters:
The Harvard Youth Poll (Americans 18 to 29):

Biden has a 59% approval rating, the highest among this group of any first-term president over the 21 years this poll has been conducted.

56% are hopeful about the future, including 72% of Black people and 69% of Hispanic people.

— Kyle Griffin (@kylegriffin1) April 23, 2021
Good vibes from young people it seems, despite some heavy shit going down — notable snips from the Harvard Youth Poll released today:
In the fall of 2017, only 31-percent of young Americans said they were hopeful about the future of America; 67-percent were fearful.
Nearly four years later, we find that 56-percent have hope. While the hopefulness of young whites has increased 11 points, from 35-percent to 46-percent — the changes in attitudes among young people of color are striking.
Whereas only 18-percent of young Blacks had hope in 2017, today 72-percent are hopeful (+54).
In 2017, 29-percent of Hispanics called themselves hopeful, today that number is 69-percent (+40).
…
Less than one year after Barack Obama's election, 24-percent of young Americans considered themselves to be politically active (fall 2009 poll).
Twelve years later, we find the share of politically active Americans increased by half — and now 36-percent are politically active.
The most politically active among this cohort are young Blacks (41-percent politically active).
…
Fifty-nine percent of 18-to-29-year-old Americans approve of President Biden's job performance overall; 65-percent approve of his handling of the coronavirus and 57-percent race relations.

President Biden's highest approval marks come from young people of color (Blacks 77-percent, Hispanics 70-percent), college students (61-percent), and college graduates (67-percent).
Females (61-percent) are more likely than males (57-percent) to approve of his job performance, as are young registered voters (61-percent) compared to the one-in-five in our poll who report that they are unregistered (55-percent).
Among college voters, Biden's 63-percent approval is the highest recorded in the 21-year history of the IOP survey (Bush 61-percent in 2003, Obama 57-percent in 2016).

President Biden's highest marks come from his handling of the coronavirus (65-percent approval), 58-percent approve of his handling of climate change and education, 57-percent race relations, 56-percent health care, 55-percent mental health, 53-percent the economy, and 52-percent national security.
There is a dark side to the sunshine as most-likely reality is a bitch sometimes:
Fifty-one percent of young Americans say that at least several days in the last two weeks they have felt down, depressed, or hopeless — 19-percent say they feel this way more than half of the time.
In addition, 68-percent have little energy, 59-percent say they have trouble with sleep, 52-percent find little pleasure in doing things.
Forty-nine-percent have a poor appetite or are over-eating, 48-percent cite trouble concentrating, 32-percent are moving so slowly, or are fidgety to the point that others notice — and 28-percent have had thoughts of self-harm.
And as for the T-Rump:
Thirty-percent of young Americans believe that history will judge Donald Trump as "the worst president ever."
Overall, 26-percent give the 45th president positive marks (best, great, good), while 54-percent give Trump negative marks (bad, terrible, worst); 11-percent believe he will go down as an average president.
And Biden's overall job-performance rating is still strong:
Biden Job Approval:
Approve 61%
Disapprove 39%

.@Harris_X_@TheHill, 2,881 RV, 4/16-19https://t.co/jOiUnuz1gR

— Political Polls (@Politics_Polls) April 23, 2021
Via The Hill yesterday:
President Biden's job approval is steady at 61-percent as his 100th day in office approaches, a new Hill-HarrisX poll finds.

About six in 10 registered voters in the April 16-19 survey approve of the job Biden is doing as president, steady from last week's poll. By contrast, 39-percent of voters disapprove of Biden's performance.

The survey finds broad approval for Biden's handling of the coronavirus pandemic — 68 percent — while nearly a third of voters, 32 percent, disapprove of his efforts.

Biden draws smaller approval in other areas, but still gets positive marks from a majority of respondents. He has 60 percent support for his handling of the economy and 59 percent support for stimulating jobs.
Plus even the clusterf*ck at the US/Mexico border hasn't really hurt Joe, with 49-percent:supporting him on the issue — Dritan Nesho, chief pollster and CEO at HarrisX: '"Biden's handling of the immigration crisis, where he's viewed lot more critically, has also failed to hurt the president's overall approval rating, suggesting that immigration is not a salient issue yet for voters and the GOP has struggled to make it such."'
Republicans are having a hard time with Joe — he's just too popular without a real sore spot:
Sen. Mike Braun of Indiana: "I don't think we've done a very good job because he's getting away with defining himself and rolling out this stuff that we're borrowing every penny for it, and the public is buying it … We've got to find ways to articulate and scuffle in a better way, and I don't know that we've found that."
John Thune of South Dakota: "His tone is moderate and he's an affable person, he's a likeable individual and a lot of us know him, have relationships with him and it's probably harder to attack somebody who is relatable and likeable … if he continues down the left, the far-left lane, with respect to policy, that eventually that will start to catch up with him."
Even MoscowMitch: "I like him personally, I mean, we've been friends for a long time."
Assholes, they missed the point — Joe displays heart. Calling families of gun violence, among other actions, Joe shows a humanity the GQP cannot understand.
Fiction in real time:
Death by any other means…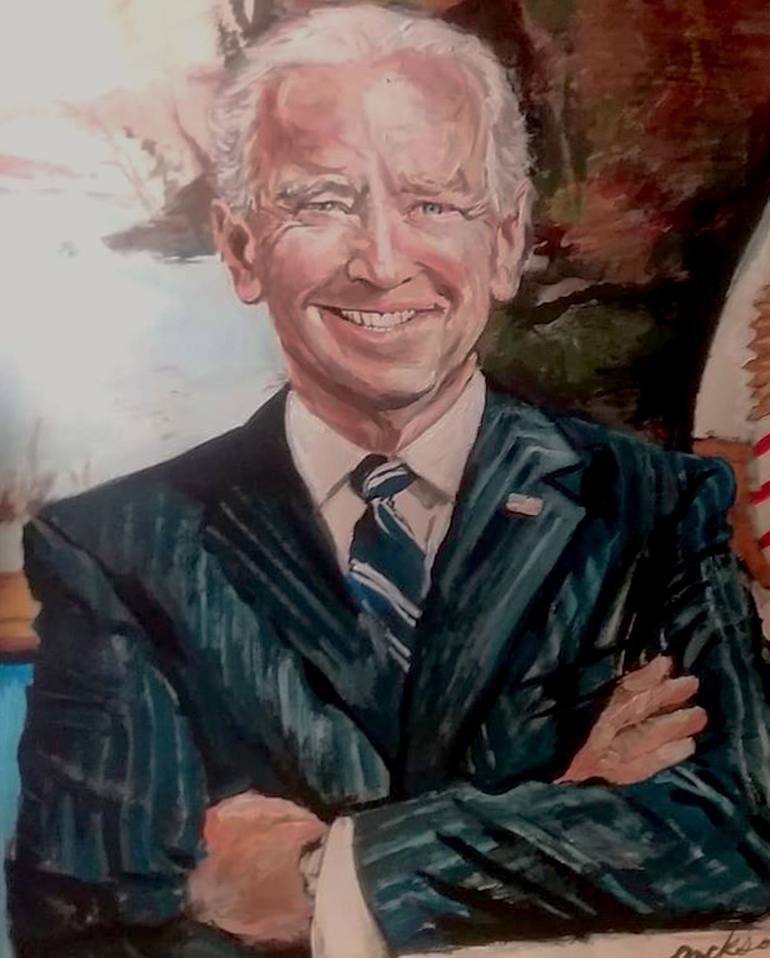 (Illustration: 'Joe Biden,' acrylic by Billy Jackson, and found here).