Another chapter in the 'Destination' series (last one here), and a look backwards to reflect in some small way what we're experiencing today. Our current era is more-weirder than yesterday's, though, sadly there's still the same history clinging on for dear life.
And the musical light in the dark is once again The Running Mates, that wondrous husband/wife duo I've really come to appreciate this past year. Their acoustic, emotional covers of some great songs have transformed music from sometimes long ago to updated sounds to the crazed nowadays.
Maybe the song of our way-peculiar time, "What's Going On" — even in an acoustic mode, the  'mournful tone' of the original remains intact:
As we approach the 50th anniversary of the release of Gaye's "What's Going On" album (May 21, 1971), we near-about find ourselves in nearly the same predictment as Gaye saw America in the early 1970s.
Although then it was the Vietnam War, poverty and racial injustice in its theme, the logistics of the setting is close to the nowadays with an easy substitute of the COVID-19 pandemic for Vietnam — really terrible, though, the still prevalent racism half-century later as witnessed by the death of George Floyd (and a mass of others) in the years since. And frightfully a more brazen, shameless openness of its practice.
The song still packs an emotional wallop:
Indeed, words in a poem of mourning:
Mother, mother
There's too many of you crying
Brother, brother, brother
There's far too many of you dying
You know we've got to find a way
To bring some lovin' here today – Ya

Father, father
We don't need to escalate
You see, war is not the answer
For only love can conquer hate
You know we've got to find a way
To bring some lovin' here today

Picket lines and picket signs
Don't punish me with brutality
Talk to me, so you can see
Oh, what's going on
What's going on
Yeah, what's going on
Ah, what's going on

In the mean time
Right on, baby
Right on
Right on
And the initial song from the 'Mates' that captured my attention months ago — their cover of the 4 Non Blondes call-to-arms, "What's Up," the chorus mirroring Gaye's cry for awareness (original here):
In the lyrics, the call:
And so I cry sometimes when I'm lying in bed
Just to get it all out what's in my head
And I, I am feeling a little peculiar

And so I wake in the morning and I step outside
And I take a deep breath and I get real high
And I scream from the top of my lungs
"What's going on?"

And I say, hey-ey-ey
Hey-ey-ey
I said "Hey, a-what's going on?"
And I say, hey-ey-ey
Hey-ey-ey
I said "Hey, a-what's going on?"

…

25 years and my life is still
Tryin' to get up that great big hill of hope
For a destination
And here we are…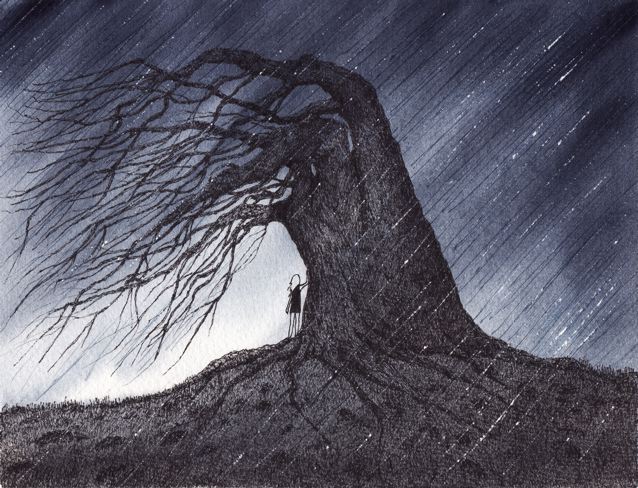 (Illustration: 'Shelter in the Storm," found here).