A daughter coming to visit today — we haven't seen each other in nearly a year-and-a-half, a circumstance of the pratfall-paradox of a pandemic. In such, I'll probably be offline for the immediate-near future, but I always try to contribute at least one post a day to keep Compatible Creatures in harmony wth history.
Reconcilable to the circumstance is the nice weather, a description that's comparatively speaking/writing in regards to our environment the past week here in California's Central Valley — at this moment clear, blue skies with temperatures near the mid-70s; yesterday it was 10-degrees warmer about this time, 20-degrees by now this past Saturday. Need to enjoy it, though, the forecast calls for the return of triple-digit temps by the weekend.
One of my most-favorite go-to songs to evoke ethereal sentiments:
And to further 'shine' — from Miss Emily Dickinson, "The Wind's Visit:"
The wind tapped like a tired man,
And like a host, "Come in,"
I boldly answered; entered then
My residence within

A rapid, footless guest,
To offer whom a chair
Were as impossible as hand
A sofa to the air.

No bone had he to bind him,
His speech was like the push
Of numerous humming-birds at once
From a superior bush.

His countenance a billow,
His fingers, if he pass,
Let go a music, as of tunes
Blown tremulous in glass.

He visited, still flitting;
Then, like a timid man,
Again he tapped — 't was flurriedly —
And I became alone.
Another day in the life…
(Yet even in this tranquil repose, there's still shit-ass politics ongoing — what will most-likely happen in the US Senate this afternoon is a hardcore pisser).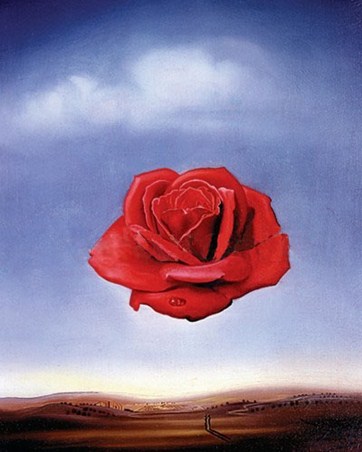 (Illustration out front: Salvador Dalí's 1958 painting, "Meditative Rose," found here)