One of the most-glaring examples of current Republican malfeasance occurred yesterday in the US Senate — Dana Milbank at The Washington Post correctly summed it up: 'Senate Republicans voted in lockstep on Tuesday to block the landmark voting rights bill, in effect embracing the disenfranchisement of non-White voters under the "big lie" justification that widespread voter fraud denied Donald Trump reelection.'
Obstruction on the For The People Act snatched aside the curtain on the whole malignant brand:
Senate Republicans unanimously vote to establish Juneteenth as a holiday and then a couple of days later unanimously vote to block legislation to protect voting rights.

Any questions?

— Judd Legum (@JuddLegum) June 22, 2021
A most-ambitious proposal, 'For The People Act' is the voting-rights bill for the ages — passed by the House in early March (HR1), and introcduced in the Senate (SR1) about two weeks later. A sweeping attempt to expand voting rights, 'Act' would make voting more straigtforward in federal elections, terminate cruel GQP-fused congressional gerrymandering, revamp federal campaign finance laws, buttress ethics regulations, and a shitload more, including a build-up of election security.
And since all this shit would be executed by the November 2022 mid-terms, Republicans shit their drawers. In playing into the T-Rump's Big Lie, Republican-led state governments nationwide have in the last five months built a strong voter-suppression bank of laws — in all, an introduction of 389 bills showcasing voting restrictions across 48 states, while 14 states had enacted 22 of such laws already, with another 61 such bills still advancing in 18 states.
This morning, Forbes has a good lay-of-the-land piece on the current scenario of these bills/laws, indcluding this right-on summary-quote on a shitty state-of-affairs: '"Trump lost. You believed the big lie, engaged in treason at the U.S. Capitol," Michigan state Sen. Sylvia Santana said about the voter ID bill. "And now you want to change the rules because you realize that the demographics of America are changing and your base is out of control."'
As a gesture, 'For The People Act' would for all-intents-and-purposes shut that shit down, and make is easier for the way-vast majority of Americans to vote.
A shit-fire no-no for the GQP. By their core essence, they must kill the 'Act'
Yet what makes Republicas' move yesterday even shittier still is in majority-led numbers, tengrain squared it this way: 'The 50 Democrats in the Senate who voted to debate the For The People Act represent 43 million more Americans than the 50 GOP senators who oppose it. Which of course means that a mere 41 Republicans — who represent a only 21-percent of the country — blocked the bill that 68-percent of the country supports.'
Which pretty-much sums up the event, which puts Democrats — and in turn, America — in a dark place — some details via The New York Times this morning:
But the Republican blockade in the Senate left Democrats without a clear path forward, and without a means to beat back the restrictive voting laws racing through Republican-led states.
For now, it will largely be left to the Justice Department to decide whether to challenge any of the state laws in court — a time-consuming process with limited chances of success — and to a coalition of outside groups to help voters navigate the shifting rules.

Democrats' best remaining hope to enact legal changes rests on a long-shot bid to eliminate the legislative filibuster, which Republicans used on Tuesday to block the measure, called the For the People Act.
Seething progressive activists pointed to the Republicans' refusal to even allow debate on the issue as a glaring example of why Democrats in the Senate must move to eliminate the rule and bypass the G.O.P. on a range of liberal priorities while they still control Congress and the presidency.

They argued that with former President Donald J. Trump continuing to press the false claim that the election was stolen from him — a narrative that many Republicans have perpetuated as they have pushed for new voting restrictions — Democrats in Congress could not afford to allow the voting bill to languish.

"The people did not give Democrats the House, Senate and White House to compromise with insurrectionists," Representative Ayanna Pressley, Democrat of Massachusetts, wrote on Twitter.
"Abolish the filibuster so we can do the people's work."
And a hardcore middle finger to the fucking filibuster.
However, despite the perilous point we're at, there's not much fight in reforming/ending the filibuster — major hurdle is 'unrelenting opposition' from a couple of asshole-douchebags, Joe Manchin and Kyrsten Sinema, both Democrats without any real sense of anything outside of their own self-centered bubble. (A douchebag, too, can be a female).
However, reportedly if those two turds set-aside resistance, something could be done.
As also seen by the GQP, Manchin and Sinema are set against the American public
NEW POLLING:

Most Americans say the filibuster does more harm than good.

Across every major demographic group, at least a plurality believes that the filibuster creates more gridlock than compromise. pic.twitter.com/ncr76Hs2ew

— Navigator Research (@NavigatorSurvey) June 22, 2021
Some further poll digits from Monmouth University on Monday:
More Americans say voter disenfranchisement (50-percent) is a major problem in the United States than say the same about voter fraud (37-percent).
Democrats (64-percent) are more likely than either Republicans (43-percent) or independents (42-percent) to see disenfranchisement as being a major problem.
Republicans (64-percent) are more likely than independents (41-percent) — and both groups are much more likely than Democrats (10-percent) — to see voter fraud as a major problem.
Patrick Murray, director of Monmouth Polling Institute: '"Disenfranchising eligible voters is nominally a bigger concern than voter fraud, but the sizable number of Americans who cling to the view that fraud determined the 2020 election poses an intractable challenge for reaching any public consensus on voting access.".
We're in for a bad bout…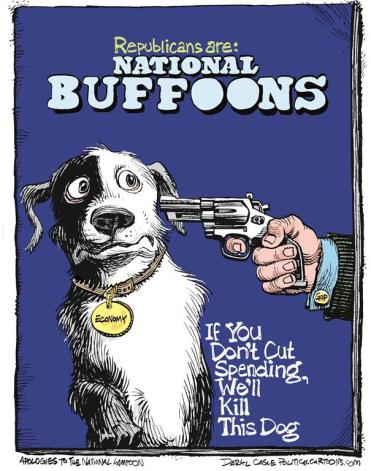 (Illustration out front: 'National Buffoons,' by Daryl Cagle, found here).