Briefly brushing aside politics for a moment, let's take another peek at a fully-formed catastrophe that will soon be the headliner — climate change. Although today here in California's Central Valley is really nice — mid-90s with a cool breeze — our drought is continuing to worsen and our warming environment is not helping.
In fact, a leaked draft of an UN report suggests the climate shit will magnify sooner than later.
Meanwhile, the drought not only has removed any excess water from the daily equation, but what's there is starting to taste like shit:
Between June 2020 and June 2021, Angeles National Forest went from green and lush to brown and parched.

Remarkable satellite images captured a year apart illustrate the severity of the California drought. https://t.co/gQS2JM0urN

— CNN (@CNN) June 23, 2021
In the wake of the drought, water that someties smells can now really stink. The water system in Sacramento, about two hours north from from where I live, has gone from pungent to fetid — via the Guardian this afternoon:
The water isn't dangerous, but it is stinky. Typically the complaint calls don't start until autumn or late summer.
But this year is different, thanks to a worsening drought that has hit the region hard.

Mark Severeid, the city water quality superintendent, says temperatures have been higher and water levels lower than most people can remember.
"That's why we are experiencing the earlier onset of this problem, a problem the city has been telling folks about for years," he says.

The situation prompted the city to issue a statement that the water was safe to drink, and recommending that residents chill the water or add a little lemon to mask the muskiness.
The suggestion raised some eyebrows, but officials are hoping to assuage people's fears and say the situation is a reminder of the daily challenges of dealing with extreme drought.

The changes in water quality aren't limited to Sacramento.
Other districts across California have reported concerns about water taste and smell, especially during dry periods, and the issue is one of several symptoms of the drought disaster.
In other areas, wells are expected to go dry and already more than a million Californians lack access to safe drinking water. A report issued by the state water resources control board this year found that roughly 620 public water systems and 80,000 domestic wells were at risk of failure.
And in the 'breadbasket of the world' here in the Central Valley, the drought carries great, hardening change — from Bloomberg this morning:
It's a stark reminder of the devastating toll that the drought gripping the West will take on U.S. agriculture, bringing with it the risk of food inflation. Dairy farms are sending cows to slaughter as they run short of feed and water. Fields are sitting bare, because it's too costly to irrigate the rows of cauliflower, strawberries and lettuce that usually flourish in abundance.
Meanwhile, fieldworkers are being put into life-threatening conditions as the brutal temperatures increase the risk of heat stroke and dehydration.

The famed farming valleys of California were once romanticized as an Eden for the Joad family escaping the Oklahoma dust bowl in John Steinbeck's "Grapes of Wrath."
The state's more than 69,000 farms and ranches supply over a third of U.S. vegetables and two-thirds of its fruit. The annual almond harvest accounts for about 80-percent of global production.
But after years of what seems like permanent dryness, some growers are starting to wonder if Steinbeck's story will start playing out in reverse, with unstoppable drought posing an existential threat to the future of agriculture in the state.

"Are we going to be able to farm here?," asks Sara Tashker, who's worked at Green Gulch Farm just outside of San Francisco for almost 20 years.
This is the first time she's ever seen the reservoirs the farm depends on to water its lettuce, broccoli, cauliflower and cabbage, not fill with winter rain.

With so little water, there was no way around planting less, so total acreage got cut by about 25-percent from last year. And the crops are getting put into the ground closer together, in about half the typical amount of space.
It's an attempt to make the root structure denser and keep moisture in the soil. The limited spacing means fieldworkers are having to cultivate by hand, instead of using tractors.
But in the midst of an early heat wave, Tashker can't help but wonder if the new methods will be enough.

"Is there going to be enough water? Are we going to be able to adapt? Is it going to be too dangerous to live in these fire ecosystems? Is this just going to become too expensive?," she said.

Of course, this isn't just a California problem. Climate change is here and it's wreaking havoc on food production across the world.
This year in Brazil, the world's biggest exporter of coffee, sugar and orange juice, the rainy season came and went with very little rain. Water reserves are running so low that farmers are worried they'll run out of supplies that are needed to keep crops alive over the next several months, the typical dry period.
In recent years, drought has plagued wheat growers in Europe and livestock producers in Australia, while torrential downpours flooded rice fields and stands of palm oil trees in Vietnam, Malaysia and Indonesia.
If that's horrible, just keep in mind it's only going to get worse:
VIDEO: ??? A draft UN report on a warming planet, exclusively obtained by AFP, could help to "wake people up" to the "reality" of climate change, Swedish activist Greta Thunberg said on Wednesday #IPCC pic.twitter.com/dMV6b8tdrp

— AFP News Agency (@AFP) June 23, 2021
Supposedly, too, get worse quicker. Such are the chilling findings in a draft report written by the UN's Intergovernmental Panel on Climate Change (IPCC), and not scheduled for release until February of next year.
Some snips via Agence France-Presse this afternoon:
Species extinction, more widespread disease, unliveable heat, ecosystem collapse, cities menaced by rising seas — these and other devastating climate impacts are accelerating and bound to become painfully obvious before a child born today turns 30.
…
But dangerous thresholds are closer than once thought, and dire consequences stemming from decades of unbridled carbon pollution are unavoidable in the short term.

"The worst is yet to come, affecting our children's and grandchildren's lives much more than our own," the report says.

By far the most comprehensive catalogue ever assembled of how climate change is upending our world, the report reads like a 4,000-page indictment of humanity's stewardship of the planet.
…
The draft report comes at a time of global "eco-awakening" and serves as a reality check against a slew of ill-defined net-zero promises by governments and corporations worldwide.
The challenges it highlights are systemic, woven into the very fabric of daily life.
They are also deeply unfair: those least responsible for global warming will suffer disproportionately, the report makes clear.

And it shows that even as we spew record amounts of greenhouse gases into the atmosphere, we are undermining the capacity of forests and oceans to absorb them, turning our greatest natural allies in the fight against warming into enemies.

It warns that previous major climate shocks dramatically altered the environment and wiped out most species, raising the question of whether humanity is sowing the seeds of its own demise.
"Life on Earth can recover from a drastic climate shift by evolving into new species and creating new ecosystems," it says.
"Humans cannot."
…
A decade ago, scientists believed that limiting global warming to two degrees Celsius above mid-19th century levels would be enough to safeguard our future.
That goal is enshrined in the 2015 Paris Agreement, adopted by nearly 200 nations who vowed to collectively cap warming at "well below" two degrees Celsius — and 1.5 degrees if possible.

On current trends, we're heading for three degrees Celsius at best.

Earlier models predicted we were not likely to see Earth-altering climate change before 2100.
But the UN draft report says that prolonged warming even beyond 1.5 degrees Celsius could produce "progressively serious, centuries' long and, in some cases, irreversible consequences".

Last month, the World Meteorological Organization projected a 40-percent chance that Earth will cross the 1.5-degree threshold for at least one year by 2026.

For some plants and animals, it could be too late.
"Even at 1.5 degrees Celsius of warming, conditions will change beyond many organisms' ability to adapt," the report notes.
…
The world must face up to this reality and prepare for the onslaught — a second major takeaway of the report.
"Current levels of adaptation will be inadequate to respond to future climate risks," it cautions.
Mid-century projections — even under an optimistic scenario of two degrees Celsius of warming — make this an understatement.
…
A dozen temperature trip wires have now been identified in the climate system for irreversible and potentially catastrophic change.
Recent research has shown that warming of two degrees Celsius could push the melting of ice sheets atop Greenland and the West Antarctic — with enough frozen water to lift oceans 13 metres (43 feet) — past a point of no return.
Other tipping points could see the Amazon basin morph from tropical forest to savannah, and billions of tonnes of carbon leech from Siberia's permafrost, fuelling further warming.
Bottom line:
There is no easy solution to such a tangle of problems, said Nicholas Stern, former chief economist at the World Bank and author of the landmark Stern Review on the Economics of Climate Change.
"The world is confronting a complex set of interwoven challenges," said Stern, who did not contribute to the IPCC report.
"Unless you tackle them together, you are not going to do very well on any of them."
Yeah, tell that to fuck-ass MoscowMitch and his GQP asshole deniers.
Escape westward:
Unto the garden of the valley…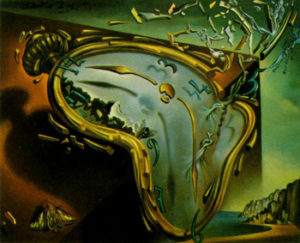 (Illustration out front: Salvador Dali's 'Soft Watch at the Moment of First Explosion,' found here).