Another brown-tinted environment this mid-day Friday here in California's Central Valley, painted with way-faded yellow sunshine, mingled in with a thin-overcast layer of a hazel-colored sky.
Air-breathing outside literally sucks:
The Air Quality Alert has been extended through at least Monday morning due to smoke from wildfires. Visit https://t.co/aKLTqrsoyR for more information. pic.twitter.com/ki6rgyCuxN

— NWS Hanford (@NWSHanford) August 20, 2021
Our region still looks like Mars and smells like burnt wood, maybe/probably due to all those freaking fires — from The Fresno Bee yesterday afternoon (Fresno is about an hour south of where I'm located):
The thick smoke that rolled above Fresno on Wednesday evening is expected to last through the weekend, according to the National Weather Service in Hanford.
But one might be surprised how far away the fires are that generated much of the smoke.
Due to an upper-level, low-pressure system that moved into the northwest coast, winds from the north pushed down smoke that originated from fires in northern California, NWS meteorologist Jim Bagnall said.

Among the NorCal fires still actively burning is the Dixie Fire, which has torched more than 600,000 acres spread over Butte, Plumas, Tehama, and Lassen counties, according to Cal Fire.
That's roughly 200 miles from Fresno.

Nonetheless, smoke blanketed much of the Fresno area with poor air quality rolling in, too. Wednesday's air quality index read at 139, which is considered unhealthy for sensitive groups.
"All the smoke from the fires to our north has steered down our way," Bagnall said.
"It's not uncommon for smoke to travel that far away. There's just a lot of fires that need putting out, and a lot of smoke that's hovering and moving.
"The wind decided to blow the smoke our direction."
In the path of bad shit seems to be a calling card for the nowadays, from COVID to climate-change-related weather, and apparently, the situation with both isn't going to get any better. Yet the real, agonizing horror is a lot of this could have been avoided or prevented altogether.
Especially with COVID — Texas Lt. Governor Dan Patrick on Fox News last night being a lying asshole:
"Well Laura, the COVID is spreading, most of the numbers are among the unvaccinated, and the Democrats like to blame the Republicans on that. Well, the biggest group in most states are African Americans who have not been vaccinated," Patrick said.
"And last time I checked, over 90-percent of them vote for Democrats in their major cities and major counties. So it's up to the Democrats to get — just as it's up to the Republicans, to try to get as many people vaccinated."

"But we respect the fact that if people don't want the vaccination, we're not going to force it on them, that's their right. But in terms of criticizing the Republicans for this, we're encouraging people who want to take it to take it, but they're doing nothing for the African American community that has a significant number of unvaccinated people," Patrick added.

Patrick's comments drew swift condemnation from Democrats.
Rep. Bill Pascrell, a Democratic congressman from New Jersey, tweeted: "This the republican party: murderous failure, contempt for humanity, and rancid racism" in response.
Right on! Republicans are pieces of work, as they say.
Beyond that shit, another weird, seemingly out-of-place weather event, like rain falling at Greenland's summit (as I noted yesterday):
Tropical Storm #Henri expected to strengthen soon. Hurricane Watches and Storm Surge Watches are in effect for portions of the northeastern U.S. See https://t.co/tW4KeFW0gB for details. pic.twitter.com/VVpP6BU60k

— National Hurricane Center (@NHC_Atlantic) August 20, 2021
Another Twilight Zone-weather episode — details at CNN this afternoon:
Tropical Storm Henri will be a hurricane by Saturday and make a rare landfall in New York, Rhode Island or Masschusetts by Sunday, the National Hurricane Center (NHC) says.
The track continues to shift slightly west, closer to Long Island, according to the 11 a.m. Friday update from the NHC.
"The risks of storm surge, wind, and rain impacts in portions of southern New England and eastern Long Island are increasing," the center said Friday morning.

The last time a hurricane made landfall in this region was Hurricane Bob in 1991. But hurricanes have made signficant impacts since then.
Irene and Sandy brought devastating conditions even though they did not make landfall as a hurricane.
A direct landfall as a hurricane means the worst winds will make it onshore.
Forecast models Friday morning are in better agreement than they were two days ago. But there is still some mystery concerning Henri's path, intensity and effects through early next week.
…
"This is the first time in nearly 10 years that we've had a Hurricane Watch issued for portions of our area," tweeted the National Weather Service (NWS) in New York.
"The last time we had Hurricane Watches issued for the area was for Hurricane Irene back in late August of 2011."
…
The full moon Sunday means higher high tides. Any storm surge on top of already higher tides could trigger enhanced coastal flooding.
"Track will ultimately tell us which coastline is most at risk (east coast vs south coast) or if both will be in play," the Boston NWS said Thursday.
Coast-to-coast crap.
In the context of Republican hypocritical bullshit on COVID, the disaster in Afghanistan is going in the same direction — pay no attention to the T-Rump's asshole-incompetent finger on the scale, it's all Joe Biden's business now. And Repubs are already screaming comparisons:
Amid scenes of a chaotic and rushed evacuation from Afghanistan, multiple House Republicans are vowing to launch congressional investigations into the Biden administration's botched withdrawal if they win back the chamber next year, with some specifically calling for an "Afghanistan Select Committee."
"This makes Benghazi look like a much smaller issue," Rep. Mike Johnson of Louisiana, a member of GOP leadership who sits on the Armed Services Committee, told CNN.
"This may be one of the worst and most consequential foreign policy and national security disasters in our history. There will be a lot of answers to seek and questions to be answered, and I think it will be a top priority."
Horrid, lying bullshit to commence. Meanwhile, shit seems to continue clogging the drain on the Afghan clusterfuck of any forewarning of the catastrophe– via the Guardian's live blog this morning:
Joe Biden and his senior national security advisers have insisted that they never anticipated such a swift Taliban takeover of Kabul as the last US troops left Afghanistan.
But now, the Wall Street Journal has obtained an internal state department memo that seems to contradict the administration's narrative.

The Journal reports:
The cable, sent via the State Department's confidential dissent channel, warned of rapid territorial gains by the Taliban and the subsequent collapse of Afghan security forces, and offered recommendations on ways to mitigate the crisis and speed up an evacuation, [two] people said.
The cable, dated July 13, also called for the State Department to use tougher language in describing the atrocities being committed by the Taliban, one of the people said. …
In all, 23 U.S. Embassy staffers, all Americans, signed the July 13 cable, the two people said. The U.S. official said there was a rush to deliver it, given circumstances on the ground in Kabul.
That severe warning, delivered a month before the fall of Kabul, seems to be at odds with the White House's assessment of the speed of the Taliban takeover.
Biden said on Monday: "I always promised the American people that I will be straight with you. The truth is: This did unfold more quickly than we had anticipated."
And the chairman of the joint chiefs of staff, Gen Mark Milley, said Wednesday: "There was nothing that I or anyone else saw that indicated a collapse of this army and this government in 11 days."

So did they never see the memo, or are they simply not telling the truth?
Biden is set to deliver another speech on Afghanistan this afternoon, and reporters will likely try to ask him about the memo. Stay tuned.
The WSJ is behind a paywall. And that bit at the end on 'telling the truth,' an example of the Guardian's delightful, potent-posing questions. Although Joe has done a near-straight-up job with Afghanistan, beyond some major fuck-ups with evacuations, he's played the hand he was dealt — going all the way back to the source material, GW Bush/Dick Cheney.
If only…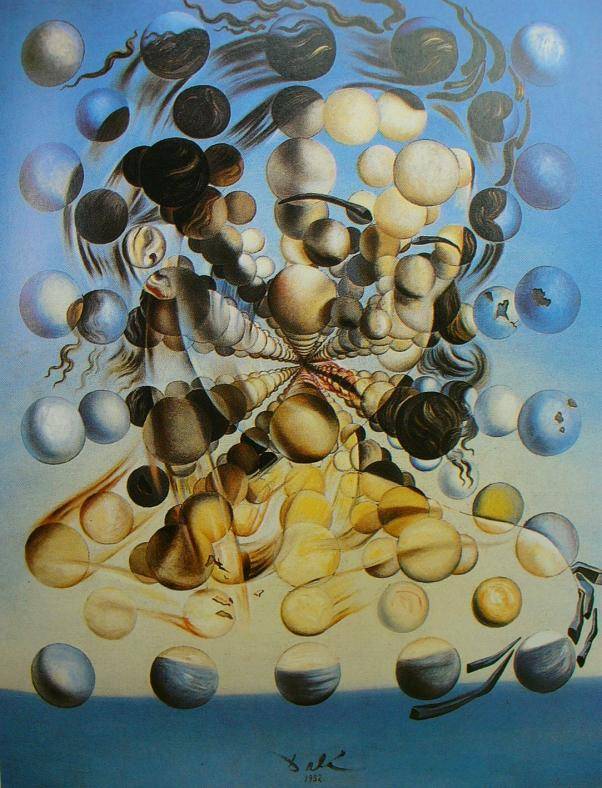 (Illustration out front: Salvador Dalí's 'Galatea of the Spheres,' found here).