Gavin Newsom remains governor  — from FiveThirtyEight less than two hours after the polls closed:
After all that hubbub, it was over relatively quickly: Our colleagues at the ABC News Decision Desk projected that the recall would fail at 11:37 p.m. Eastern, barely half an hour after polls closed.
As of this writing, 67-percent of voters voted against the recall, and 33-percent voted for it. That margin will almost certainly narrow as more votes are counted (the numbers we have right now are mostly mail ballots, which lean very Democratic), but it's still likely that Newsom will survive by a large margin, perhaps even comparable to his 24-point win in 2018.
Oh, yeah!
---
Here in California this late-afternoon Tuesday it's waiting time for the endgame results of today's recall election and my sincere hope this wins the day:
I love California, I was born and raised here. Don't let Larry Elder take a giant Trump on California. Please help save our state and vote NO on the recall. ????#CaliforniaRecall#VoteNoOnCaliforniaRecall

— Mayo (@MayoIsSpicyy) September 14, 2021
Although we've still got a couple of hours to go before the polls close, a good taste of what maybe/hopefully is to come from the FiveThirtyEight live blog just minutes ago — Gavin Newsom looks okay:
In another positive sign for Newsom — with all the caveats Nathaniel cited about these results possibly changing as we get more results — Democrats currently outnumber Republicans in these preliminary results, by 17 percentage points, 43-to-26 (with the rest being independent voters and others).
That gap might narrow as we get more data, but currently that means the electorate looks more like Newsom's 2018 bid for governor (46-23 percent, Democrat vs. Republican) and less like the 2003 recall (39-38 percent Democrat-Republican).
Off the wall as this recall, the consequences of Newsom losing the vote is shitty at best, shitty-clusterfuck at worst — via the LA Times this afternoon:
For Republicans, a successful recall would not only deal Newsom a devastating defeat, but shatter the entrenched Democratic hegemony in Sacramento and, they argue, demonstrate voter appetite for significant changes in the priorities and operation of state government.
Democrats have decried the effort as an underhanded power grab that threatens to undermine California's values and carries potentially dire consequences, should it succeed.
Newsom's opponents are works of shit art, with the most-shittiest artist of them all (46 total) is Republican talk-radio guy Larry Elder — some background on the asshole via The New Republic this morning:
Elder has said that "women know less than men about political issues, economics, and current events," pointing to a University of Pennsylvania study.
…
Elder doesn't believe that women face a "glass ceiling" in employment. He's suggested that some "women were too unattractive to be sexually assaulted," according to the Los Angeles Times. He's criticized Roe v. Wade as "one of the worst decisions that the Supreme Court ever handed down."
…
Women are hardly his only target. Elder, who is Black, has argued that slave owners should get reparations. He's described how he introduced Snoop Dogg to the "evil weed" (marijuana). He's said that "Blacks are more racist than whites." He's argued that "systemic racism is not the problem, and critical race theory and reparations are not the answer."
…
On the environment, Elder has described global warming as "a crock" and criticized Republicans who disagreed, like the late Senator John McCain. Once upon a time, part of his website was devoted to "debunking the Gore-Bull warming myth."
And so on and so forth. He's even pulled the old T-Rump trick of 'voter fraud,' well before the election. The main problem, even if he loses, Elder and the GQP will have won. Elder now has a T-Rump-like base.
Case in point: "I have now become a political force here in California," said rightwing radio host and Republican frontrunner in the recall Larry Elder, on KMJ Now radio. "I'm not going to leave the stage."
Short of a Newsom landslide victory Elder and the Republicans will be a prick in the side of humanity far down the line.
In a related side issue and to compound the GQP anxiety, Joe Biden's approval rating has finally hit the skids — at least according to a Quinnipiac University poll:
Americans' views have dimmed on the way President Joe Biden is handling his job as president, with 42 percent approving and 50 percent disapproving, according to a Quinnipiac (KWIN-uh-pea-ack) University national poll of adults released today. This is the first time Biden's job approval has dropped into negative territory since taking office. In early August, 46 percent of Americans approved and 43 percent disapproved of the way Biden was handling his job.
…
Biden's numbers on his handling of the response to the coronavirus are mixed, with 48 percent approving and 49 percent disapproving.
This compares to August, when he received a 53 – 40 percent approval rating on his handling of the coronavirus.
…
Americans give him a negative score on his handling of foreign policy, 34 – 59 percent. In August, 42 percent approved and 44 percent disapproved of his handling of foreign policy.
And it continues downward, on the economy, climate change, etc. Quinnipiac University Polling Analyst Tim Malloy: '"If there ever was a honeymoon for President Biden, it is clearly over. This is, with few exceptions, a poll full of troubling negatives… from overall job approval, to foreign policy, to the economy,"'
Shit on a stick.
I'll try to update later, and hope it's not too late, I go to bed early — I'm an old asshole.
Once again, here we are, once again…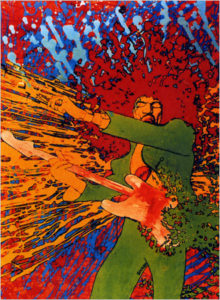 (Illustration out front found here).