Windy and a bit on the chilly side this late-afternoon Tuesday here in California's Central Valley — after months of outrageous heat, a weather shift in a time of climate change.
And of which, climate-change activist Greta Thunberg drilled the establishment in a speech today laced with sarcasm aimed at do-nothing people in power:
Greta growls righteous drama — from the Guardian this afternoon:
She quoted statements by Boris Johnson: "This is not some expensive, politically correct, green act of bunny hugging", and Narendra Modi: "Fighting climate change calls for innovation, cooperation and willpower" but said the science did not lie.

Carbon emissions are on track to rise by 16-percent by 2030, according to the UN, rather than fall by half, which is the cut needed to keep global heating under the internationally agreed limit of 1.5C.

"Build back better. Blah, blah, blah. Green economy. Blah blah blah. Net zero by 2050. Blah, blah, blah," she said in a speech to the Youth4Climate summit in Milan, Italy, on Tuesday.
"This is all we hear from our so-called leaders. Words that sound great but so far have not led to action. Our hopes and ambitions drown in their empty promises."

The Cop26 climate summit starts in Glasgow, UK, on 31 October and all the big-polluting countries must deliver tougher pledges to cut emissions to keep the goal of 1.5C within reach.

"Of course we need constructive dialogue," said Thunberg, whose solo climate strike in 2018 sparked a movement of millions of young climate protesters.
"But they've now had 30 years of blah, blah, blah and where has that led us? We can still turn this around — it is entirely possible. It will take immediate, drastic annual emission reductions. But not if things go on like today. Our leaders' intentional lack of action is a betrayal toward all present and future generations."

Research published on Monday showed that children born today would experience many times more extreme heatwaves and other climate disasters over their lifetimes than their grandparents, even if countries fulfil their current emissions pledges.
…
Thunberg said: "They invite cherry-picked young people to meetings like this to pretend that they listen to us. But they clearly don't listen to us. Our emissions are still rising. The science doesn't lie.

"We can no longer let the people in power decide what is politically possible. We can no longer let the people in power decide what hope is. Hope is not passive. Hope is not blah, blah, blah. Hope is telling the truth. Hope is taking action. And hope always comes from the people."
Greta's not kidding — the above-mentioned Youth4Climate Summit, where she spoke today, is hosted by the Italian government, the UK's partner in running Cop26. Some reports indicate the Glasgow meeting might be a classic last chance opportunity to slow/eventually-halt climate change. However, the odds are not particularly well-situated on our side.
Despite Greta and the kids:
Young people have had enough. It's time for real climate action. https://t.co/FIUCsmvtM6

— Climate Reality (@ClimateReality) September 28, 2021
Just an example of how lots of people feel about the global crisis, this poll from Canada shows a despairing, climate-change outlook for the future — a strong majority of Canadians are 'at least somewhat pessimistic' about this planet's environment and what can be done.
Via ThinkPol today:
Most Canadians aren't optimistic about humanity's chances of fighting climate change, a new survey suggests.

But that attitude has to change before it becomes a self-fulfilling prophecy, said Megan Leslie of the World Wildlife Fund, which commissioned the online Environics poll.

"That's what keeps me up at night," said Leslie.

"People in Canada have environmental anxiety but a lot of them think we've gone too far, that we can't reverse those impacts. People don't understand what solutions look like."

The poll, which queried 1,000 Canadians in late August, found that they worried about their environmental future.

It found 67-percent of respondents were at least somewhat pessimistic about the planet. Almost as many — 65-percent — believe the Earth's climate is at a tipping point and that time to act is short.

Fourteen-percent believe it's already too late.
…
Sarah Roberton of Environics said respondents in its survey reflected the overall Canadian population as closely as possible.
She also said that while the survey echoed other work the company has done in the past, the pessimism of the responses stood out.

"That really struck me," Roberton said.
"In general, what we see is that Canadians tend toward optimism."
I thought so, too. This is some serious shit.
Here we are, once again…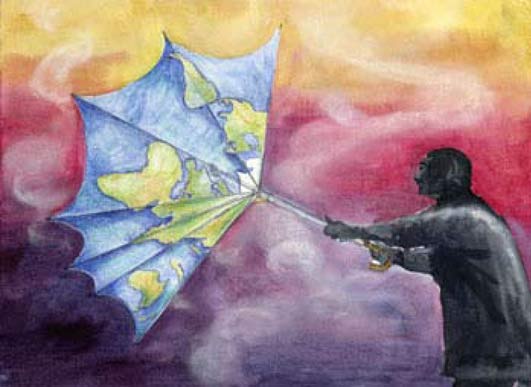 (Illustration out front from the UN's International Children's Painting Competition, and found here).