In celebration of way-most-likely the last authentic American president in political/social reality elected old school within a system considered now as 'quaint,' or historically old-fashioned. And Republicans back then seemed to care about the country.
Happy Birthday! James Earl Carter (h/t tweet tengrain):
97 Years In 97 Seconds! Here's to an amazing life and an amazing person! Happy Birthday President Carter! pic.twitter.com/kCNdi0oKpF

— Jimmy Carter Presidential Library (@CarterLibrary) October 1, 2021
Although I've never met President Carter, I did interview Rosalynn Carter during a 1976 campaign stop in Montgomery, Alabama (I was a near-cub reporter) and posted about it last July in a story on Jimmy and Rosalynn's 75th wedding anniversary.
Carter has probably done more for revealing the American heart since leaving office 40 years ago than the way-vast-majority of his successors.
And Ronald Reagan was the first of the media/batshit/lying/both-sides-do-it Oval Office asshole that took the country down the wrong path on a near-continuous straight line, with few exceptions (Clinton, Obama), and has been going that way since, seemingly accelerating more each passing year.
I also got to see Reagan up close and personal during the early part of the 1976 campaign — he was even way-back then a way-old-looking guy.
When Reagan came to Montgomery, he barred all local media from a press conference, except TV — as then a police reporter, I did a feature-story on security for Reagan's visit, and got around the embargo; in following around his local cop detail, I passed him once in the hallway at a TV station, he'd just come out of the bathroom. He looked incredibly old (I was 28), and rough as shit.
Gerald Ford got the Republican nomination that year, but Ronnie came back running hard in 1980 and started the cratering of the Grand-Old-Party into it's modern sordid, and vile group today.
Anyway, a toast to Jimmy (and Rosalynn) from his immediate neighbors, which also could include all Americans:
Residents of the town where Former President Jimmy Carter was born and raised shared birthday wishes as he celebrated his 97th birthday.

Plains, the small south Georgia town has a population just north of 600 people, but is also home to the 39th President of the United States, Jimmy Carter.

Most days you'll find Main Street in Downtown Plains with a few residents and tourists, visiting the Plains Historic Inn and Antique Mall, the Plains Depot, or enjoying lunch at The Buffalo Café.

That's where WRBL News' Blake Eason began hearing birthday wishes for their hometown hero, Former President Jimmy Carter.

Ellen Harris, who helps run the Inn and Antique Mall, reflected on her memory of voting for President Carter when she was 18 years old.
"When he won the presidency we were just so excited. I was 18 when that happened so he was the first person that I voted for. Knowing him and knowing the family, it was just unreal, like, oh my gosh, I know somebody that's President of the United States from our little town of Plains," said Harris.

LeAnne Smith who was helping out at The Buffalo Cafe one Monday afternoon, shared what President Carter means to Plains, while grinning from ear to ear.
"He means peace and goodwill to everybody here and across the nation," said Smith.
…
Sybil Carter, who helps out at the front desk of the Plains Historic Inn, cherishes President Carter's character most.
"He's always been so kind to everyone and he listens. That's very important he listens to everyone and he makes you feel like, when you're talking to him, that you're the only person around," said Carter.
…
"His birthday is so special, to all of us in the family, and it's special to everyone here in Plains," said Carter.
And once again: Happy Birthday James Earl!
Here we are, too, once again…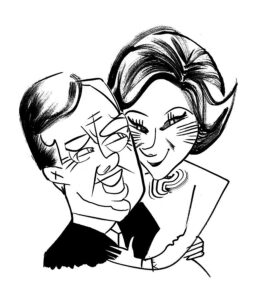 (Illustration out front: 'Jimmy & Rosalynn Carter,' drawing by Tom Bachtell, and found here)