Of all the Friday news dumps this particular Friday was another COVID-19 milestone — more than 700,000 Americans have now died from the virus.
Especially looking at the tweet below, and those wonderful summer months of last June and July — oh, how the shit hits the fan:
We have a vaccine and yet…… https://t.co/k3HgxIf2si

— Molly Jong-Fast (@MollyJongFast) October 1, 2021
And that long set of numbers have now added up to a shitload of people — dismal update from The New York Times late this afternoon:
The United States surpassed 700,000 deaths from the coronavirus on Friday, a milestone that few experts had anticipated months ago when vaccines became widely available to the American public.

An overwhelming majority of Americans who have died in recent months, a period in which the country has offered broad access to shots, were unvaccinated.
The United States has had one of the highest recent death rates of any country with an ample supply of vaccines.

The new and alarming surge of deaths this summer means that the coronavirus pandemic has become the deadliest in American history, overtaking the toll from the influenza pandemic of 1918 and 1919, which killed about 675,000 people.

"This Delta wave just rips through the unvaccinated," said Howard Markel, a medical historian at the University of Michigan.
The deaths that have followed the wide availability of vaccines, he added, are "absolutely needless."

The recent virus deaths are distinct from those in previous chapters of the pandemic, an analysis by The New York Times shows. People who died in the last three and a half months were concentrated in the South, a region that has lagged in vaccinations; many of the deaths were reported in Florida, Mississippi, Louisiana and Arkansas.
And those who died were younger: In August, every age group under 55 had its highest death toll of the pandemic.
…
The United States government has not closely tracked the vaccination status of everyone who has been infected with the virus, but the Centers for Disease Control and Prevention has so far identified 2,900 people who were vaccinated among the 100,000 who died of Covid since mid-June.

Vaccines have been proven highly effective in preventing severe illness and death, and a study from the C.D.C. that was published in September found that after Delta became the dominant variant, unvaccinated people were more than 10 times as likely to die of the virus as the vaccinated were.
The study, which spanned from April to mid-July, used data from 10 states, New York City, Los Angeles County and King County, Wash., which includes Seattle.
A note of ugly interest from DeathSantis' Florida:
Wayne Bright, a funeral home director in Tampa, Fla., has been handling Covid-19 deaths since the beginning of the pandemic, working long hours under difficult circumstances.

Still, this summer has been different.

About 40-percent of the most recent 100,000 people to die of the virus were under 65, a share higher than at any other point in the pandemic, and Mr. Bright has spent months bearing witness to what he calls "premature grief."
In one family, a father of teenagers died. A 16-year-old girl in another family lost her mother, aunt and cousin to the virus, all in quick succession.

"Now you're dealing with people in their 30s and 40s and 50s," he said. "These are people who, without the pandemic, they would almost certainly be alive and live full lives. It's so much worse now than it was when the pandemic first happened. The Delta variant is tremendously worse. It would be hard for me to define just how much worse it is."
And, of course, the horrifying conclusion:
The Rev. Joy Baumgartner, a minister in Beloit, Wis., presided over a recent funeral that she described as "the saddest, most grief-stricken I have ever experienced."

The woman who died of Covid-19 was a 64-year-old church member, talented baker and frequent volunteer during group dinners on Thanksgiving.
Her adult children had advised her not to receive a shot.

When they arrived at the church, Ms. Baumgartner said, the woman's children were full of regret, despairing over their actions and searching for a rationale.
"They condemned themselves," she recalled.

"I had to hold these people in my arms in front of this urn of ashes, asking God to help them through this. It was a never-ending week of excruciating pain."
A terrible situation leading to a new pandemic catchphrase: 'Red COVID' — '"Every reliably blue state now has a higher vaccination rate than almost every reliably red state."'
And the blame — Republican assholes from the beginning to right now and our shitty end, pushing lies, misinformation, and just plain bullshit (which is lying!).
Yes indeed — a new study (reviewed at SapienJournal today)  backs up the 'Red COVID' moniker that political conservatism/religiosity predicts vaccine skepticism, and skepticism in general, like calling climate change a hoax. Red states are suffering big time without real reason.
As a matter of fact, a huge shitload of those 700,000 COVID deaths were needless, and so was/is a lot of the accompanying misery and 'excruciating pain' — preventable if anyone but the T-Rump and his people had been in charge. The entire, whole first-year US COVID reaction from the T-Rump White House was like how Stephanie Grisham described T-Rump's initial national address on COVID as "a total clusterfuck."
And once again, here we are…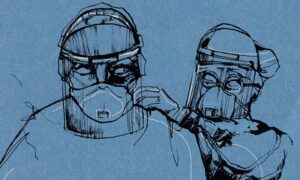 (Illustration out front: 'This Is Why Nurses Do What They Do,' by visual journalist Emily Thomas, and found here).