Life is straddling a nasty fence right now, caught in an entanglement of a deadly pandemic, a crisis in democracy, and the accelerating effects of climate change. One is surging on us right now, killing already nearly three-quarters of a million Americans, the other two appear coming further down the line, but are closer than we think — Republicans, though, are shitting on all three.
Beyond COVID and climate change, the dark-clouded threat posed by the T-Rump and the batshit-crazy GQP on how this nation functions could render useless/near-useless whatever requirements for ending the virus spread, and the damage heaped by a warming world — remember, hoax is their go-to word.
And all this shit is worse than we think.
If you have an ignorant, cruel, and ruthless person calling the shots, you're asking for major trouble. Criminal incompetence does make for some terrifying moments for onlookers. In a plot that could have been scripted by a drunk Aaron Sorkin collaborating closely with a stoned Rod Serling — and in a production way-overlooked by the MSM and general public:
Trump tried to do a coup https://t.co/aKZnjGkof0

— Molly Jong-Fast (@MollyJongFast) October 2, 2021
Seemingly, the further away in time we get from the Jan. 6 insurrection/riot at the US Capitol, the worse in reality the event becomes, with continuing the adding of facts and players in the drama culminate in revealing most-likely one of America's biggest bullet-dodging performances ever — story from The New York Times this afternoon shows how someone like the T-Rump can pluck a mediocre nit-twit, duffus-asshole out of obscurity and let him rip:
John Eastman's path from little-known academic to one of the most influential voices in Donald J. Trump's ear in the final days of his presidency began in mid-2019 on Mr. Trump's favorite platform: television.

Mr. Trump, who had never met Mr. Eastman, saw him on the Fox News talk show of the far-right commentator Mark Levin railing against the Russia investigation.
Within two months, Mr. Eastman was sitting in the Oval Office for an hourlong meeting.

Soon, Mr. Eastman was meeting face to face at Mr. Trump's urging with the attorney general, William P. Barr, and telling him how Mr. Trump could unilaterally impose limits on birthright citizenship.

Then, after the November election, Mr. Eastman wrote the memo for which he is now best known, laying out steps that Vice President Mike Pence could take to keep Mr. Trump in power — measures Democrats and anti-Trump Republicans have likened to a blueprint for a coup.

Mr. Eastman's memo is among the most alarming of the continuing revelations about the last stages of Mr. Trump's time in the White House, when he was prompting the Justice Department to find ways to reverse his loss in the election and his top general was worried about the nuclear chain of command.

Mr. Eastman's rise within Mr. Trump's inner circle in the chaotic final weeks of his administration also underscores the degree to which Mr. Trump not only relied on, but encouraged, a crew of players from the fringes of politics.
They became key participants in his efforts to remain in power as many of his longtime aides and lawyers refused to help him.

Mr. Eastman's appeal to Mr. Trump, fleshed out in interviews with Mr. Eastman and others who dealt with him during this period, rested in large part on his expansive views of presidential power — and his willingness to tell Mr. Trump what he wanted to hear.
…
Still, by early January 2021, amid his wide-ranging effort to overturn the election results, Mr. Trump had become so enamored of Mr. Eastman's advice that the two teamed up in an Oval Office meeting to pressure Mr. Pence to intervene to help Mr. Trump remain in power by delaying the Jan. 6 certification of Joseph R. Biden Jr.'s victory.

In a two-page memo written by Mr. Eastman that had been circulated to the White House in the days before the certification — revealed in the new book "Peril" by the Washington Post reporters Bob Woodward and Robert Costa — Mr. Eastman said that Mr. Pence as vice president was "the ultimate arbiter" of the election, essentially saying he had the power to determine who won, and that "we should take all of our actions with that in mind."
And a note on reality:
Mr. Eastman said that Mr. Pence then turned to him and asked, "Do you think I have such power?"

Mr. Eastman said he told Mr. Pence that he might have the power, but that it would be foolish for him to exercise it until state legislatures certified a new set of electors for Mr. Trump — something that had not happened.

A person close to Mr. Pence, who was not authorized to speak publicly about the Oval Office conversation, said that Mr. Eastman acknowledged that the vice president most likely did not have that power, at which point Mr. Pence turned to Mr. Trump and said, "Did you hear that, Mr. President?"

Mr. Trump appeared to be only half-listening, the person said.
Another John Eastman-like asshole for the T-Rump was Scott Atlas, who advised the Orange Turd on COVID, and probably allowed a shitload of people to die. Eastman and Atlas are pure T-Rump people.
In context, and also in the NYT today, though, in op/ed form — the editorial board laid out the terror fostered by Eastman's memo and the grifting horror of Republican statehouses all over America
Some highpoints:
However horrifying the Jan. 6 riot at the U.S. Capitol appeared in the moment, we know now that it was far worse.

The country was hours away from a full-blown constitutional crisis — not primarily because of the violence and mayhem inflicted by hundreds of President Donald Trump's supporters but because of the actions of Mr. Trump himself.

In the days before the mob descended on the Capitol, a corollary attack — this one bloodless and legalistic — was playing out down the street in the White House, where Mr. Trump, Vice President Mike Pence and a lawyer named John Eastman huddled in the Oval Office, scheming to subvert the will of the American people by using legal sleight-of-hand.

Mr. Eastman's unusual visit was reported at the time, but a new book by the Washington Post journalists Bob Woodward and Robert Costa provides the details of his proposed six-point plan.
It involved Mr. Pence rejecting dozens of already certified electoral votes representing tens of millions of legally cast ballots, thus allowing Congress to install Mr. Trump in a second term.

Mr. Pence ultimately refused to sign on, earning him the rage of Mr. Trump and chants of "Hang Mike Pence!" by the rioters, who erected a makeshift gallows on the National Mall.

The fact that the scheme to overturn the election was highly unlikely to succeed is cold comfort. Mr. Trump remains the most popular Republican in the country; barring a serious health issue, the odds are good that he will be the party's nominee for president in 2024.
He also remains as incapable of accepting defeat as he has ever been, which means the country faces a renewed risk of electoral subversion by Mr. Trump and his supporters — only next time they will have learned from their mistakes.

That leaves all Americans who care about preserving this Republic with a clear task: Reform the federal election law at the heart of Mr. Eastman's twisted ploy, and make it as hard as possible for anyone to pull a stunt like that again.
And the shit continues:
Time and distance from those events could have led to reflection and contrition on the part of those involved, but that's not so.
Remember how, in the frantic days before Jan. 6, Mr. Trump insisted over and over that Georgia's election was rife with "large-scale voter fraud"?
Remember how he called on Mr. Raffensperger to "start the process of decertifying the election" and "announce the true winner"?
Only those words aren't from last year. They appear in a letter Mr. Trump sent to Mr. Raffensperger two weeks ago.
Shit for the future on all fronts if this illegal, immoral power grab by Republicans gains strength, plus it would work wonders if the T-Rump had to work sometime in the way-near future from a jail cell.
And once again, here we are…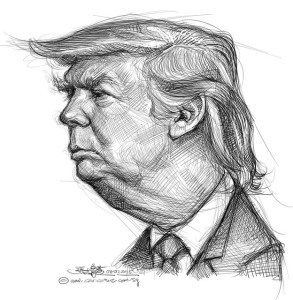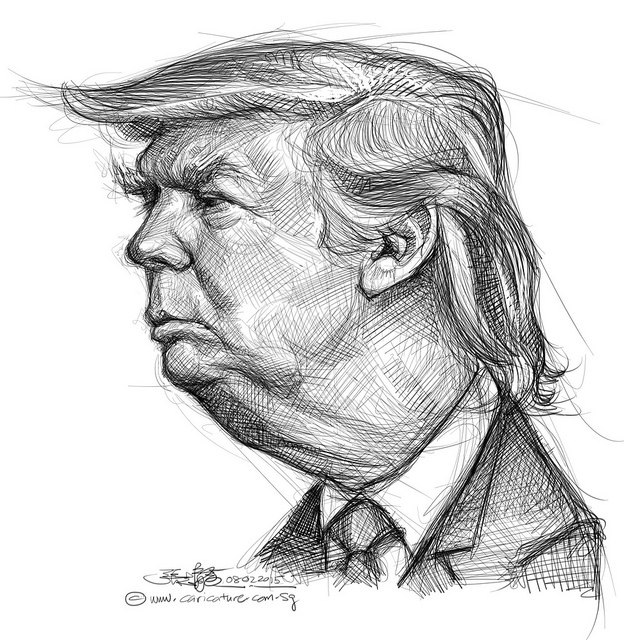 This is my favorite of the T-Rump mugs, though, 'favorite' does not mean in any form or fashion, as in, 'my favorite movie,' or 'my favorite song.'
It's more of an anti-appreciation/like.
And aptly titled, 'Basic Shapes,' by caricaturist/illustrator Chong Jit Leong (and found here), it's an image that displays the elemental form of a purloined sociopath — a bloated profile of flatulent bile and arrogant ignorance.