Putting aside the dismal, depressing political/environmental/pandemic news cycle for a minute or two and making time and room for another Sunday serenade, this time with the one-and-only, John, Paul, George, and Ringo — four names carrying a single title that really, really does go without saying.
But we will — The Beatles.
Probably the best-known, and overall, most-euphonious musical group in all of human history. In just under a decade (1962-1970), they released 13 studio albums with 229 original songs, thus: 'That's 28.625 songs every year. That's 2.3 songs every month. That's roughly a little more than one song every two weeks.'
And near-about all of it top-notch, way-shitload considered best ever at the top of many great-song lists.
As a boomer, I've been a fan forever — actually, since January 1964, and them breaking up in 1970 didn't seem at the time (and now, too) that out of line or tragic, and was probably appropriate in a Beatles' plotline.
This venture into ancient musical history comes in advance of a much-anticipated re-make, or more like it, a re-visualization of the Beatles break-up saga, "Let It Be," first released in 1970, and now coming a version from filmmaker Peter Jackson as a three-part, six-hour series to stream starting Thanksgiving Day on Disney+ with nostalgic screams expected to be heard 'round the world.
Although its centerpiece is the group's last public performance, 'Let It Be,' as the events that quickly followed revealed, is synonymous with the band's breakup.
As is noted (The New York Times):
Later that same day, after John Lennon arrives, the four rock deities gather in a circle and bicker. They have loose plans for a concert TV special featuring brand-new songs, but most of the men appear to be dreading it — and may be dreading one another, too. Lennon, who seems to space out for much of the meeting, declares vaguely that "communication" with an audience is his only aim, while an impatient McCartney challenges his bandmates to show some enthusiasm for the project or abandon it.

Harrison blurts out what they may all be thinking: "Maybe we should have a divorce?"
Indeed, scene of a productive, longtime marriage gone sour:
And with much talking as if scenes from a marriage. Last summer, Jackson said this about the new doc (IndieWire): '"I think people will be surprised by the series for two reasons … One, it'll be far more intimate than they imagined it to be, because everyone is used to seeing music documentaries being a bit kind of MTV-ish, sort of together in a poppy kind of way and it's just the music, music, music, you know? The music isn't at the forefront of this film: weirdly, it's what goes on behind the music at the forefront."'
A good examination of Jackson's making of the series can be found at the Guardian from September, and a wistful take from a similar piece at Vanity Fair last June by Joe Hagan — a sense of the time:
For a Beatles fan, this is manna from heaven, every detail taking on immense power: Paul's brown shoe tapping in rhythm to George's guitar; John flubbing a line, George smiling at the fuckup, Paul peering over to make sure John picks up the slack; an assistant crouching to hold a clipboard of newly written lyrics for "Dig a Pony" so John can remember them; car horns blowing on the streets as John belts out "Danny Boy" between songs; the beauty of Ringo's observant eyes behind the kit and George's Mona Lisa smile as nerves settle and the band soars behind John in the transcendent chorus of "Don't Let Me Down." We witness John Lennon, Paul McCartney, George Harrison, and Ringo Starr lock together as a band, in real time, and the alchemical mix of tough and tender — McCartney helming his Höfner bass like a bearded sea captain, Lennon's vulnerable smile peeking through long hair — —is freshly shocking.
Movingly, none appear more surprised by the magic of the Beatles than the band themselves.
A factor that set The Beatles apart from all the others.
And a couple of songs — noted expression:
A sense of the creative process (from the NYT link above):
It is a cold January morning in 1969, and three of the four Beatles are assembled in a cavernous film studio in London, with cameras rolling and microphones everywhere.
"Lennon's late again," Paul McCartney says matter of factly, as he plugs in his bass guitar.

With Ringo Starr and George Harrison sitting groggily before him, a tray of toast and jam by their side, McCartney starts to strum and sing, searching for inspiration.
Within minutes, a mid-tempo groove takes shape and a familiar vocal melody emerges.
"Get back," he sings in a faint howl.
"Get back to where you once belonged."
Almost like magic, a Beatles classic begins to form out of nothing.
And a flash-forward to the life of a musical group beyond the normal after the split:
Without real foreknowledge, 'Winding Road' became an anthem of divorce, even with record producer Phil Spector as musical-marriage counselor:
Even though he wrote this song, Paul McCartney didn't go to the sessions where Spector produced it. When McCartney heard the results, he made it clear that he hated what Spector did to his song, and tried to get the original version, which was mixed by engineer Glyn Johns, on the album.
The band was already falling apart, and this caused further turmoil within the group, as Harrison and Lennon both supported Spector.
Paul has not changed his stance over the years, and still believes Spector butchered it. Lennon and Harrison felt otherwise, and each had Spector produce their next solo efforts.
Lennon said of Spector's work on Let It Be: "Phil was given the s–ttiest load of badly recorded s–t with a lousy feeling to it, and he made something of it."
And the rest is history, as they say, whoever 'they' are.
Here we are, once again, more than 50 years later.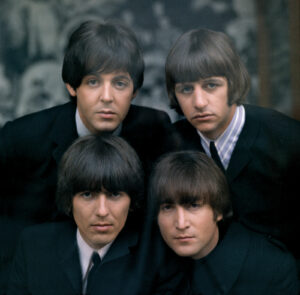 (Illustration out front: The Beatles, circa 1965, and found here).