Seemingly, our current time zone's best descriptive word might be 'unprecedented.' Joining Vlad Putin's 'unprecedented' dangerous shit in Ukraine is a shocker in a field where the unusual has become commonplace for years — climate change.
A shitload of climate-science research and analysis lately have these few words, or words to the effect embedded somewhere in the report material that the whatever subject-matter shit is worse than what was previously figured/reported and still worse is obviously yet to come.
Horribly, other bright, shiny hotspots across America and the world — plus an ass-kicking pandemic (apparently another surge coming) — pushes mankind's biggest and most dangerous problem off the front burner to maybe even off the stove altogether. Climate change if allowed to continue like right now is a humanity killer.
Our heating-up environment, though slower than Putin's 'unprecedented' use of nuclear weapons, is still an endgame.
First spied this story late yesterday and should have made mention of it — try to write as much as I can about climate change — but sidestepped/was averted from the issue by Putin's more-immediate glaring atomic-powered bullshit:
BREAKING: One of the crazier extreme weather events we've reported on. Temperatures in eastern Antarctica are 50 to 90 degrees above normal. https://t.co/jksBNnNOpM

— Capital Weather Gang (@capitalweather) March 18, 2022
Frightful details from The Washington Post:
The coldest location on the planet has experienced an episode of warm weather this week unlike any ever observed, with temperatures over the eastern Antarctic ice sheet soaring 50 to 90 degrees above normal. The warmth has smashed records and shocked scientists.

"This event is completely unprecedented and upended our expectations about the Antarctic climate system," said Jonathan Wille, a researcher studying polar meteorology at Université Grenoble Alpes in France, in an email.

"Antarctic climatology has been rewritten," tweeted Stefano Di Battista, a researcher who has published studies on Antarctic temperatures.
He added that such temperature anomalies would have been considered "impossible" and "unthinkable" before they actually occurred.

Parts of eastern Antarctica have seen temperatures hover 70 degrees (40 Celsius) above normal for three days and counting, Wille said.
He likened the event to the June heat wave in the Pacific Northwest, which scientists concluded would have been "virtually impossible" without human-caused climate change.

What is considered "warm" over the frozen, barren confines of eastern Antarctica is, of course, relative. Instead of temperatures being minus-50 or minus-60 degrees (minus-45 or minus-51 Celsius), they've been closer to zero or 10 degrees (minus-18 Celsius or minus-12 Celsius) — but that's a massive heat wave by Antarctic standards.
…
"This event happened in a location that doesn't often have melt. Obviously, this doesn't mean that from now on we're worried that melting will happen," Wille said.
"It's more of like, 'Oh, that is weird, that could happen more in the future and then this could be bad.'"

Wille said it's difficult to attribute this one event to climate change at the moment, but he does think rising temperatures helped prime conditions for such an event.
Climate change is "loading the dice" for more situations like this, he said.

Wille and his colleagues are studying how climate change will affect the circulation patterns around Antarctica and whether atmospheric rivers will become more common or more intense.
"We do believe they will become more intense because it just simple physics … but the details, we're still trying to figure that out. It would be very difficult to say that there's not a climate change fingerprint on an event like this," he said.
Unfolding fingerprints: 'The historically high temperatures in Antarctica follow a pulse of exceptional warmth on the planet's opposite end. On Wednesday, temperatures near the North Pole catapulted 50 degrees above normal, close to the melting point.'
Time is definitely not on our side, from Vlad's violent brain rot to our vehicle-driving, gas-gushing emissions, earth races down a path getting more narrow every day until there's a sudden stop. The proverbial shit will finally hard-strike the proverbial fan. Our planet, our only living place.
Meanwhile here we are once again…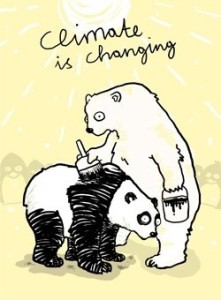 (Illustration out front by Handoko Tjung, found here).