Sunny and warm this late-afternoon Friday here in California's Central Valley — another weekend is upon us without a slow-down in this quickly-passing year. There's a summer feel to the outside right now and there's not much we can do about it.
Scrolling the InterWebs during various times today, I could see maybe the heavyweight news item of the day continues to be the destruction/sinking of Russia's Black Sea Fleet flagship, the Moskva, by Ukrainian missiles (now confirmed). Although the Russians claimed an explosive accident sunk the ship(also bad weather), it was blown out of the water by Ukrainian rockets.
The massive disaster of the decision by Vad Putin to invade Ukraine on Feb.24 is more apparent every day.
And to add insult to injury, the Moskva's captain was killed, too, and the Ukrainians' use is obvious, with sarcastic, in-your-face emotion:
The captain of the Moskva warship was killed during an explosion and subsequent fire on board, according to Ukrainian reports.

First Rank Captain Anton Kuprin, 44, was killed after the warship was hit by two Ukrainian Neptune anti-ship missiles, according to Kyiv sources.

He "died during an explosion and fire on board the former flagship of the Black Sea Fleet of the Russian Federation," said Anton Gerashenko, advisor to the Kyiv interior ministry.

The official added: "We do not mourn."
Of course not. Yet remember this is the "Go Fuck Yourself" Russian ship; ironic whiplash of the worse kind. The incident also reveals Ukraine has substance:
'Neptune' missile strike on Russian warship shows strength of Ukraine's homegrown weaponshttps://t.co/TG2uy8Ildm

— Dan Lamothe (@DanLamothe) April 15, 2022
Even further slap in the face is Ukraine's weapons production history — Vlad is an idiot. Ukraine has some nifty shit behind its story from The Washington Post this afternoon:
Soon after Russia seized Ukraine's Crimean Peninsula in 2014, a Ukrainian defense firm used an arms show in Kyiv to unveil its latest project: an anti-ship cruise missile it called "Neptune."
The new missile drew little attention at the time. But now it is in the spotlight after a U.S. defense official said Ukrainian forces used Neptune missiles to strike and sink Russia's flagship Moskva war vessel in the Black Sea.

The strike on Wednesday marked a major boost for Ukraine — not only for its war effort but also for the homegrown arms industry, even as it relies on weapons donated by Western allies.

"For the Ukrainians, if they were able to sink this ship or damage it with their own Neptune missiles, that's a point of pride, first, and a useful military capability in that they will be able to keep the Russian fleet at bay," said Mark Cancian, senior adviser for the international security program at the Center for Strategic and International Studies.
…
But Ukraine is a significant arms exporter itself, with a legacy of building missiles and rockets that goes back deep into the Soviet era.

Russia was once a key export market for those weapons: Between 2016 and 2020, 1 in 5 Ukrainian arms exports went to Ukraine's larger neighbor, according to tracking from the Stockholm International Peace Research Institute.

But in recent years, Ukrainian weapons have also been developed to fight against Russian forces.
Turn about is way-fair play.
As I stated before, Putin shit in his mess kit, and by each-and-every day it appears even a much-bigger shitty mess. A massive NATO miscalculation — via the Guardian's diplomatic editor Patrick Wintour this morning, who notes the change in heart with Norway and Sweden, a couple of normally way-neutral: countries, caused/reflected by the horrid, brutish invasion and the ongoing, extremely destructive war:
By invading Ukraine, Putin thought he had hurled a missile at the west. It has emerged to be a precision-guided boomerang.
To have turned two stolidly non-aligned countries into Nato members would join the pantheon of great strategic blunders of wartime.

It is all the more extraordinary since the turnaround has been so rapid. Finland, with its brand of semi-neutrality for the past 70 years and emphasis on consensus-building, tends to shift foreign policy with glacial speed.
Finland's tolerance of Putin was so embedded that some on the left claimed it strayed close to collaboration as the Finnish political elite shunned the Russian opposition.

In the government's annual survey in December, Finnish support for Nato membership stood at 24-percent.
Four months later, Finnish politics has somersaulted.
Support for Nato membership stood at 68-percent. Surveys now show more than half of the 200 parliamentarians back Nato membership.
In the 2015 Finnish parliamentary elections, 91-percent of SDP candidates were opposed to Nato membership.
The Finnish SDP prime minister, Sanna Marin, said everything had changed.
Russia is "not the neighbour we thought it was", she said.

Alexander Stubb, a former Finnish prime minister, said Finland's membership is based on rational fear, created on the day of the Russian invasion.
He predicts the Finnish application will be with Nato HQ by the end of May. "The train has left the station."
Vlad burned his bridges and really has nowhere to go but down. Yet because he's a monster — in the exact same form as the T-Rump — he will completely destroy Ukraine before shutting down or having to say 'I'm sorry.'
Or show any remorse:
Once again, here we are…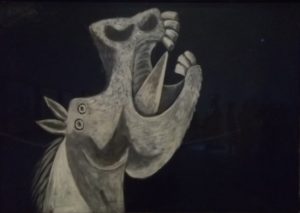 (Illustration out front: Pablo Picasso's 'Agonizing Horse,' found here)