Overcast with occasional sunshine this early-evening Thursday here in California's Central Valley — earlier this morning looked like we faced another hot, sweltering day, but instead, later on, smoggy-looking/Tule fog-like clouds covered the sun, creating a relatively cool afternoon.
A nice respite in the oncoming swelter of summer.
Meanwhile, among the news items piling up today — SCOTUS to Ukraine to COVID and back again — was another wild, insane shit-story on the T-Rump, how deeply a major, horror monster, and how cruelly idiotic. In a way, it's scarily fortunate for the US and the world that we dodged a shitload of bullets (despite the virus's toll due to his lunacy ignorance), which could have made shit worse than it really was (though, the actual was incredibly terrible) and we're still alive.
A new book adds to the abhorrent tale:
"Mr. Trump said he would just say that the United States had not conducted the strike, Mr. Esper recounts, writing that he would have thought it was a joke had he not been staring Mr. Trump in the face."

via @maggieNYT https://t.co/JGegOXHodm

— Dan Lamothe (@DanLamothe) May 5, 2022
Mark Esper, T-Rump's last Senate-confirmed defense secretary, in a new book, "A Sacred Oath" (to be published next week) describes the horror of the T-Rump's monster vibes of cruel intention without care or sense of actual living — Maggie Haberman at The New York Times this afternoon:
"I felt like I was writing for history and for the American people," said Mr. Esper, who underwent the standard Pentagon security clearance process to check for classified information.
He also sent his writing to more than two dozen four-star generals, some cabinet members and others to weigh in on accuracy and fairness.

Pressed on his view of Mr. Trump, Mr. Esper — who strained throughout the book to be fair to the man who fired him while also calling out his increasingly erratic behavior after his first impeachment trial ended in February 2020 — said carefully but bluntly, "He is an unprincipled person who, given his self-interest, should not be in the position of public service."
…
One such idea emerged from Mr. Trump, who was unhappy about the constant flow of drugs across the southern border, during the summer of 2020.
Mr. Trump asked Mr. Esper at least twice if the military could "shoot missiles into Mexico to destroy the drug labs."

"They don't have control of their own country," Mr. Esper recounts Mr. Trump saying.

When Mr. Esper raised various objections, Mr. Trump said that "we could just shoot some Patriot missiles and take out the labs, quietly," adding that "no one would know it was us."
Mr. Trump said he would just say that the United States had not conducted the strike, Mr. Esper recounts, writing that he would have thought it was a joke had he not been staring Mr. Trump in the face.

In Mr. Esper's telling, Mr. Trump seemed more emboldened, and more erratic, after he was acquitted in his first impeachment trial. Mr. Esper writes that personnel choices reflected that reality, as Mr. Trump tried to tighten his grip on the executive branch with demands of personal loyalty.

Among Mr. Trump's desires was to put 10,000 active-duty troops on the streets of Washington on June 1, 2020, after large protests against police brutality erupted following the police killing of George Floyd.
Mr. Trump asked Mr. Esper about the demonstrators, "Can't you just shoot them?"
Also remember Esper is an asshole, like the rest of that entire flock of shitheels. Already disclosed was T-Rump's response to not being allowed to shoot BLM protestors: '"Well, shoot them in the leg — or maybe the foot … But be hard on them!"'
Maybe this crazy-ass idiocy runs in the immediate T-Rump family — fruit (even dangerous fruit) don't fall far from the tree.
Junior T-Rump appears mad-as-a-hatter, cocaine-adder:
Donald Trump Jr having a normal one. pic.twitter.com/hhkJRWVcPy

— Shannon Watts (@shannonrwatts) May 5, 2022
Even surviving "a horrible plague," here we are once again…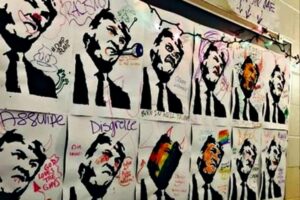 (Illustration out front is of a New York state high-school student exhibit: 'The piece was displayed during student-driven art show at Shenendehowa High School. It consisted of at least 12 identical black-and-white pictures of Donald Trump. There was also a sign above the pictures that read, "Draw on Me." Using markers from the art classroom, some students opted to scribble critical messages and profanities on the pictures' — and found here).