Breezy and chilly this early-evening Saturday here in California's Central Valley. We're forecast for some cool weather for the next few days, maybe take the sting out of the approaching summer heat.
Among the various news items today were reports of the T-Rump's rally last night in Greensburg, Pennsylvania, in support of his desired Senate candidate there, ass-prick Dr. Mehmet Oz, but mostly it was about you-know-who — himself. T-Rump has a horribly-sad, insane crowd of nit-twitted followers who are beyond anything I can figure out — crazy or what, or worse.
Hard to believe:
People leaving the Trump rally last night. pic.twitter.com/RQCXVH2h1Q

— Ron Filipkowski ?? (@RonFilipkowski) May 7, 2022
Insane, but T-Rump has his people, and they are his people — his speech sucked except for him:
At least in theory, former President Donald Trump came to Greensburg Friday night to boost his endorsed candidate for U.S. Senate, Dr. Mehmet Oz, in the May 17 Republican primary.
But thousands of supporters — who endured a heavy rain for hours before Trump at the Westmoreland Fairgrounds — heard little about Oz Friday evening.

In a speech that lasted more than an hour and a quarter, Trump spoke for only a few minutes about the TV celebrity doctor, who Trump hailed as "the man who has by far the best chance to win Pennsylvania's U.S. Senate race this fall. … He's on that screen, he's in the bedrooms of all those women."

Trump's remarks on the Senate race didn't come until 45 minutes into the speech, by which time he had already spoken at similar length about how local golfing legend Arnold Palmer financed the acquisition of a private airplane.
And to be precise about idiot-loving idiots:
Hundreds of cars bearing Trump flags, signs and stickers were parked in a soggy field next to the fairgrounds shortly after 1 p.m. Friday.
Some people slept in their cars while others headed into the venue early to ensure they got a spot for the event, which officially began at 3 p.m.

Doug Davis from Parker, Armstrong County, said the rally offered the first chance he has had to see Trump since the 2020 election. According to Davis, Trump's endorsement of Oz carries a lot of weight.
"If Trump says [Oz is] my candidate, he's my candidate," he said.
"Whoever [Trump] says is my man or woman."
Horribly screamed: WTF!
Among mud-soaked rain-reality, Trump performed another sequence of idiotic buffoonery, going after Alec Baldwin (the Independent):
During a rambling speech on Friday night in front of a rain-drenched rally of supporters in Greensburg, Pennsylvania, the former president riffed on Saturday Night Live, the TV comedy skit show where Baldwin played Mr Trump.

"Alec Baldwin's a sick puppy, he was terrible," Mr Trump said.
"I haven't seen the new guy, but I hear he's better than Alec Baldwin — but anybody would be."
…
Mr Trump also weighed in on the fatal shooting of cinematographer, Halyna Hutchins, on the set of the movie Rust.

"Hey, by the way, Alec Baldwin, did he pull the trigger?" Mr Trump asked the crowd.
The audience cheered, and Mr Trump nodded.

"No, I think he's a sick person," the former president responded.
"I mean I've watched him, he's a psycho. Something happened there, that's a strange deal."
…
Mr Trump also reminisced about previous seasons of SNL which he said that he used to enjoy.

"You remember Jon Lovitz, the liar?" the former president asked, recalling a character from the late 1980s.
"A horrible show now but it used to be good."
Just like the asshole — most favorite SNL character is someone like himself, a habitual liar! He stayed away from the SCOTUS leak, and even asshole Oz — he does love himself.
However in reality, what does the T-Rump really think about his devoted, mud-wrestling dumbshits? Most-way-likely not good:
Realtime doesn't cut it, yet here we are once again…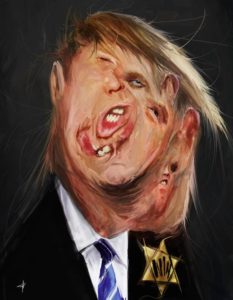 (Illustration out front: 'President Trump,' by Jonathan Bass, found here).