Warming up outside now near mid-day Tuesday here in California's Central Valley — we expect 90-degree air this afternoon, and maybe close to 100 tomorrow. Summer ahead doesn't look too charming for us out on the Left Coast. And mainly for everyone everywhere.
Beyond the violence of white, hate-filled assholes and crazy-ass Russian dictators, and rigidly hiding behind pop-up news items, climate change is still hurtling toward us at an alarming speed, but with so much shit blasting at us, the danger and the seriousness of it are way-downplayed. If played at all.
Despite the shittiness of all the rest, the greatest, most-massive threat facing every last one of us is climate change. There's no comparison, but as it stands right now, Pinball is right.
In an op/ed this morning at The New York Times, David Wallace-Wells, a climate-change journalist, pretty-much spells it out, reflecting on the awful, intense heat waves now inhabiting South Asia, alarming the 'wet bulb temperature' scale. And the worse is yet to come:
We want to call events like this "extreme," but technically we can't, "because they're not rare anymore," Friederike Otto told me, from London, just as the heat wave reached its April peak.

Dr. Otto is a senior lecturer at the Grantham Institute for Climate Change at the Imperial College of London, whose World Weather Attribution group just published a "state of the science" briefing. Among other things, it concluded that climate change has made every single heat wave in the world both more intense and more likely.
…
A U.N. report published in April suggested that by just 2030 the world would be experiencing more than 500 major disasters each year. And the quickening frequency of what were once called "generational disasters" or "500-year storms" or even "acts of God" disorients us, too, so that it becomes hard to distinguish once-a-decade events from once-a-century ones — our disaster depth of field blurred by climate disruption.
"What used to be a very extreme event is now probably not a very extreme event but something that we expect in this warmer climate quite frequently," Dr. Otto said. "We really are in a quite different world."
As it stands, drastic circumstances call for drastic measures:
Shut down fossil fuel production sites early to avoid climate chaos, says study https://t.co/pXzPsevLoM

— The Guardian (@guardian) May 17, 2022
Details from the Guardian, also this morning:
Nearly half of existing fossil fuel production sites need to be shut down early if global heating is to be limited to 1.5C, the internationally agreed goal for avoiding climate catastrophe, according to a new scientific study.

The assessment goes beyond the call by the International Energy Agency in 2021 to stop all new fossil fuel development to avoid the worst impacts of global heating, a statement seen as radical at the time.

The new research reaches its starker conclusion by not assuming that new technologies will be able to suck huge amounts of CO2 from the atmosphere to compensate for the burning of coal, oil and gas.
Experts said relying on such technologies was a risky gamble.
…
The new study, published in the journal Environmental Research Letters, analysed a database of more than 25,000 oil and gas fields and developed a new dataset of coal mines. The researchers found that fields and mines that have already been developed would lead to 936bn tonnes of CO2 when fully exploited and burned.
That is 25 years of global emissions at today's rate — the world's scientists agree emissions must fall by half by 2030.

The researchers calculated that 40-percent of developed fossil fuels must stay in the ground to have a 50-50 chance of global temperature rise stopping at 1.5C. Half the emissions would come from coal, a third from oil and a fifth from gas.
The researchers found that almost 90-percent of developed reserves are located in just 20 countries, led by China, Russia, Saudi Arabia and the US, followed by Iran, India, Indonesia, Australia and Canada.

The research only considered projects where companies had made final investment decisions, that means committed to spending billions on building rigs and pipelines to extract the fossil fuels. A 2021 study, led by Daniel Welsby at University College London, assessed all known reserves and found 90-percent of coal and 60-percent of oil and gas must remain unexploited.

Welsby said: "The new study is a valuable contribution to our understanding of what fossil fuels are highly likely to be produced and the volume which needs to remain in the ground if global warming is to be limited." But he noted the study did not fully account for methane, a potent greenhouse gas, or the oil and gas used for petrochemicals.
…
A small number of governments, including Denmark, Costa Rica, France, Ireland and California, have committed to stop issuing new fossil fuel licences. If more join, that could be a gamechanger, said Muttitt.
California, and not the US as a whole nation. And with Republicans, who not only hate non-white people, gays, any-and-all Democrats, gun control, and a shitload of other things, also party like climate change is a hoax. If the assholes win the mid-terms in November and retake the White House in 2024 (T-Rump or not) — as been sadly forecast — we will for-sure be facing a terrible, E.L.E, though, at a slower grind:
And as Pinball was noted above:
All we can do, yet once again here we are…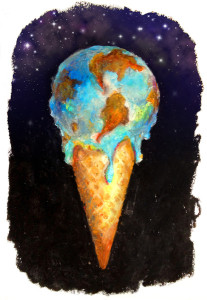 (Illustration out front found here).