Faded-yellow sunshine peeks out occasionally between off-white clouds this late-afternoon Saturday here in California's Central Valley — cool temperatures, too, in nice pre-summer kind of weather.
In the horror of the news cycle lately, deep back-burner stories are forgotten, especially something like the shadow-elephant-in-the-room — climate change. And according to new research released this past week, not only are the worse aspects of a warming environment approaching way quickly, but the timeline might be nearly 60 years earlier than previously figured:
Earth's #climate is changing faster than we thought ?. A new study led by the Weizmann Institute reveals that Southern Hemisphere #storms ?? have already reached intensity levels previously predicted to occur only in the year 2080 ? https://t.co/q81aEznmGr @EPS_Weizmann pic.twitter.com/istMJzv1o5

— Weizmann Institute (@WeizmannScience) May 26, 2022
Climate change is the greatest threat for all of humanity, I shit-you-not — via Weizmann Wonder Wander on Thursday:
A new study, published today in Nature Climate Change, will certainly make the IPCC  —  and other environmental bodies — take notice. A team of scientists led by Dr. Rei Chemke of Weizmann's Earth and Planetary Sciences Department revealed a considerable intensification of winter storms in the Southern Hemisphere. The study, conducted in collaboration with Dr. Yi Ming of Princeton University and Dr. Janni Yuval of MIT, is sure to make waves in the climate conversation.
Until now, climate models have projected a human-caused intensification of winter storms only toward the end of this century. In the new study, Chemke and his team compared climate model simulations with current storm observations. Their discovery was bleak: It became clear that storm intensification over recent decades has already reached levels projected to occur in the year 2080.
In the frame of human history, nearly two generations ahead of schedule.
Beyond the wacky plot, some good CGI with a Hollywood take on 'abrupt climate change,' and worse, however how early:
Awaiting the sweltering coming heat, though, once again here we are…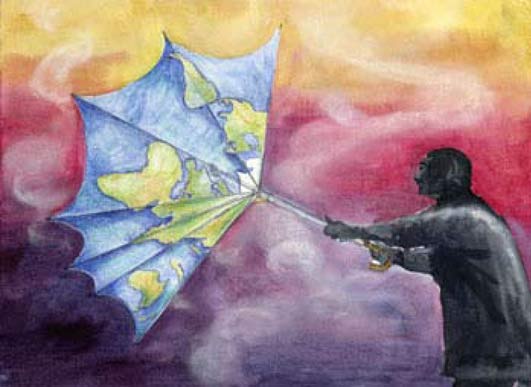 (Illustration out front from the UN's International Children's Painting Competition, and found here).