Hot and getting hotter this noonish-time Wednesday here in California's Central Valley — weather the weather.
And a way to handle the weather of news and weather itself (drought and summer) is TV shows/series that allow for an escape from all the shit that's making us feel shitty, anxious, and distraught with the way this circus of what we call life nowadays is collecting itself into one, massive, ready-to-burst balloon of turds. An escape via streaming TV can be held by anyone, inducing me.
I have my own comfort food for the eyes and ears, too. Get lost in the already known and predictable in place of the scary-ass hijinks of every corner of being alive in 2022 means now. Weird-ass notice.
And what got me into this mood type was a couple of articles I saw at the Guardian on how to cope with the seemingly never-ending parade of dumbshit news, all of which is 'bothering' us. Nice, though, to have a release or maybe a sanctuary in which to escape.
First to catch my eye, political journalist Lucy Webster last Sunday noted her habitual, anxiety- soother for these perilous nowadays to be "The West Wing," with the Aaron Sorkin-nuanced politics of good-heartedness does the business right:
I am not the only person to enjoy a rewatch, but I perhaps take it a little further than most. Repeat viewings help me manage my anxiety, the familiarity lulling my brain into fuzzy comfort; there are no surprises coming my way. We know instinctively that this works: how many of us, at the start of lockdown in 2020, decided to consume all the box sets we had never got round to, only to settle back into watching the same old thing, again and again? We got our reassurances where we could.

I, however, have been rewatching TV shows long before the pandemic made it cool. It is the surest way to quieten racing thoughts, but it's not all about mindlessness and oblivion. There is an understated joy in rewatching something smart and spotting new witty comments, subplots you missed the first time around or clever setups only visible with hindsight. Just because you have seen something already, it doesn't mean you will enjoy it any less.

So, what is my ultimate rewatch? The West Wing. I can't tell you how many times I've seen it. It has got everything you need to warrant repeat viewings: politics, romance, cliffhangers and about a million episodes. The characters are great, the writing pithy and every time I hear the theme tune, I feel a little better.
And I wholeheartedly agree:
Although I haven't watched a great deal of the "The West Wing" in the last two years, it has always been one of my favorites to revisit every once in a while. And there's no one better than Sorkin on those 'walk-and-talk' scenarios — I heavily binged it in 2016/17 in the original anus-times of the T-Rump.
And the second Guardian piece on this subject, TV critic Lucy Mangan this morning looked to her calm-the-soul, binge-rewatching of "Brooklyn Nine-Nine," which by the way ends its eight seasons-run tonight, and I, too, love the 'Nine-Nine.'
Great cast with each character a show-treat — Terry Crews, too:
In a joyous, must-read loving review of the series, Mangan concludes how great the TV treat:
It has been wonderful. A rare gift — and rarer still as one that the whole family could enjoy, at least when Pimento wasn't on screen (Jason Mantzoukas as agent of chaos Adrian Pimento) — that will be missed, however well repeated viewings hold up (and they do — the first five seasons on a Netflix loop were all that stood between me and the pit of despair for two years of pandemic and lockdown). Forgive the sentimentality, Captain Holt, but I love you all. Nine-nine!
Again, I agree. I've been pretty much a hardcore 'Nine-Nine' fan since 2013. Not much binge watching the last two/three years, though. I'll try and catch the final tonight if I can.– good times.
Right now, for me, my cleansing, soothing rewatch/binge is "Community," and I just can't get to sleep at night without watching a couple/maybe three episodes, and I've just love the ease of the evening afterward, makes dreams seem easy to handle.
'Community' is another ensemble project where the individuals make up the whole as a group, and the loss of one endangers the plotline.
Although in writing that, I do get pissed at Chevy Chase, and wonder why did they let that asshole get involved with the show. I have never enjoyed him — from his 'I'm Chevy Chase and you're not' period to his movies (except one of his earliest, "Caddyshack"), and he "doesn't care" fellow actors from SNL to 'Community' consider him a 'jerk.' If there was a glitch in the entire 'Community' universe it'd be him.
However, that's minuscule to the overall sweet fun:
One neat continuing aspect of Community's appeal is Troy and Abed's episode tags (see a compilation here), and especially this potent one with the late-great Betty White:
If you're interested, my overall binge rewatchable is "Psych," and I've probably, shameful to say, seen the entire eight-season series maybe two dozen (or more) times in the last few years. A funny, social/cultural immersed blend of another good-hearted, good time viewing experience.
Worth the time:
Others in this category are "Monk," "Boston Legal," "Scrubs," and of course, "30 Rock." Maybe and most-likely there's more, but there's just enough time left for an episode of 'Community' after lunch and some doomscrolling in the early afternoon.
You must stay sane in an ever-growing insane world.
Even with a laugh or two, here we are once again…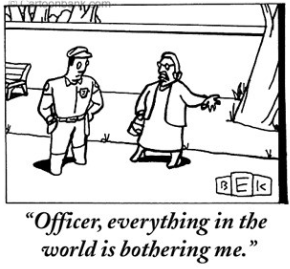 (Illustration out front: New Yorker cartoon by Bruce Eric Kaplan, found here).