Summer explodes the environment: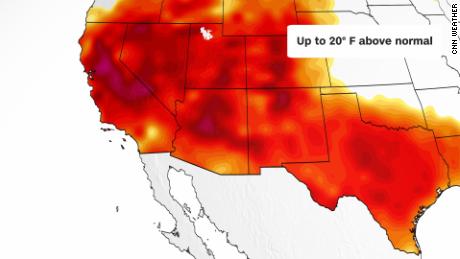 (Illustration: 'Heat Dome' across US Southwest and Pacific Coast this weekend, image found here).
Overcast and though a bit warm, fairly comfortable outside here near noon Thursday in California's Central Valley — it might be pleasant right now, but we're expecting major heat later this afternoon, especially starting tomorrow and boiling through the weekend. We're forecast for the high 90s today, but well into triple digits tomorrow and for the next couple of days.
In this kind of heat, the air itself becomes heavy as shit with a melting-like sheen to any outside view, out in the non-AC world.
Our local NWS warns us:
Areas across the San Joaquin Valley and beyond could see near record temperatures this Friday. Record temperature for Fresno is 105º F and for Bakersfield is 107º F. #CAheat #LookBeforeYouLock pic.twitter.com/kq7Jvl0ZDd

— NWS Hanford (@NWSHanford) June 8, 2022
I live about an hour north of Fresno, couple/three hours from Bakersfield — we all be cooking.
Despite our hot-ass predicament, the immediate future expands from west to east — via The Washington Post this morning:
Temperatures are soaring as we head into the weekend beneath an intense and sprawling heat dome that will bring triple-digit heat to 45 million Americans in the coming week.
Heat advisories and excessive heat watches and warnings blanket the map in the Desert Southwest and California, with the heat set to expand into the central United States this weekend.

By early next week, the stifling heat dome will shift to the eastern Lower 48, baking the Ohio Valley, Midwest, Southeast and Mid-Atlantic. Highs could run 10 to 15 degrees above normal, with readings peaking in the upper 90s and heat indexes topping 100.

Records could be in jeopardy in many major cities, with conditions that could prove downright dangerous for older adults, the homeless and other vulnerable populations.

The National Weather Service has issued excessive heat warnings or heat advisories for more than 30 million residents from the Desert Southwest through California's Central Valley into the weekend.
…
Excessive heat warnings are in effect through this evening for northern parts of the Central Valley, where readings in the valleys and foothills should range between 100 and 107 degrees Thursday.
It's likely that the alerts will be extended or reissued in the coming days.

"In addition to hot temperatures during the daytime, there will be little overnight relief from the heat," the Weather Service in Hanford, Calif., warned.

Sacramento is expected to hit 101 degrees on Thursday afternoon, 105 on Friday and 102 on Saturday before returning to the upper 80s by Sunday.
That could tie a record Thursday.
And the rest of the US:
The heat is all thanks to a dome of high pressure, which is bringing clear skies and hot, dry, sinking air. The jet stream is diverting north of the high, carrying all inclement weather and storminess with it. That allows for copious sunshine, making it possible for sunlight to pour down and heat the ground unimpeded.

That heat dome will be centered over the Four Corners region on Saturday but should translate east over the Plains on Sunday and reach the eastern United States by Tuesday.
Thereafter it could linger, bringing widespread highs 10 to 15 degrees above normal.

It is likely to usher in what could be the first major East Coast heat wave of the season.

Human-caused climate change is supercharging heat waves like this one, making them more intense and long-lived.
The heaviest, hottest part of the piece is right at the end.
And the end of the end is coming quickly. A quick-snap reminder came last month by climate-change journalist David Wallace-Wells in an op/ed at The New York Times — a must-read, in-depth piece, including this:
For a few years, I've startled people by pointing out that over half of all of the emissions from the burning of fossil fuels that have ever been produced in the history of humanity have been produced in the past 30 years — since Al Gore published his first book on warming; since the U.N. established its climate-change body, the I.P.C.C.; since the premiere of "Friends."
But it is perhaps even more astonishing to consider just how fast the temperature is rising. As recently as 2015, the 10-year average of global temperatures showed, according to the I.P.C.C., warming of 0.87 degrees Celsius above the preindustrial average. Just five years later, it had jumped to 1.09 — 25 percent higher in half a decade.

When sociologists talk about "shifting baseline syndrome," they mean we tend to base expectations for the future on our memory of the recent past. But just five years ago, it was exceedingly rare for more than a million acres to burn in a California wildfire season; today the record is 4.3 million acres, and in four of the past five years more than 1.5 million acres burned in the state alone.
Over the past decade, extreme heat events have grown 90 times more common, according to one study, compared with a baseline of frequency between 1950 and 1980.
Friederike Otto, senior lecturer at the Grantham Institute for Climate Change at the Imperial College of London: '"I think we don't actually know what this new normal or emerging normal will feel like because the temperature and greenhouse gases have increased so fast, and by so much, over just the last decade that we haven't really had time to experience what that means. And we are starting to witness events that would not have been possible, and that we could have not really imagined to be possible, without climate change."'
And the story continues. And worse:
How's this for brazen?

Fossil fuel investors are going to private international tribunals to argue that climate change policies are illegally cutting into their profits and they must therefore be compensated. https://t.co/xadyXby4sP

— Jacobin (@jacobin) June 8, 2022
The lede in the story at the link: 'Fossil fuel companies are suing countries that enact climate change policies, arguing that they are illegally cutting into their profits — and they're winning 72-percent of the time. Now governments risk being sued for billions when enacting climate policies.'
Added shit to the shit pile — per EuroNews on Monday:
The Ukraine war has caused a "gold rush" for new fossil fuel projects, threatening to lock us into irreversible global warming, according to leading climate researchers.

A new report from Climate Action Tracker (CAT) has found that soaring energy prices in the wake of Russia's invasion have caused more investment in oil and gas projects.

It spotlights a plethora of new gas projects, many of which will not be built in time to combat the current energy crisis. They will, however, increase emissions in the long term and lock us into carbon-intensive infrastructure for decades to come.
And the poor will suffer first without substance:
Michael Wehner, a senior scientist at the Lawrence Berkeley National Laboratory, said he has stocked up on HEPA air filters in case wildfires cause the air quality to deteriorate where he lives.
"Like many Californians, I am bracing for yet another fiery summer given the severe drought currently across the western U.S.," he told Axios.
He is ready to relocate if air quality gets extremely hazardous. "Hopefully we will be spared, but it is prudent to be prepared."
"What concerns me, of course, is that many people cannot afford these expensive filters nor get out of harm's way," he said.
However, every last human/animal/plant life will eventually find itself in harm's way.
I think I'm using Pinball too much lately, but he's right on, even still:
Heat dome or don't, here we are once again…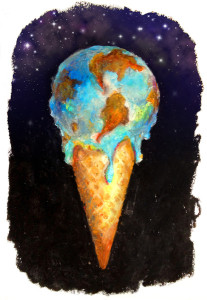 (Illustration out front found here).