Even a nice wind can't mitigate the heat this late-afternoon Tuesday here in California's Central Valley — another day in the life.
A most-singular item with handling weather nowadays is whether you can actually weather the weather.
In such nonsense, a contextual angle to all that shit is American democracy received high-weather marks today with the strong, dramatic testimony of Cassidy Hutchinson before the House Jan. 6 committee. Hutchinson is a former senior aide to Mark Meadows, and privy to a whole lot of shit — an eyewitness to a violent, unhinged asshole that's the T-Rump and the nit-twits who enabled him. Hutchinson, most definitely this committee's 'John Dean,' was attractively somber, pensive, and emotional.
I watched the hearing on C-Span and a couple of times during her testimony I thought she may cry. She didn't, though, the indifference of the T-Rump to violence in grifting the American system seemed to hurt Hutchinso the most: '"It was un-American … We were watching the Capitol building being defaced over a lie."'
She described a crazy, mean-ass T-Rump who had no shame at all in throwing tantrums, acting the asshole baby. Upon learning of Bill Barr's report in December 2020 of no election fraud, he threw his plate of food, 'ketchup smeared on the wall' and fumed; on Jan. 6 when security told him no to a trip to the US Capitol, he 'lunged' at a Secret Service agent and even tried to take the wheel of the big-ass limousine.
Hutchinson recalled the actions of a mobster monster. Maggie Haberman at the New Year Times live blog earlier of the hearing: 'Trump has, for decades, had staff who have swallowed a lot of information about his behavior. This level of behavior would not be a surprise to people who worked for him in the 1980s and 1990s.'
And the T-Rump will be the T-Rump — one fucked-up, but dangerous asshole:
when you're definitely not mad pic.twitter.com/XhGTurDAJX

— Aaron Rupar (@atrupar) June 28, 2022
Aaron Rupar has a really good, concise wrap at his Public Notice newsletter.
Marcy Wheeler at Emptywheel.
Another by tengrain at MPS.
And Digby, too.
Bess Levin at Vanity Fair.
A positive moment in a negative screenplay of the nowadays.
And, here we are once again…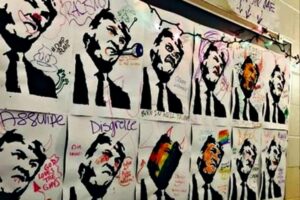 (Illustration out front is of a New York state high-school student exhibit: 'The piece was displayed during student-driven art show at Shenendehowa High School. It consisted of at least 12 identical black-and-white pictures of Donald Trump. There was also a sign above the pictures that read, "Draw on Me." Using markers from the art classroom, some students opted to scribble critical messages and profanities on the pictures' — and found here.)