(Salvador Dali's 'Fire, Fire, Fire,' lithograph, c.1971, and found here.)
Hot, but cooled by a decent breeze this late-afternoon holiday Monday here in California's Central Valley — the Fourth of July, America's supposed birthday.
Too much shit going on for the normal red-white-and-blue bullshit — this country is in such a predicament right now this might be the last 'Fourth of July' as the celebration of our nation's founding. As shit stands, next year this time no telling what the actual situation will be, or how the midterms go — if Republicans grab power, the next 'Fourth of July' most-likely won't be pretty.
After a shitload of July fourths under my belt, this one today is probably the shittiest in terms of history. Usually, there's some optimistic national pride involved with the event, but this year is a grind of way-too-much bullshit, and the reality of what's happening to this country is becoming frighteningly apparent — we're going down the tube. Not only are the right-wing crazy-ass and bonkers, there's violence in the air. The insane gun love of right-wingers is a shape of some kind of way-disturbing death rattle.
Coated the day with death. You've way-most-likey have already heard/seen, so this the latest (via CNN): 'Robert E. Crimo III, a person of interest in a mass shooting at a parade that left six dead and sent more than two dozen people to hospitals, has been taken into custody near Lake Forest, Illinois, authorities said during a brief news conference Monday night.'
Insane!
Just a contextual sidebar — earlier from the Guardian's live blog on the shooting:
Just to give a sense of how many high-profile shootings the US experiences, the Associated Press produced a list of those in just the last few months.

Vestavia Hills, Alabama: At least two people died and another was hospitalized on 16 June after a shooting at St Stephen's Episcopal Church in a Birmingham suburb.

Duncanville, Texas: Police shot and killed a man who fired gunshots on 13 June at a Dallas-area gymnasium where at least 150 children were attending a day camp.

Chattanooga, Tennessee: Three people died and 14 people were injured in a shooting on 5 June in front of a restaurant. Three people have been arrested.

Philadelphia, Pennsylvania: Three people died and 11 others were injured on 4 June on a busy block in Philadelphia during a melee that began with a fistfight and was followed by random gunfire.

Dayton, Ohio: An incarcerated person being treated at a hospital shot and killed a security guard on 1 June, pointed the weapon at others and killed himself in a parking lot.

Tulsa, Oklahoma: A gunman killed his surgeon and three other people at a medical office on 1 June. The gunman killed himself as police arrived.

Uvalde, Texas: An 18-year-old gunman killed 19 children and two adults at Robb elementary school on 24 May in the deadliest school shooting in nearly a decade. More than 15 other people were wounded. Law enforcement killed the attacker.

Chicago, Illinois: A shooting killed two people and injured seven others on 19 May just blocks from the Magnificent Mile shopping district. Two men have been charged.

Laguna Woods, California: One person was killed and five others injured on 15 May after a man opened fire on Taiwanese parishioners in southern California.

Buffalo, New York: A white gunman opened fire on 14 May at a supermarket in a predominantly Black neighborhood, killing 10 people and injuring others. He has been charged with federal hate crimes that could carry the death penalty if he is convicted.
We're in a mess, between a rock and a hard place, up the creek without a paddle, or:
Here we are once again…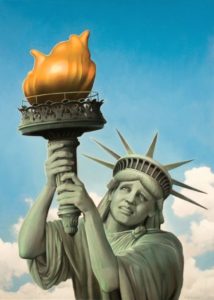 (Image out front by illustrator and portrait painter, Tim O'Brien, and can be found here).