Rinse and repeat, but with really, really hot water. Another heavy-air experience this late-afternoon Sunday here in California's Central Valley; we're in a dangerous zone with high-ass temperatures and without any hint of wind.
Our local NWS has issued an 'Excessive Heat Warning' for the region — temperatures maybe 105 to 110 degrees — and the upcoming week looks the same, hot and dry
Despite years of warnings, our infrastructure is wanting — from an op/ed at the LA Times yesterday:
We are only recently beginning to grasp the true scale of the problem. A Los Angeles Times investigation found last year that California underestimates the number of deaths related to extreme heat by as much as sixfold. Its counts are based on death certificates that reference heat, but they don't factor in deaths during extreme heat periods that might not have heat cited as an underlying cause or contributing factor. The Centers for Disease Control and Prevention has similar gaps in tracking heat-related deaths.

Unsurprisingly, the effects of heat are unequal. Households of color are less likely to have air conditioners, and a 2019 study found they experienced the greatest increase in emergency department visits for heat-related illnesses, deepening existing health disparities. Low-income neighborhoods, the elderly and young children are also especially vulnerable.

This emerging picture of the human costs, coupled with projections of how climate change will drive up these costs, renders extreme heat nothing short of a health crisis for California. Yet we don't have a strong, widely available toolkit to tackle it.
Apparently, we're not alone in the warmth as heat waves are all over, especially in the UK and Europe — from The New York Times this afternoon:
The weather maps for Europe were blood red on Sunday as heat that has been baking Spain and Italy and fanning fires in southwest France worked its way north toward Britain.

In London, it was warm, in the high 80s, but temperatures on Monday and Tuesday were forecast to hit 100 or higher and to shatter records in a place where air-conditioning is rare and buildings are constructed to retain heat.

In France, the extreme temperatures that have fed wildfires in the south are expected to sweep into the north, especially along the Atlantic coast, which was bracing for uncharacteristically scorching weather.
And the new normal is not to be shrugged off:
I am seeing people responding to astounding magnitude of heat in Europe right now with "meh, I've seen worse." Seems that many folks don't understand importance of geographic & socioeconomic context when it comes to impacts: this extreme heat event may yield 5-figure death toll. https://t.co/AI0Ve4vt8a

— Daniel Swain (@Weather_West) July 17, 2022
All courtesy of climate change both hurdling towards us, and already here — from a Bloomberg op/ed today:
What's particularly concerning is the rise of dangerous humid-heat temperatures, as explored by David Fickling and Ruth Pollard in this feature. It was thought that the fatal 35 degrees Celsius (95 degrees Fahrenheit) wet-bulb threshold — the point at which the human body can't cool itself down and even healthy people with unlimited shade and water will die of heatstroke — almost never occurred in the current climate. But as a 2020 study (and the map below) reveals, humid heat above 35 degrees C has already been happening — from the Persian Gulf and the Red Sea to Pakistan, India, Australia, Venezuela and both Mexican coasts. Wet-bulb temperatures above 31 degrees C have turned up in dozens of places across tropical South and Southeast Asia, China, West Africa, southern Europe, and the Americas, extending to the suburbs of New York and Naples, Italy.
Onward into the way-immediate future.
Playing us out in an amplification furnished via Martha Reeves & The Vandellas:
Hot to trot, and here we are once again…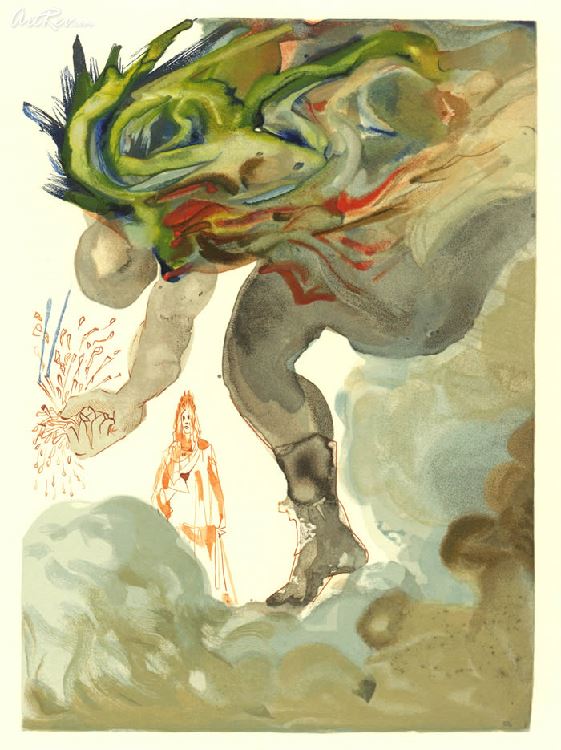 (Illustration out front: Salvador Dali's 'Hell Canto 2: Giants,' found here.)