In moves with sound effects similar to a noose tightening around the T-Rump came today as one of his way-longtime financial stooges pled guilty in New York to fraud, while several former White House officials said the T-Rump is full of shit declassifying intel documents willy-willy — "total nonsense" said one.
Hopefully, time and space will soon run out for the Orange Turd.
First, out of the stocks this morning was a lying/fraud as a way of life practitioner sounding way-highly culpable in setting the stage to knock holes in T-Rump's company — via The New York Times this afternoon:
As part of the plea deal with the Manhattan district attorney's office, the executive, Allen H. Weisselberg, is required to testify at the company's trial if prosecutors choose to call on him, and to admit his role in conspiring with Mr. Trump's company to carry out the tax scheme. That testimony could tilt the scales against the company, the Trump Organization, as it prepares for an October trial related to the same accusations.

"Yes, your honor," Mr. Weisselberg said again and again in response to detailed questions from the judge, Juan Merchan, who asked whether he and the Trump Organization committed the criminal conduct underlying each of the 15 counts.
Although Weisselberg is not required to cooperate with the New York DA to testify against the T-Rump, he's a minion/henchman through and through: 'His willingness to accept jail time rather than turn on Mr. Trump underscores the extent of his loyalty to a family he has served for nearly a half-century, and it helped stymie the larger effort to indict Mr. Trump.'
If the asshole tells the truth at trial he'll receive a five-month jail sentence, and maybe serve as little as 100 days with time credited for good behavior — however, if he's caught in a lie he could see 15 years in prison. He's still has to pay near $2 million in taxes, fines, and whatnot. At 75, Weisselberg ends on an easy note, despite it all. He's loyal and loves him some T-Rump.
The case has been in the works for a while and is scheduled for trial in October.
Meanwhile, the FBI search of T-Rump's Mar-a-Lago golf course/homestead is still alive. Apparently, there's a consensus on those intel documents being easily declassified by the T-Rump by standing order, justifying him to abscond with an enormous load of secret shit — surprise! All bullshit as usual:
This talk of a 'standing order' to declassify is a bunch of bull. There's no such thing. He didn't declassify the documents. He just took them. https://t.co/ltG3hAVPfs

— Richard W. Painter (@RWPUSA) August 18, 2022
Details from CNN late this afternoon:
In the days since the FBI seized classified and top secret documents from Donald Trump's Mar-a-Lago resort, the former President and his allies have claimed that Trump had a "standing order" to declassify documents he took from the Oval Office to the White House residence.

But 18 former top Trump administration officials tell CNN they never heard any such order issued during their time working for Trump, and that they believe the claim to be patently false.

Several officials laughed at the notion. One senior administration official called it "bullsh*t." Two of Trump's former chiefs of staff went on the record to knock down the claim.
"Nothing approaching an order that foolish was ever given," said John Kelly, who served as Trump's chief of staff for 17 months from 2017 to 2019. "And I can't imagine anyone that worked at the White House after me that would have simply shrugged their shoulders and allowed that order to go forward without dying in the ditch trying to stop it."

Mick Mulvaney, who succeeded Kelly as acting White House chief of staff, also dismissed the idea and told CNN he was "not aware of a general standing order" during his tenure.

In addition, CNN spoke with former national security and intelligence officials as well as White House lawyers and Justice Department officials. Taken together, their tenure covers all four years of the Trump administration, and many served in positions where they would either be included in the declassification process, or at the very least, be aware of such orders.

Official after official scoffed at the claim Trump had a standing order to declassify documents that left the Oval Office and were taken to the residence.
"Total nonsense," one senior White House official said.
"If that's true, where is the order with his signature on it? If that were the case, there would have been tremendous pushback from the Intel Community and DoD, which would almost certainly have become known to Intel and Armed Services Committees on the Hill."

…

"It can't just be an idea in his head," said David Laufman, the former chief of the Justice Department's counterintelligence division who investigated Hillary Clinton's handling of classified documents.
"Programs and officials would have been notified. There is no evidence they were."

Laufman's successor, Jay Bratt, was one of the four federal investigators who met with Trump's attorneys about the documents at Mar-a-Lago in June, CNN has previously reported.

One source familiar with declassification inside the Trump White House said although it is true that the President has broad declassification powers, Trump would have needed to create a record of it — and the source said he did not do that.
"As a practical matter, you have to prove it," the source said.
"If he says, 'I declassified something,' the obvious question is, 'Did you tell anybody about it?' The obvious concern is that this is all after the fact."

Another source with knowledge of how the former president operated said it was Trump's view that he could declassify information anytime and any way he wanted.
"He was counseled that's not the way it works," the source said.
T-Rump doesn't follow orders/advice/counsel at all. He doesn't give a shit about anything and anyone outside of himself — and the only important matter is what kind of money is involved, and can fraud work to get the money? And that's all. The interest of anyone else doesn't play at all in T-Rump's roll, and he sure-as-shit doesn't give a fat-rat's-ass about the United States. America, too, is a grift target.
Indeed, he's one of the worse human beings who has ever lived — and you fucking well know that's saying a fucking lot. Plus, to think we're stuck with him.
And to loosen that rant contextually — more today on T-Rump and that FBI search last week. Maybe we can see what's up with the DOJ's case:
The Florida judge who approved the Trump search warrant has given the Justice Department until next Thursday to file a redacted version of the affidavit related to the search.

— Kyle Griffin (@kylegriffin1) August 18, 2022
Yet there's the old redaction process — details per The Washington Post, also late this afternoon:
Federal Magistrate Judge Bruce E. Reinhart, appearing to reject the government's argument for keeping the entire document sealed, said he would make a determination after next Thursday, when Justice Department officials are expected to submit their proposed redactions.

The affidavit has become the latest flash point in a criminal probe scrutinizing materials taken from the White House when Trump's term ended last year. On Aug. 8, FBI agents executed a search warrant at his Mar-a-Lago estate in Palm Beach, carting away dozens of boxes containing what authorities have characterized as highly classified national secrets.

Reinhart, noting that he had reviewed the affidavit multiple times, said he believed parts of it could be made public without impeding the probe.

The government had argued that its investigation was in the "early stages" and that release of the affidavit could chill potential witnesses, risk the safety of those already interviewed, reveal future investigative steps and disclose significant amounts of grand jury material.

"I'm not prepared to find the affidavit should be fully sealed," Reinhart said. "I believe based on my initial careful review of the affidavit many times that there are portions that could preemptively be unsealed."

Reinhart said he would not make a decision until reviewing the government's proposed redactions and would stay any ruling pending potential appeals — meaning the affidavit may not be made public for some time, if ever.

The affidavit would provide the most comprehensive rationale for why the government pushed to search Trump's property — and what investigative steps it had taken beforehand. It would show who the government had interviewed, what they believed was potentially on the premises and why they believed there was probable cause that crimes had been committed.
The media want the affidavit and its corresponding information released:
"Transparency serves the public interest in understanding and accepting the results. That's good for the government and for the court," Charles Tobin, a lawyer representing the media outlets, said in court on Thursday. "You can't trust what you cannot see."

Tobin and other lawyers representing those calling for greater transparency, including the conservative group Judicial Watch, conceded that some materials may need to remain secret. But they argued repeatedly that the judge should limit what's omitted and compel the government to explain every redaction.

The judge indicated he may hold a closed hearing at which the government would be asked to explain its decisions.
One question above all — is there shit in this investigation that can indict, and then send T-Rump to jail? I certainly hope so.
We just have to wait and see.
If not, Pinball's right again:
Indeed, once again here we are…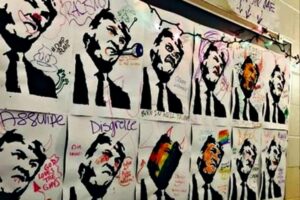 (Illustration out front is of a New York state high-school student exhibit: 'The piece was displayed during student-driven art show at Shenendehowa High School. It consisted of at least 12 identical black-and-white pictures of Donald Trump. There was also a sign above the pictures that read, "Draw on Me." Using markers from the art classroom, some students opted to scribble critical messages and profanities on the pictures' — and found here.)