Instead of a news item generating interest for a post, I found music instead — Friday is a sought-after day. Sick to the bowels of T-Rump and the entire most-ugly and weird-ass Republican political apparatus, I turned to song of verse longing for a day at the end of the work week.
No better way to start comes from Miss Emily Dickinson in a letter to a dear, older friend, Elizabeth Holland, in early May 1866 — an observation on this particular day:
Friday I tasted life. It was a vast morsel. A circus passed the house – still I feel the red in my mind though the drums are out.

The book you mention, I have not met. Thank you for tenderness.

The lawn is full of south and the odors tangle, and I hear today for the first the river in the tree.
I have no idea what Emily was writing about right there, it's from the middle of the letter, but the words so pleasant in the reading. Apparently, Holland had just visited and maybe had left on a Friday. The letter maybe is a kind of thank-you/missing-you kind of things. Dickinson is one of my favorite poets — she didn't seek poetic fame in her lifetime, but any subject Googled (including 'Friday') and she will have words to say about it.
Even within the dialogue of a letter.
And this song, which started the 'Friday' theme, got in my head earlier today:
Yet in two days, past the weekend: "Monday mornin' feels so bad…"
And another interpretation hopped-up with a little slick and sticky-wick:
Depressing even for a Friday, mainly because you don't give-a-shit about any other day:
I don't care if Monday's blue
Tuesday's grey and Wednesday too
Thursday, I don't care about you
It's Friday, I'm in love
Monday you can fall apart
Tuesday, Wednesday break my heart
Oh, Thursday doesn't even start
It's Friday, I'm in love
And at the long last, life and the party:
It's finally Friday
I'm free again
I got my motor running for a wild weekend
It's finally Friday
I'm outta control
Forget the workin' blues
And let the good times roll
And maybe some easy Friday night weekend bar-hoppin' huh:
I like to venture into town
I like to get a few drinks down
The floor gets packed the bar gets full
I don't like life when things get dull
The hen party have saved the night
And freed themselves from drunken stags
Having fun and dancing in
A circle round their leather bags
I go out on Friday night and I come home on Saturday morning
I go out on Friday night and I come home on Saturday morning
And to sound us out — Miss Emily Dickinson once again, and 'Saturday Afternoon:"
Saturday Afternoon
From all the jails the boys and girls
Ecstatically leap, —
Beloved, only afternoon
That prison doesn't keep.
They storm the earth and stun the air,
A mob of solid bliss.
Alas! that frowns could lie in wait
For such a foe as this!
Words of verse finds us once again here we are…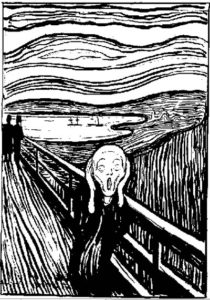 (Illustration out front: Edvard Munch's 'The Scream,' lithograph version, found here.)