In my usual news surf this Thursday afternoon, I was immediately struck by some sad, shitty legal news on T-Rump and the Mar-a-Lago document-dump clusterfuck — asshole T-Rump judge has flipped the switch and made an obvious outreach to keep the legal binds tied for the Orange Turd and his lawyers.
Per The New York Times this evening: 'A federal judge on Thursday eased several demands a special master had imposed on former President Donald J. Trump's lawyers in conducting a review of documents the F.B.I. seized from his residence last month, overruling an arbiter she had appointed herself.'
In your face American justice:
OUTRAGEOUS. Yes, I know I'm shouting. I don't do it often, but Judge Cannon is shocking. Why have Special Master if you plan to run the review yourself? Will SM resign?
Cannon rules Trump lawyers don't have to clarify claims on Mar-a-Lago documents https://t.co/x9P3Wyf0Ku

— Jill Wine-Banks (@JillWineBanks) September 29, 2022
Details via The Washington Post this afternoon:
Judge Aileen M. Cannon told Donald Trump's lawyers Thursday that they did not need to comply with an order from special master Raymond J. Dearie and state in a court filing whether they believe FBI agents lied about documents seized from the former president's Florida residence.

Thursday's ruling was the first clash between Cannon, a Trump appointee who has generally shown the former president deference in litigation over the Mar-a-Lago investigation, and Dearie, a federal judge she appointed as an outside expert in the case, who appears to be far more skeptical of Trump.

After Trump's lawyers requested a special master, Cannon chose Dearie to review approximately 11,000 documents seized Aug. 8 from Trump's Mar-a-Lago Club and residence and determine whether any should be shielded from investigators because of attorney-client or executive privilege.
In better legal terms, Marcy Wheeler at emptywheel has a most-excellent, quick summary of T-Rump's Cannon bullshit, concluding: 'It's an obvious power grab to ensure her own intervention doesn't backfire on Trump. Nothing is surprising about this. It's not even surprising how shamelessly she has intervened.The only matter of suspense is how honestly reporters will report this naked power grab.'
Yeah to that.
Judge not judge, yet here we are once again…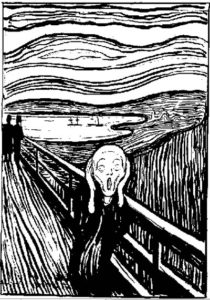 (Illustration out front: Edvard Munch's 'The Scream,' lithograph version, found here.)