If this is Saturday, then three days and counting until Tuesday. Although there's still time left to make the right decision and vote, democracy is scrambling to stay afloat — despite losing an hour in the morning.
Obama in Pennsylvania this afternoon:
Wow.

One of Obama's better endings, and THAT is saying something. https://t.co/C4rqrsllKK

— Angry Staffer ? (@Angry_Staffer) November 5, 2022
Nutshell note via The New York Times this afternoon:
In his remarks in Philadelphia and earlier in the morning in Pittsburgh, Mr. Obama cast his party as defending the bedrock values of the nation and Mr. Trump as the biggest threat to American democracy.

"Donald Trump says he needs Dr. Oz in the Senate in case there's a close election again," Mr. Obama said, in Pittsburgh on Saturday morning, a stop the president skipped. "Think about that. He's basically saying, look, if I lose again, I need him to see if he can put his thumbs on the scale. That is not what this country is supposed to be about."

Later in Philadelphia, Mr. Obama urged a stadium of supporters to head to the polls. "Vote for leaders who are going to fight for that big, inclusive, hopeful, forward-looking America that we believe in," he said. "It is in your hands."

In perhaps a sign of awareness of Mr. Biden's political standing, the president opened the Philadelphia rally rather than taking the closing slot typically reserved for the president — that spot belonged to Mr. Obama.
Obama and Joe Biden together again, the whole enchilada (jump to the 15-minute mark, sorry):
Three days or 72-plus hours to go, yet here we are once again…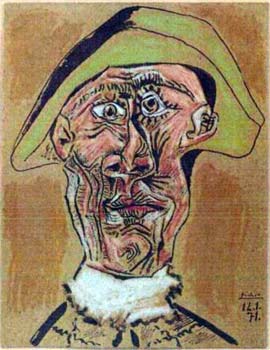 (Illustration out front (and delightful Obama satirical caricature): 'Tête d'Arlequin,'  by Pablo Picasso, and found here.)