Despite knowledge of how lying and bullshit is his trade of life, news of T-Rump's adventures with classified documents is an epic tale in itself of slap-away accountability, of which he's never suffered.
News today, the search came up with more shit in the closet:
The plot thickens as more criminally mishandled classified documents turn up at yet another venue. Trump's skeletons seem to be buried in an ever-expanding array of places:https://t.co/jLHcuO2cTn

— Laurence Tribe (@tribelaw) December 7, 2022
Details via The Washington Post, updated this afternoon:
Lawyers for Donald Trump found at least two items marked classified after an outside team hired by Trump searched a storage unit in West Palm Beach, Fla., used by the former president, according to people familiar with the matter.

Those items were immediately turned over to the FBI, according to those people, who like others spoke on the condition of anonymity to discuss sensitive matters.

The search was one of at least three searches for classified materials conducted by an outside team at Trump properties in recent weeks, after Trump's legal team was pressed by a federal judge to attest that it had fully complied with a May grand jury subpoena to turn over all materials bearing classified markings, according to people familiar with the matter.

…

Emails released by the General Services Administration, which assists former presidents during their transition to private life, show that the government agency helped rent the storage unit at a private facility in West Palm Beach on July 21, 2021. The unit was needed to store items that had been held at an office in Northern Virginia used by Trump staffers in the months just after he left office.

The emails show that the GSA and Trump staffers worked together to arrange to ship several pallets of boxes and other items weighing more than 3,000 pounds from Northern Virginia to the Florida storage unit in September 2021.

A person familiar with the matter said the storage unit had a mix of boxes, gifts, suits and clothes, among other things. "It was suits and swords and wrestling belts and all sorts of things," this person said. "To my knowledge, he has never even been to that storage unit. I don't think anyone in Trump World could tell you what's in that storage unit."

There was no cataloguing of what was put in the storage unit, Trump advisers said — just as there was no cataloguing of what classified documents were taken to a room underneath Mar-a-Lago.

The Washington Post could not immediately determine specifically what was in the items marked classified. A Justice Department spokesman declined to comment. The FBI did not immediately respond to a request for comment.

The ultimate significance of the classified material in the storage unit is not immediately clear, but its presence there indicates Mar-a-Lago was not the only place where Trump kept classified material. It also provides further evidence that Trump and his team did not fully comply with a May grand jury subpoena that sought all documents marked classified still in possession of the post-presidential office.
Further from a Nicolle Wallace-led panel at MSNBC, also this afternoon:
Despite the storage-locker dance, once again here we are…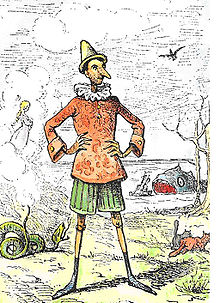 (Illustration out front: 'Pinocchio,' by Enrico Mazzanti, and found here.)