End of another work week is approaching this late-afternoon Friday here in California's Central Valley, total darkness comes way too quickly nowadays, and our foggy/overcast coming-winter environment doesn't improve the situation, either.
Weather the weather is the only way, though.
As is her self-centered limelight personality, Arizona senator Kyrsten Sinema's switching the 'D' to an 'I' appears the top story, but really who gives a fat rat's ass? Sinema is a seeker of self, a T-Rump-like cretin dressed nasty, and tacky.
She's a "B' with flights of rich fantasy: '"Senator Sinema may now be registered as an Independent, but she has shown she answers to corporations and billionaires, not Arizonans. Senator Sinema's party registration means nothing if she continues to not listen to her constituents," the state's Democratic party chair, Raquel Terán, said in a statement.'
Anyway, the Brittany Griner/Viktor Bout swap is still pertinent on today's news feeds, although American hostages out in the world have been a focal point for decades. Robin Wright at The New Yorker today takes a look at that history — go read the whole piece, pretty interesting, including these snips:
Griner's return brought a well-known case to its end, but she was just one of at least sixty Americans currently held hostage or wrongfully detained in eighteen different countries, according to the James W. Foley Legacy Foundation. (Foley was an American journalist kidnapped by isis in Syria in 2012; he was beheaded twenty-one months later.) During the past decade, the average number of Americans detained abroad has risen by almost six hundred per cent, the Foley Foundation reported. The length of time hostages are held has increased by sixty per cent. Nearly half of the U.S. nationals wrongly detained have been held for more than five years, the foundation noted. Three-quarters are in five countries: China, Iran, Russia, Syria, and Venezuela. (Today, foreign governments hold more Americans than terrorist groups do.)

This week, Biden claimed that dozens of Americans have been released since he took office nearly two years ago, but a State Department spokesperson could only specify releases from Afghanistan, Myanmar, Haiti, Venezuela, and the region of West Africa. Last year, the U.S. joined a fifty-eight-nation initiative launched by Canada to impose sanctions and other punitive measures to deter hostage-taking. The families of captives say the effort lacks teeth.

…

The latest swap triggered concern among both Democrats and Republicans. When the U.S. engages in prisoner exchanges, it increases the risk that even more Americans will be taken hostage, Chris Coons, a Delaware Democrat and member of the Senate Foreign Relations Committee, told CNN. "This is a gift to Vladimir Putin, and it endangers American lives," the House Minority Leader Kevin McCarthy tweeted. "Leaving Paul Whelan behind for this is unconscionable."
Indeed, asshole Republican whining about the whole affair, yet don't give a shit about anyone. McCarthy had never mentioned Whelan until today. And the Orange Turd, T-Rump, too:
For all the MAGA frauds who used Paul Whelan to try and score political points on Britney Griner. pic.twitter.com/qz3sNNMy3k

— Ron Filipkowski ?? (@RonFilipkowski) December 9, 2022
Background details via Snopes today:
Former U.S. President Donald Trump posted on his Truth Social account: "What kind of a deal is it to swap Brittney Griner, a basketball player who openly hates our Country, for the man known as "The Merchant of Death' […] Why wasn't former Marine Paul Whelan included in this totally one-sided transaction? He would have been let out for the asking. What a "stupid" and unpatriotic embarrassment for the USA!!!"

However, media outlets pointed out that Whelan was detained in Russia in 2018 during the Trump administration. The Washington Post reported on Jan. 1, 2019, that Whelan was detained on Dec. 28, 2018. His family said he was in Russia for a friend's wedding, which took place in an upscale hotel in Moscow on Dec. 28, the day he was detained. Russia accused him of being on a "spy mission."

The American ambassador to Russia was permitted to visit Whelan soon after his detention, and Mike Pompeo, who was U.S. Secretary of State at the time, said the government demanded his immediate return.

Pompeo would continue to speak out for Whelan's return during the Trump administration, releasing a statement in 2020 about his conviction, saying Whelan's treatment was "appalling" and demanding his "immediate release."

But during his administration, Trump himself was largely silent on Whelan's case. In the summer of 2019, Whelan appealed to Trump from a glass cage during a court appearance, saying "Tweet your intentions." But the president stayed silent even as Elizabeth Whelan, Paul's sister, advocated extensively on Capitol Hill for his return. We reviewed Trump's tweets from a public database and found that he never mentioned Whelan's name there.

According to Trump's former national security adviser, John Bolton, Griner's release was not a swap, but a surrender, and Trump's team refused a similar deal for Whelan. In an interview with CBS, Bolton said: "I'll just note that Paul Whelan, who was likewise set up by the Russians back in late 2018, so when I was at the White House, is still in custody. And I'll just note the historical fact that the possibility of a Bout-for-Whelan trade existed back then, and it wasn't made, for very good reasons having to deal with Viktor Bout."
Just why can't Republicans just rejoice 'Brittany's back,' I ask you:
Due to the hard, nasty fact, they're shitheels and assholes.
On the tarmac or not, once again here we are…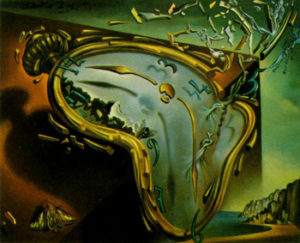 (Illustration out front: Salvador Dali's 'Soft Watch at the Moment of First Explosion,' found here.)