Overcast, windy, and on the chilly side this early evening Saturday here in California's Central Valley — we're awaiting another storm system to make its way into our area tonight to keep this note-worthy series of rain-influenced cyclone bombs a-coming.
And these suckers are heavily-laded inbound:
The airmass associated with the strong Mon/Tue #AtmosphericRiver will be unusually unstable by California/West Coast standards–and there could be quite a lot of thunderstorm activity. Convection associated with the AR could enhance flash flood risk/wind damage potential. #CAwx https://t.co/emvwu2gwQm

— Daniel Swain (@Weather_West) January 7, 2023
A note to heighten the anxiety — from The Washington Post yesterday afternoon:
San Francisco is dealing with one of its wettest stretches on record. A whopping 10.33 inches of rain — equivalent to more than two months' worth of water — has come down in 10 days, causing widespread flooding and scattered rockslides. The culprit? A series of atmospheric rivers, or tongues of deep tropical moisture buffeting the Golden State, which have also been accompanied by strong winds and high surf. And the waterlogged and windy pattern isn't going away anytime soon.

At least three other storm systems, one of which appears to be especially significant, are on the way in the next seven days. The most significant is anticipated between Sunday night and Monday night, which will probably bring "widespread flooding, damaging winds, and dangerous beach and marine conditions." according to the National Weather Service. Thereafter, signs point to a pattern that will keep the moisture fire hose aimed at the state through at least mid- to late-January.
Although we're suffering through a multi-year drought, all this water is still too much all at once — spacing would help (via Vox):
If the rain had been spaced out over a series of months, it might have helped with the drought by filling reservoirs over time, said Noah Diffenbaugh, a climate scientist at Stanford University's Water in the West program. The soil would also be less saturated, allowing for more water to soak in more slowly, replenishing groundwater wells and reducing the chance of flooding.

Instead of collecting in reservoirs or soaking into the ground, the water has nowhere productive to go. So it floods.
An absolute mess, and dangerous.
Also in the same temper of 'absolute mess' and dangerous, the fiasco with the Kevin McCarthy speakership soap opera in DC reflects the future of chaos and empty, minacious standing this country has in store for at least the next two years. Only if an atmospheric river would come along and wash away the stench, the odorous shitshow that the House GOP has presented this week, and aid America in real-time with real problem solutions.
However, that's beyond reach.
Despite it all, K-Mac was finally tapped as speaker in the 15th round of voting early this morning, after being humiliated for days on end. The horror of brawling, reckless teenagers controlling a branch of the US government is indeed an absolute mess and dangerous.
However, that wasn't the worst part — K-Mac pissed off an asshole:
Just before a dejected McCarthy walked away, Mike Rogers (R-Ala.) stormed over and leaned angrily toward Gaetz, seeming on the verge of violence. Rogers was restrained by Richard Hudson (R-N.C.), who covered Rogers's mouth and led him away. Rogers stormed off the House floor and into a cloakroom. He declined to elaborate on the clash, saying "I think it spoke for itself."
The long version:
Congratulations to everyone involved in this

— Molly Jong-Fast (@MollyJongFast) January 7, 2023
In the fate of life,  the K-Mac is a Californian, and from the Central Valley, Bakersfield, about two hours south of where I'm located, and people there don't care for his sorry ass either.
An interesting take on his hometown folks, who also think he's a shitheel and an embarrassment — from the Guardian this morning:
Many have bristled at being under a national spotlight during what even Fox News has described as a political clown show. Local Republicans appeared increasingly defensive as McCarthy fell short in vote after vote – before finally prevailing in the early hours of Saturday morning. Democrats, meanwhile, expressed growing concern that McCarthy had been taken captive by his party's far-right wing and, especially, by apologists for the violent insurrection at the US Capitol two years ago.

None of it reflected well on a distinctly unfashionable city known for its hot, dusty climate and polluted skies, its big agricultural businesses and the hundreds of oil wells dotting the surrounding hills. "I only wish they would have stopped saying Mac [McCarthy] was from Bakersfield," a local insurance salesman, Mark Pearse, wrote in a letter to the local newspaper. "We do not need any more negative publicity."

Reached by phone, Pearse elaborated: "We're already in the top ten of a lot of negative things. Pedestrians getting run over. Our police and sheriff's department shooting and killing people. This is just one more embarrassment."

Certainly, nobody has been out in the streets cheering on the local celebrity. McCarthy's district office, which sits in a business park next to a cluster of medical offices, resembled a suburban fortress with blacked out windows, a door kept locked at all times, and a sign under the door bell saying the only way to be invited in was to call by phone. Staff referred all questions – even questions about a protest on the anniversary of the January 6 uprising taking place directly outside – to McCarthy's Washington office.

More forthcoming was Cathy Abernathy, a seasoned Republican consultant who gave McCarthy his first taste of rejection back in 1987 when she turned him down for an internship with the district's previous congressman, Bill Thomas. (She later hired him anyway and eventually groomed him to succeed Thomas in 2007.)

Sitting in front of a life-sized cardboard cut-out of Abraham Lincoln on Friday, with Fox News reporting the 13th of the 15 vote counts on the television, Abernathy dismissed the week's drama as an uncommonly visible version of business as usual on Capitol Hill and said the characterizations of McCarthy as weak or politically tone-deaf were grossly unfair.

"This is the way things get done in Washington," she insisted. "It takes hours and hours to achieve anything … It's unfortunate that a group of 20 members have given such a negative impression of him. He's a happy-go-lucky, friendly guy. It's too bad some people mistake that for brainless."
Yeah right! Not an oversight, but an accurate, spot-on observation — K-Mac is an imbecilic asshole.
Go read the whole piece — it makes you wonder how the shit did the asshole get elected.
And to close us out in a K-Mac-appreciative way (h/t Adrastos):
Coast-to-coast bad weather, yet once again here we are…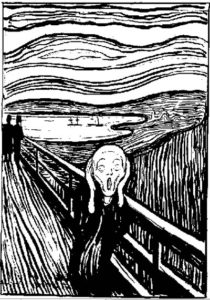 (Illustration out front: Edvard Munch's 'The Scream,' lithograph version, found here.)