Rain and more rain made wet-worse by swirling wind — a set pattern this mid-morning Monday here in California's Central Valley.
The seemingly never-ending storms continue unabated and are part of our natural future days.
Today and this week appear much the same:
As the #AtmoshpericRiver continues to move through the Bay Area and Central Coast we're also watching the next round of storms farther west. Here's a satellite loop showing all of the lightning flashes. These storms arrive later tonight and Tuesday. #cawx pic.twitter.com/ZXPN7ag8gp

— NWS Bay Area ? (@NWSBayArea) January 9, 2023
Details via NPR just shortly ago:
Another powerful winter storm system is approaching California, where intense downpour has already wreaked havoc on communities earlier this month.

The National Weather Service says California will likely see two major episodes of rain "in quick succession" on Monday and Tuesday. The first downpour is expected to especially pummel the central California coast, which is expected to see up to 3 to 5 inches of rain. The second deluge, on Tuesday, is predicted to mainly unload on southern California.

Heavy rainfall will also likely cause more flooding, dangerous mudslides, power outages and tree damage.

But it's not just rain that's a worry. More than six feet of snow is expected to pile on the Sierra Nevada mountains in northern California up until Wednesday — increasing the risk of avalanches.

This week's storm comes as California is already reeling from a streak of bad storms since Christmas. As of Monday afternoon, more than 137,000 customers were without power, according to utility companies' reports tracked by PowerOutage.US.

"We've got several storms behind us but we've got several storms ahead of us still," Nancy Ward, the director of the California Office of Emergency Services, said in a press conference on Sunday.

About 2,900 people evacuated their homes and 199 were in shelter as of Sunday. President Biden has declared an emergency in California and ordered federal assistance.

This week also marks California's fifth atmospheric river since Christmas. The phenomenon, which meteorologists call "rivers in the sky," can cause intense rainfall and flooding.

A sixth one is expected to reach California later in the week, between Thursday and Saturday, according to Karla Nemeth, director of the California Department of Water Resources.
And for my area specifically:
HNX issues Flood Warning for Fresno, Merced [CA] till Jan 9, 4:30 PM PST https://t.co/gJuNUZUSLh pic.twitter.com/tErZPHRU91

— IEMBot HNX (@iembot_hnx) January 9, 2023
Worse, still — background per CNN about an hour ago:
More than 34 million Californians are under a flood watch Monday – about 90% of the state's population and 10% of the US population.

Parts of the central California coast got walloped with 1 to 1.25 inches of rainfall per hour, the Weather Prediction Center said. Monday's rapid deluge also led to reports of mudslides and rockfalls in the Diablo Range.

And hurricane-force wind gusts topping 74 mph thrashed states across the western US. More than 37 million people are under wind alerts Monday in California, Nevada, Oregon, Washington, Utah, Arizona and Wyoming.

A 132-mph wind gust lashed Oroville, California. Residents in Washoe City, Nevada, were hit with a 98-mph gust, the Weather Prediction Center said.
And the floods awaiting still:
Although first wave of this storm (i.e., the #AtmosphericRiver portion) is causing plenty of flood problems right now, second wave due in tonight (which will include briefer but sometimes torrential downpours, along with strong thunderstorms) could produce new issues. #CAwx https://t.co/u3SNhskCpS

— Daniel Swain (@Weather_West) January 9, 2023
Another brick in the wall — climate change and all this wet shit:
Relentless rain, record heat: study finds climate crisis worsened extreme weather https://t.co/OYyxKLbuVC

— Oliver Milman (@olliemilman) January 9, 2023
And, too, another bit of science reporting, this time from NOAA — the Guardian this morning:
The analysis of extreme events in 2021 and 2022 found that many of these extremes were worsened by global heating, and in some cases would have been almost impossible in terms of their severity if humans hadn't altered the climate through the burning of fossil fuels.

"The extreme nature of these events is very alarming," said Stephanie Herring, a climate scientist at the US National Oceanic and Atmospheric Administration (Noaa).

"We need to understand if these events are signs that things are getting hotter faster than we had expected. We know extreme heat is going to get worse, and additional research will help us better quantify future change."

The fingerprint of climate change is being identified across the planet. The risk of extreme drought across California and Nevada was made six times worse by the climate crisis and a strong periodical La Nina climate event from October 2020 to September 2021, while, conversely, extreme rainfall that deluged parts of the UK in May 2021 was 1.5 times more likely due to global heating.

A severe hot spell in China in February 2021 was made between four and 20 times more likely because of human-caused climate change, while acute drought in Iran, which it experienced in 2021, is now 50% more likely because of the greenhouse gases humanity has pumped into the atmosphere.

A swathe of other severe impacts can be attributed, at least in part, to the influence of the climate crisis, including the weather that caused a dangerous wildfire in Cape Town, South Africa in 2021 to be 90% more likely than if we had never heated up the planet and even the persistent cloudiness over the Tibetan plateau that reduced vegetation growth, caused, researchers say, by elevated global temperatures along with abnormal winds and localized pollution.

The compendium of research, presented by Noaa at a conference on Monday, draws together some of the latest examples of climate attribution, where scientists have managed to pinpoint the influence of human-induced climate change upon individual weather events and disasters.

[…]

"Human-caused climate change is an extreme disruption of the Earth system," said Paul Higgins, associate executive director of the American Meteorological Society.

"We should expect it to lead to more extreme events, as this new research helps to show. We must do what we can to help people, and all life, thrive in spite of this danger."
Last August, a report singling out this whole shit-show: '"The threat of a megaflood in the western United States is very real," says lead author Tom Corringham, a climate economist at Scripps Oceanography's Center for Western Weather and Water Extremes (CW3E). "As atmospheric rivers become more intense, flood damages are on track to triple by the end of the century, but it's not too late to limit the risk. Reductions in greenhouse gas emissions could significantly reduce projected damages."'
Yet ' "blah, blah, blah."'
And the swim is gonna be hard:
Despite an umbrella, here we are once again…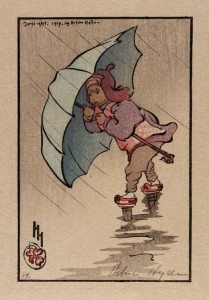 (Illustration out front: 'The Blue Umbrella," (1914), color woodcut on paper, by Helen Hyde, and found here.)