(Artwork: 'The Deluge,' by Bill Russell, and found here).
Quickly-darkening skies from the west this Tuesday morning here in California's Central Valley as we await another deluge in a seemingly endless series of rainstorms to drown out real life on the west coast — creeks overflowing, roads closed, forced evacuations, weather-related horror stories continue.
An update from my local media outlet — the Merced Sun-Star just minutes ago:
After being pounded by a relentless rains, Merced's Bear Creek has flooded beyond its banks, prompting local officials to issue mandatory evacuations for several areas near the city's urban core.

Meanwhile, the sheriff's office says it's ordered a mandatory evacuation for the entire town of Planada. Bear Creek's flood stage is 23 feet, but as of Tuesday morning the National Weather Service said it has risen to 26 feet, flooding local streets and worrying local residents.
The area of the creek from M Street to just past G Street is under mandatory evacuation.

Weather service officials say Merced has seen a total of 2.32 inches of rain since Friday, and 4.41 inches for the month of January. More rain is expected to fall today, at least three quarters of an inch.
Bear Creek is just down the street. Our spot is okay (for now), but my daughter has friends who live along the creek and have been ordered to evacuate.
And statewide via NPR, also just minutes ago:
As of Tuesday morning, more than 200,000 residents were without power after high wind speeds sent trees crashing into power lines. School districts across the state closed as creeks overflowed, transforming roads into rivers riddled with debris.

Some regions of the drought-stricken state saw rainfall rates as high as 1 inch per hour on Monday, the National Weather Service said.

More than 10,000 people are under evacuation orders in the wealthy enclave of Montecito, home to celebrities like Oprah and Prince Harry.

Scars from recent wildfires still streak the community's surrounding canyons. Monday's evacuation orders came on the fifth anniversary of a mudslide that killed 23 people in the region.

Comedian and Montecito resident Ellen DeGeneres posted videos of the damage to social media, saying she was told to shelter in place given her house is on higher ground.

"This is crazy," she says, pivoting the camera to show rushing water. "This creek next to our house never overflows, ever. It's probably about nine feet up and it's going to go another two feet up."
Ellen at creek's edge:
Montecito is under mandatory evacuation. We are on higher ground so they asked us to shelter in place. Please stay safe everyone. pic.twitter.com/7dv5wfNSzG

— Ellen DeGeneres (@EllenDeGeneres) January 9, 2023
Scary. Yet because humans are greedy and Republicans are assholes, the situation is only ging to get worse. Ellen needs to tighten up her twitter/video feeds.
Heat brings more rain, more water, and more shitstorms:
The last eight years have been the warmest on record, with 2022 ranking as the fifth hottest, researchers found https://t.co/5yVPmMKOt9

— The Washington Post (@washingtonpost) January 10, 2023
Details via The Washington Post this morning:
Last year was the fifth hottest ever recorded on the planet, the European Union's Copernicus Climate Change Service announced Tuesday. It was part of an unabated broader warming trend as humans continue to pump massive amounts of greenhouse gases into the atmosphere.

Extreme heat waves in Europe, Asia and the United States — which stemmed in part from more than a century of burning fossil fuels — helped drive 2022's unusual warmth, researchers found.

Europe sweltered through its hottest summer on record and its second-hottest year overall, researchers said. Pakistan experienced catastrophic flooding as a result of extreme rainfall. In February, Antarctic Sea ice reached its lowest minimum in 44 years of satellite records.

The year "2022 was yet another … of climate extremes across Europe and globally. These events highlight that we are already experiencing the devastating consequences of our warming world," Samantha Burgess, deputy director of Copernicus, said in a statement announcing the annual findings.

She said data from 2022 provides "clear evidence that avoiding the worst consequences will require society to both urgently reduce carbon emissions and swiftly adapt to a changing climate."

The records show that the last eight years have been the hottest recorded in human history.

Despite the urgency to halt such warming, the world's output of carbon dioxide and other planet-warming emissions continues to rise. U.S. greenhouse gas emissions ticked up by 1.3 percent in 2022 over the previous year, according to an analysis released Tuesday by the Rhodium Group, an independent research firm.
And so on and so forth, as I reported.
As recent reports indicate, melting glaciers are melting quicker than way-figured, and we won't need any CGI to get the same effect (I use this clip a lot):
Water and more water, yet once again here we are…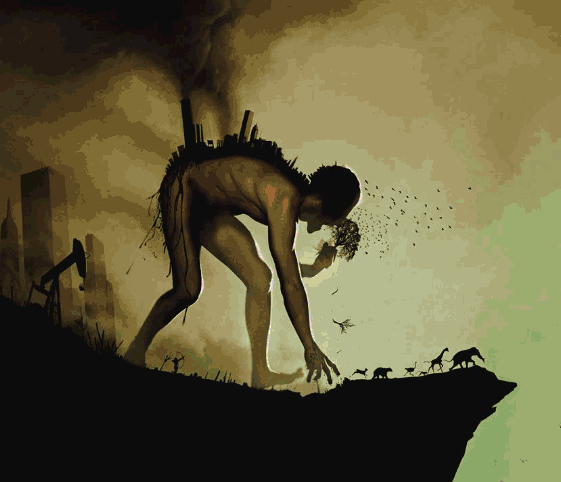 (Illustration out front found here.)