Sunshine and cold this late-afternoon Tuesday here in California's Central Valley as we enjoy a respite from all those freaking atmospheric rivers flooding the state for seeming-like centuries.
A return to normal somewhat this morning with our deep-coated and depressing 'tule fog,' but as I told a neighbor while on a walk, at least we can get out in it, and it won't wash us away.
He agreed with a sarcastic laugh.
Meanwhile, and also without sarcasm but ugly reality, is the T-Rump. Although I'm loathed to even mention the piece-of-shit's name, he does stand out due to his overbearing assholeness and criminal actions. Hopefully, in 2023 he'll see some kind of paddock time. Doubt it, however.
Blowing chunks — high five for me but not for thee:
No touching! pic.twitter.com/aKYiunIXa0

— Ron Filipkowski ?? (@RonFilipkowski) January 18, 2023
Some interesting shit today in the criminalized world of the T-Rump.
First, via The New York Times as former T-Rump 'enforcer' Michael Cohen met with Manhattan prosecutors:
The Manhattan district attorney's office on Tuesday took a significant step forward in its investigation of Donald J. Trump, meeting with his former personal lawyer about hush money paid to a porn star who said she had an affair with Mr. Trump, according to people with knowledge of the matter.

The questioning of the lawyer, Michael D. Cohen, offered the clearest sign yet that the district attorney's office was ramping up its investigation into Mr. Trump's role in the $130,000 hush money deal. Mr. Cohen has said publicly that Mr. Trump directed him, in the final days of the 2016 presidential campaign, to buy the silence of Stephanie Clifford, the actress known as Stormy Daniels.

[…]

In a brief interview after the meeting, Mr. Cohen credited the district attorney, Alvin L. Bragg, with assembling a group of prosecutors who had a "depth of knowledge of the case." He added, "I don't believe they would have called me in at this stage if this was merely for show."
Further with some background from Mother Jones:
Cohen has met with the Manhattan district attorney's office 13 times previously, but not for at least a year. On Friday, Trump's companies were sentenced to the maximum sentence—a $1.6 million fine—in a different tax fraud case that Manhattan prosecutors won against Trump in December. That case, which had relatively low stakes, was set in motion by former Manhattan DA Cy Vance Jr. When the current DA, Alvin Bragg, took office last year, he seemed reluctant to pursue criminal investigations into Trump personally.

The ease with which prosecutors in Bragg's office won convictions on nine tax fraud counts against two Trump-owned companies may have changed Bragg's mind. The trial went poorly from the start for the Trump companies—huge numbers of potential jurors were dismissed after saying they couldn't judge Trump fairly, and even many juror candidates that Trump's defense attorneys ultimately approved confessed they had very low opinions of the former president. Throughout that trial, which focused on how the companies reduced executives' salaries in exchange for giving them off-the-books benefits that they didn't pay taxes on—like free apartments, luxury cars, and tuition for their children—defense attorneys desperately tried to shift blame away from Trump and the company, and onto individual employees and outside accountants. The jury didn't buy it.

By the end of the trial, prosecutors leaned hard on the narrative that the Trump's companies had a culture of fraud and that the tone was set at the very top. Although Trump was not personally charged in the case, prosecutors showed documents that he signed that were key to the case. The jury deliberated quickly and delivered guilty verdicts on all charges.

After the trial, several jurors said they found Trump's defense unconvincing and saw his attorneys as "bullying" and condescending.

All of this may have helped strengthen Bragg's resolve to pursue further charges. Immediately after the sentencing on Friday, Bragg made cryptic comments suggesting he was gearing up for more—which Cohen's return to his office on Tuesday seems to reinforce.

"The sentencing today closes this important chapter of our ongoing investigation into the former president and his businesses," Bragg told reporters, on Friday. "We now move on to the next chapter."
And on the 'spiritual' side of T-Rump politics with analysis from The Washington Post on evangelicals cooling it:
"Some of these prominent evangelical leaders who backed you last time, they're not yet willing to commit," David Brody of the Christian Broadcasting Network told Trump in an interview for Real America's Voice on Monday. "It seems like many of them are waiting to see how the field takes shape before backing anyone. What is your message to them?"

"Well, I don't really care," Trump replied — then quickly undercut that insouciance. "That's a sign of disloyalty. There's great disloyalty in the world of politics."

The "disloyalty" here, in Trump's telling, was that "nobody has ever done more for right-to-life than Donald Trump." He pointed to his successful nominations of three Supreme Court justices, all of whom voted to throw out Roe v. Wade last year. He also tried (as he has in the past) to blame low enthusiasm among Republican abortion opponents for the party's poor performance in 2022. But his point was simple: They owed him.

This is an ironic charge, of course. Over the course of his career (both in business and in politics), Trump has demonstrated that his concept of loyalty is often a one-way street: Allies should be loyal to him and he might return the favor, if useful. In this scenario, the roles are reversed. Prominent leaders of White evangelical Protestant churches were somewhat slow to align with Trump but eventually did so — in part because they read the room. And now they're reading the room again.
Plus, yesterday unsealed transcripts were released of T-Rump's testimony in a case by E. Jean Carroll, who has accused the Orange Turd of rape and defamation of character — as a total dumbass asshole, T-Rump burned himself. He called the rape claim a "hoax," noted Carroll was "not my type," and a "whack job" and a "liar."
Katie Phang, legal analyst and MSNBC host, described the shit (Newsweek this morning):
"The legal significance is he steps in it and over and over again," Phang said. "And more importantly, later on in his deposition, he basically denies flat out that he's ever touched a woman and any part of her body—specifically is denying touching a woman on her breast or buttocks or any other sexual part without her consent.

"He said no under oath. The whole world knows that on an Access Hollywood tape, he boasted about how he would grab them by the 'blank,' and you could do it when you're a star," Phang added. "He's caught in repeated lies throughout the course of this sworn videotaped deposition."

[…]

Elsewhere, Phang said Trump also did not help himself as he was "stupid" enough to not only repeat his "not my type" remark regarding Carroll on Truth Social in October, but "stupid enough to step in repeatedly" during his deposition.

"He's gonna go to trial in April and he is more likely than not going to be found liable for the claims that are brought by [Carroll], and that is why this videotaped deposition is so important," Phang added.
We can only hope. A good account of that particular nasty bit of T-Rump legal shit can be found at Above The Law this morning.
Finally, T-Rump playing phony Mafia idiot and the threat from Ron DeSantis (BusinessInsider this afternoon): '"So now I hear he might want to run against me. So we'll handle that the way I handle things," Trump said.'
Yeah, right. Fat, dumb shit.
Assholes spawned by an enormous, orange-coated asshole — a history:
No matter how unreal the reality is, yet once again here we are…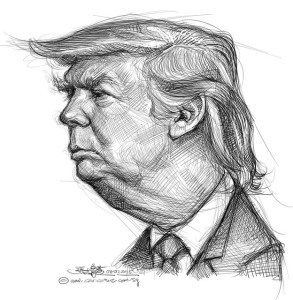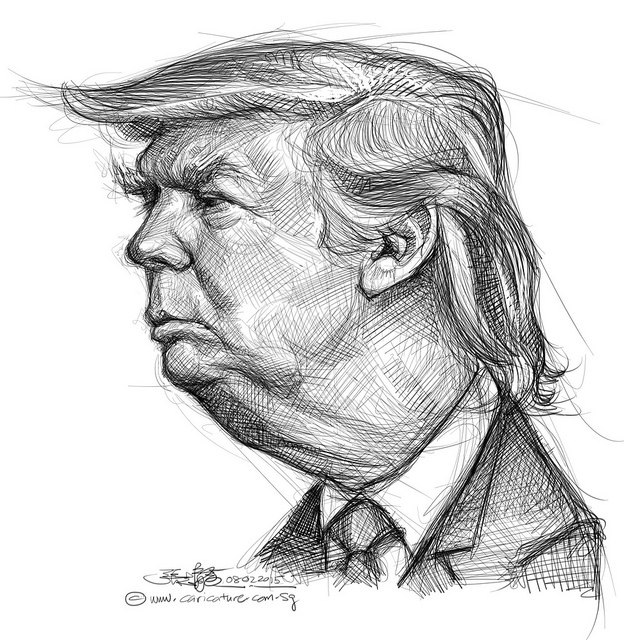 Image out front is my favorite of the T-Rump mugs, though, 'favorite' does not mean in any form or fashion, as in, 'my favorite movie,' or 'my favorite song.' It's more of an anti-appreciation/like.
And aptly titled, 'Basic Shapes,' by caricaturist/illustrator Chong Jit Leong (and found here), it's an image that displays the elemental form of a purloined sociopath — a bloated profile of flatulent bile and arrogant ignorance.