Occasional bright sunlight amidst thick, fluffy-white clouds this late-afternoon Thursday here in California's Central Valley, our second-in-a-row full day in a long time of luminous shine without any kind of a hint of rain.
Although apparently, it did rain last night, the feeling today is near-awesome.
Meanwhile, some shitty news — yesterday my daughter tested positive for COVID. And just a day after she started a new job, too — talk about shitty timing. In the stream of the situation, I tested negative, but as such things go, it was probably a bad test, and most likely I've actually got COVID. Except we're all fully vaxxed and boosted, so the end results shouldn't be too hazardous. Although I felt shitty yesterday morning, by mid-afternoon I felt good enough to take Leroy for a dog walk.
Right now I feel fine, though, the big concern is the lackadaisical, casual approach toward this heinous virus. Last week, my kids were in town to celebrate my son's birthday/to visit, and we went out to eat a couple of times. Despite the restaurants being crowded, I didn't consider wearing a mask, didn't think about it — something I've been way strict about the last couple of years — and to juggle my apprehension, I don't remember seeing anyone wearing one either, even with the wait staff.
It'd be a horrific mistake to wave off COVID due to the fact it's getting serious again, however, not like earlier.
In getting close to three years with COVID spiraling in our personal environments, we've become casual about the virus that's killed more than 1,125,000 Americans so far, with an end nowhere in sight. During those initial months back in 2020, I wrote a number of posts on COVID, but this is the first in a long, long time. I guess it had to take a personal reaction to prompt a poke at an old, hated subject.
Here in California, how the COVID cases stand, as of yesterday:
California COVID-19, By The Numbers:

? Confirmed cases to date: 2,973,174
? Note: Numbers may not represent true day-over-day change as reporting of test results can be delayed

More information at https://t.co/TLLUGwPGY7. pic.twitter.com/yRCPxFwJgT

— CA Public Health (@CAPublicHealth) January 18, 2021
Down south, and probably statewide, cases are descending per some good news — from the LA Times this afternoon:
In a continuing sign of improvements in coronavirus case counts and hospitalizations, Los Angeles County on Thursday officially entered the low COVID-19 community level, indicating that the pandemic is not exerting undue stress on the local healthcare system.

Recent metrics illustrate a "very different January than expected," a top health official said this week, with continued steady improvements in data instead of a feared post-holiday spike.

[…]

"We're not seeing the post-holiday spike that was expected by the end of the first week of January," L.A. County Public Health Director Barbara Ferrer said Thursday.

"It could be tempting to interpret this as COVID no longer being a concern," she said. "However, the more reasonable explanation is that the new tools and people's behaviors have made a difference in how COVID spreads, and that even small precautions are making a difference as well."
Maybe the expected fright is gone, but the shit remains.
Further on the new COVID subvariant currently making the rounds — via The Sacramento Bee, also this afternoon:
There are more than five COVID-19 variants currently circulating in California, according to the state health department's weekly update, including XBB.1.5, the new, highly contagious form of omicron — also known as the "Kraken" subvariant.

As of Wednesday, according to the department, BQ.1.1 make up 38.0 percent of reported omicron cases in January and BQ.1 makes up 28.6 percent.
BA.5, which was the most dominant variant last summer and considered the "worst" subvariant, accounts for 9.6 percent and BA.2.75 at 7.1 percent. XBB.1.5 makes up 7 percent of cases and BF.7 is at 2.1 percent.

This report is based on more than 800,000 samples tested. Since there are delays in reporting, the department estimates the variants in high proportion in the state will be BQ.1.1 at around 41.6 percent, BQ.1 at 26.7 percent and XBB.1.5 at 22.4 percent.

While these variants aren't currently considered variants of concern by the U.S. Centers for Disease Control and Prevention and the state health department, they are becoming more transmissible.

The variant BF.7, known for being "extremely adept at evading immunity," according to an Associated Press report, is at the helm of the current surge in China.
XBB.1.5 is known to "(attach) more tightly than its competitors to a receptor that allows viruses to enter a cell," a disease expert at Johns Hopkins University told AP.

XBB.1.5, or the Kraken variant, is made from two BA.2 omicron variants, according to UC Davis Health. It spreads easily and is highly infectious, and was named the most contagious strain of any coronavirus variant by the World Health Organization. Variants of the coronavirus are expected, according to the CDC, due to mutations.

"Some variations allow the virus to spread more easily or make it resistant to treatments or vaccines," the agency stated on its website. "As the virus spreads, it may change and may become harder to stop."
Ignorance is deadly:
A recent survey of previously vaccinated U.S. residents found that the most common reasons for not getting an updated COVID-19 vaccine were not knowing they were eligible or where to find it and believing they already had sufficient protection. https://t.co/rIMi9fwGKK pic.twitter.com/KBItHxl6AJ

— CDC (@CDCgov) January 19, 2023
Despite the horrendous misinformation, vaccines work, though, a new variant is shitty-acting (MSN yesterday morning):
Dr. Bob Wachter, UCSF's chief of medicine and a prominent Bay Area voice on the pandemic, called a new report on the safety of the COVID-19 vaccines "superb," noting that it debunks "the fallacy that they're causing significant harm."

The analysis written by epidemiologists Katelyn Jetelina and Kristen Panthagani and published Tuesday aims to put to rest the unfounded rumors that regularly appear after the deaths of prominent individuals — most recently singer Lisa Marie Presley and soccer reporter Grant Wahl — citing the vaccines as the primary cause.
"We have more evidence than for any other vaccine or disease in the history of humans that the benefits of COVID-19 vaccines greatly outweigh the risks." the authors wrote.

Presenting data from a variety of sources, they meticulously address the latest round of misinformation around vaccines. "There are rare vaccine tragedies, and they need to be taken seriously," they said. "But do not confound these rare tragedies with thinking they are common occurrences. And certainly don't forget that COVID-19 vaccines saved millions of lives across the globe and will continue to do so."

Wachter added as a footnote that "this misinformation technique — pinning all bad outcomes on vaccines — comes right out of the misinfo playbook. In fact, I predicted its use in Dec. 2020, just as the mRNAs were rolling out. Sad that it works as often as it does. It kills."
Another day, another virus fear. Yet despite the seeming downturn, the virus is still killing people and despite, too, this casual approach by most everyone (including yours truly), the threat continues.
A chief death concern — from CNN on Tuesday:
A very early look at data from 2022 suggests that there were significantly fewer Covid-19 deaths in the third year of the pandemic than there were in the first two. More than 267,000 people died of Covid-19 in 2022, according to preliminary data from Johns Hopkins University, compared with more than 350,000 Covid-19 deaths in 2020 and more than 475,000 Covid-19 deaths in 2021.

This first look at the data is based on deaths reported by states through January 9. The final count will differ from this early data as states continue to review death certificates and refine their reporting, and it will be months before the US Centers for Disease Control and Prevention releases preliminary mortality data to compare to other causes of death.

Despite the lower death toll, however, Covid-19 will likely remain the third leading cause of death in the US in 2022 for the third year in a row.
And Joe Biden tries (Reuters): 'The Justice Department on Tuesday asked an appeals court panel to reverse an April 2021 ruling that declared unlawful a government order requiring masks on airplanes, buses, trains, ridesharing services and at airports and other transportation hubs.'
Yet further, we're forgetting the horror of COVID — via Vox yesterday:
One of the biggest accomplishments of the Trump administration — and yes, there were accomplishments — was Operation Warp Speed, the public-private effort to rapidly develop Covid vaccines.

But it's the rare accomplishment in Washington that almost no one wants to take credit for: Democrats are loath to admit Trump did anything right, and many Republicans think — or tell their voters they think — that Covid vaccines are dangerous or the vaccines don't matter anyway, and don't want Trump credited for his administration's substantial role in making them available in record time.

But, of course, the Covid vaccines were enormously good. They don't dampen transmission enough to bring about the end of the pandemic that we all longed for, but they make you much less likely to die of it, saved millions of lives in total, and enabled life to mostly return to normalcy without mass deaths just a year after the pandemic began.

[…]

Last week, David Kessler, who ran the vaccine distribution operation under the early Biden administration, left the White House, marking what Axios called the "symbolic end of Operation Warp Speed."

Kessler's departure barely made news, but it should have. That's because the muted slowdown of Operation Warp Speed shows that we're on track to forget the lessons of Covid — and be just as flat-footed when the next pandemic inevitably comes.

[…]

The politics around the pandemic, and especially around vaccines, has only gotten more toxic. Earlier this week, Florida Gov. Ron DeSantis, who has built his national profile within the GOP around his dogged opposition to Covid-era restrictions, said he would push the state's legislature to make permanent policies such as a ban on mask mandates and Covid vaccine mandates in schools. It wouldn't be surprising to see Republicans — including Trump, despite his administration's role in launching Operation Warp Speed — competing in 2024 to see who can more forcefully play down the threat of Covid and future pandemics.

I don't want this to be purely depressing. The story of Operation Warp Speed is also one of amazing human achievement. 140,000 Americans — possibly more — are alive because teams of dedicated people worked absurd hours to get the vaccines from the lab, through trials, and to doctors' doorsteps faster than anyone believed possible. I admire them, and I'm inspired by them. And that's why I'm sad that we seem to be backing away from what they achieved.
As my daughter works her way through COVID, I will most-likely test again in a few days. Her Significant Other, though not tested, has all the earmarks of having it and has been in bed the last couple of days.
This shit is not going away.
And testing the tests of not funny, funny at all:
They left out the dying part.
Virus varily vaccinated, yet here we are once again…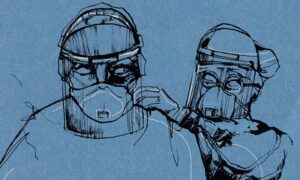 (Illustration out front: 'This Is Why Nurses Do What They Do,' by visual journalist Emily Thomas, and found here.)