Clear and cold this early-evening Monday here in California's Central Valley — another gorgeous day in a line-up of immediately-past gorgeous days.
We'll take it despite the weather not being alien.
Writing of such, the US has knocked four UFOs out of the air the last week or so, though, one has been absolutely categorized as a Chinese recon balloon (Feb. 4), the other three — last Friday, just off northeastern Alaska, near the Canadian border, over the Arctic Sea; the next day, an object shot down over Canada's Yukon Territory; and then yesterday, another odd-not-known object was knocked out of the sky over Lake Huron — have not been properly IDed by official sources.
Today, the White House tried an anti-X-Files approach — don't be alarmed, America:
NSC Strategic Communications Coordinator John Kirby: "I don't think the American people need to worry about aliens, with respect to these craft. Period." pic.twitter.com/dZxLKIbh6D

— CSPAN (@cspan) February 13, 2023
Details per Time late this afternoon:
It was an unusual denial to hear from the podium in the White House press room. "There is no, again no, indication of aliens or extraterrestrial activity with these recent takedowns," White House Press Secretary Karine Jean-Pierre told reporters on Monday. "I loved E.T. the movie, but I'm just going to leave it there."

"I don't think the American people need to worry about aliens with respect to these craft. Period," the White House national security council spokesman John Kirby told reporters later in the press briefing, speaking about three unidentified flying objects—one shot down by a U.S. fighter jet off the Alaskan coast on Friday, another shot over northern Canada on Saturday, and a third blasted apart on the Canadian side of Lake Huron near Michigan's Upper Peninsula.

But the Pentagon and U.S. intelligence agencies still have not figured out how those three airborne craft got into the skies over North America or who may have put them there. "We don't know who owns them," Kirby said. Asked if the U.S. has seen any special interest by a foreign government in the debris, Kirby said, "No."

[…]

The comments from Jean-Pierre and Kirby dismissing the prospect of any of the objects having an extraterrestrial source came a day after General Glen VanHerck, commander of U.S. Northern Command and the North American Aerospace Defense Command, refused to rule out the possibility.

"I haven't ruled out anything," VanHerck said when asked by a reporter if aliens could be involved. "At this point, we continue to assess every threat or potential threat unknown that approaches North America with an attempt to identify it."
Q-tinfoil weird.
How can we forget history:
Rebuttal a youthful Morgan Freeman via Steven Spielberg, will ya,  WH national security guy.
Bonus in mind: Snakes! How about some mother-f*ckin' snakes in a plain, run-down old house?
Nope.

That house belongs to the snakes now. https://t.co/wniUXtP6fo

— Angry Staffer ? (@Angry_Staffer) February 13, 2023
Out of this world, or not, here we are once again…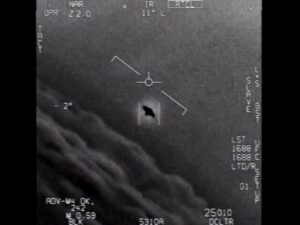 (Illustration out front found here.)