A quiet early-evening Sunday here in California's Central Valley — once again a seemingly early-spring feel to the day with sunshine and warm temperatures.
Beyond another 'object' being shot down over the Great Lakes today, most of the news cycle has been a bit muted. The'UFO' will keep the masses enthralled for a space of time until the media scooped up the next shiny (or flying) 'object.' Calling all quiet on the life front is disarmingly dangerous.
Of course, unless you completely discount America's football superbowel now playing on TV screens all over America — 11 of the last 12 Super Bowls reportedly had 100-plus million viewers — and one wonders where is everyone's eyeballs right now.
No, duh!
In order to fill the excitement, I felt a little old favorite music is in order. These songs I used to listen to a lot, but in old age, or whatnot, have fallen off the earworm time. Music can soften the heart and open the mind, depending on where either one is connected
Starting off the festival of sound, Annie Lennox and her way-longtime sidekick, Dave Stweart, "Here Comes The Rain Again," unplugged version — this is my right-now favorite:
(And the original, as the Eurythmics, from 1983, is here.)
Annie next teams with David Bowie on the Queen classic, "Under Pressure," and this apparent rehearsal video is really, freaking awesome (Queen original here):
Next up, Weezer, and a song I way-enjoyed more than a decade ago and haven't heard in a millennium — "(If You're Wondering If I Want You To) I Want You To," and it still pops:
And another sad, but highly musical tune from Gotye, "Somebody I Used To Know," a seemingly one-hit wonder — 2011 was a while ago
Up on the turntable, "Secret Heart," by Leslie Feist — the lady can pick wondrously hard at a guitar:
And going back afar, Van Halen, "Panama," all rocking live:
Added delight: the late-great Eddie Van Halen and "Eruption," one of the greatest solos ever, all live, too:
Up next, another hard-driving lady, Grace Potter, and her rendition of "Whole Lotta Love," which has the power:
(Original Led Zeppelin version here).
Bonus: In wake of the death of Burt Bacharach last week at 94, probably my favorite of all his huge shitload of work — Dionne Warwick with "Walk On By," a terribly-sad song made believable by a happy-sounding horn section. The dance in the video also takes the edge off the horrible grief:
If you see me walking down the street
And I start to cry each time we meet
Walk on by, walk on by
Make believe
That you don't see the tears
Just let me grieve
In private 'cause each time I see you
I break down and cry

[…]

I just can't get over losing you
And so if I seem, broken and blue
Walk on by
Walk on by
Foolish pride
That's all that I have left
So let me hide
The tears and the sadness you gave me
When you said goodbye

[…]

Walk on by (don't stop)
Walk on by (don't stop)
Now you really gotta go, so walk on by (don't, don't stop)
Baby, leave, you'll never see the tears I cry (don't, don't stop)
Now you really gotta go, so walk on by (don't, don't stop)
Mmm, baby, leave, you'll never see the tears I cry (don't, don't stop)
Now you really gotta go, so walk on by (don't, don't)
Hal David was a musical poet of the highest caliber. He and Burt were a delightful, incredbly-creative team.
Anyway, music soothes us despite once again here we are…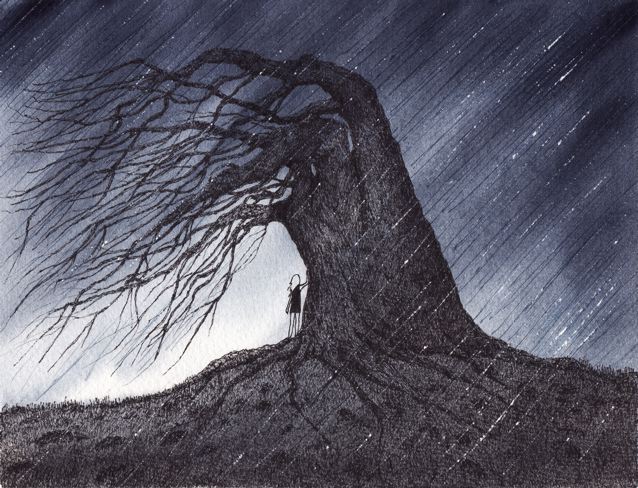 (Illustration out front: 'Shelter in the Storm," found here.)