Windy and chilly near-about to sunset Tuesday here in California's Central Valley. A turnaround from a way-warm and sunshine-splashed morning — big storms coming, reportedly starting tomorrow.
Rain forecast for maybe a week.
Beyond Joe Biden's gut punch of Vlad Putin and Russia's working outside reality in Ukraine — Biden in Warsaw said the war started by Vlad "…was never a necessity, it is a tragedy" — and the  overwrought Putin speech on the Russian diaster in Ukraine, there was a glimmer of justice-fueled light today from down Georgia way.
The grand jury in Atlanta which investigated 2020 election horseshit by the T-Rump and his lackies has recommended indictments for maybe more than a dozen people.
And according to the panel's forewoman, that indictable list, "Potentially. It might," include the T-Rump:
"It is not a short list," the forewoman, Emily Kohrs, said, adding that the jury had appended eight pages of legal code "that we cited at various points in the report." https://t.co/5AcnvpPrNw

— Molly Jong-Fast (@MollyJongFast) February 21, 2023
Major points on the event via The New York Times, updated this evening:
A special grand jury that investigated election interference by former President Donald J. Trump and his allies in Georgia recommended indictments for multiple people on a range of charges in its final report, most of which remains sealed, the forewoman of the jury said on Tuesday.

"It is not a short list," the forewoman, Emily Kohrs, said in an interview.

Ms. Kohrs, 30, declined to name the people recommended for indictment, since the judge handling the case decided to keep those details secret when he made public a few sections of the report last week. But seven sections that are still under wraps deal with indictment recommendations, Ms. Kohrs said.

Special grand juries in Georgia do not have indictment powers. Fani T. Willis, the district attorney of Fulton County, Ga., has led the investigation and will decide what charges to bring before a regular grand jury.

Asked whether the jurors had recommended indicting Mr. Trump, Ms. Kohrs would not answer directly but said: "You're not going to be shocked. It's not rocket science." In the slim portions of the report that were released last week, the jurors said they saw possible evidence of perjury by "one or more" witnesses who testified before them.

"It is not going to be some giant plot twist," she added. "You probably have a fair idea of what may be in there. I'm trying very hard to say that delicately."
Testimony apparently was clouded by numerous telephone calls by the T-Rump, some not known:
Fulton special grand jury foreperson says final report recommends multiple indictments. "It's not a short list," she said. @TamarHallerman @shannonajc1 https://t.co/Ju39IsuVKn

— Bill Rankin (@ajccourts) February 21, 2023
Further on the details from Kohrs at The Atlanta Journal-Constitution, also this evening:
Kohrs said the special grand jury heard tape recordings of phone conversations that have already been made public, such as Trump's Jan. 2, 2021, call with Georgia Secretary of State Brad Raffensperger in which the president asked Raffensperger to "find" enough votes to swing the election.

But there are recordings of other calls Trump made that the special grand jury heard and which have yet to be made public, Kohrs said.

"We heard a lot of recordings of President Trump on the phone," she said, declining to give specifics. "It is amazing how many hours of footage you can find of that man on the phone. … Some of these that were privately recorded by people or recorded by a staffer."

Kohrs also shed more light on the grand jury's decision not to subpoena or invite former President Donald Trump to testify voluntarily.

"We kind of knew what to expect, and so especially with our time being limited and with our resources being limited, when it came to that it was like 'eh, we'd rather get this person, which is a battle that we can win, than this other one,'" she said.

When he appeared before the New York attorney general for a deposition last summer, Trump reportedly cited his Fifth Amendment rights against self-incrimination more than 440 times.

"So, I think the president just was one where we chose to focus our energies elsewhere, because it would be more productive in the long run," Kohrs said.

After portions of the report were released last week, Trump posted on his social media platform Truth Social.

"Thank you to the Special Grand Jury in the Great State of Georgia for your Patriotism & Courage," the former president posted. "Total exoneration."

When AJC reporters on Tuesday told Kohrs about that reaction she rolled her eyes and then burst out laughing.

"Did he really say that?" she asked. "Oh, that's fantastic. That's phenomenal. I love it."

When asked if she had any response, she said, "I invoke my Fifth Amendment right. That's what I have to say to that."
An analysis of Miss Emily's interview on MSNBC this evening:
Indicted or not, (sad-as-shit if not), here we are once again…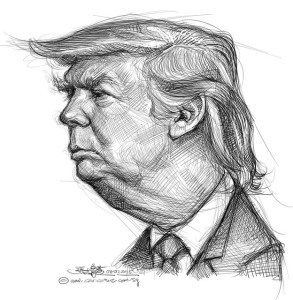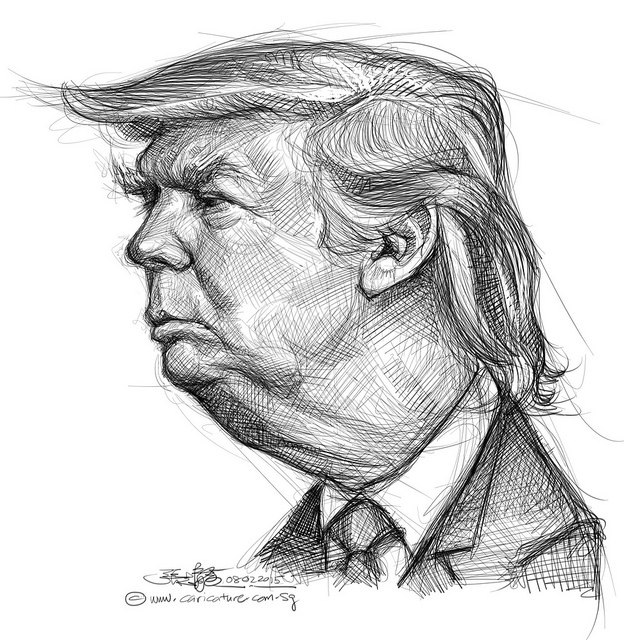 Image out front is my favorite of the T-Rump mugs, though, 'favorite' does not mean in any form or fashion, as in, 'my favorite movie,' or 'my favorite song.' It's more of an anti-appreciation/like.
And aptly titled, 'Basic Shapes,' by caricaturist/illustrator Chong Jit Leong (and found here), it's an image that displays the elemental form of a purloined sociopath — a bloated profile of flatulent bile and arrogant ignorance.