In further ado of Randy's delightful visual essay, via Dictionary.com: 'Alternative facts have been called many things: falsehoods, untruths, delusions. A fact is something that actually exists—what we would call "reality" or "truth." An alternative is one of the choices in a set of given options; typically the options are opposites of each other. So to talk about alternative facts is to talk about the opposite of reality (which is delusion), or the opposite of truth (which is untruth).'
And George Santos, the epitome of Republican 'alternative facts' right now in an interview yesterday with Piers Morgan, lied about lying, and admitted it: 'Santos told Morgan, "I have been a terrible liar." But, he added, "this wasn't about tricking people. This was about getting accepted by the party here locally." He later sought to blame vague issues in local politics, saying: "This stems more deeper into the political apparatus and the political culture of New York state. And that would take a lot more time than this program to go over to explain."'
T-Rump, the soul of 'alternative facts' went to Ohio, and, of course, lied while peddling water:
"When later asked by a reporter about his administration overturning an Obama-era rule requiring better braking systems for trains carrying hazardous materials, he lied again, saying his administration had nothing to do with it." https://t.co/Qzh5luiiFZ

— Molly Jong-Fast (@MollyJongFast) February 22, 2023
T-Rump carried out a lie photo-op in the face of a horrible accident of his allowance — via The New Republic this afternoon:
When later asked by a reporter about his administration overturning an Obama-era rule requiring better braking systems for trains carrying hazardous materials, he lied again, saying his administration had nothing to do with it.

Trump otherwise kept his visit brief, allowing the cameras to focus on his organized donations of "Trump water," "much lesser quality water," and other goods to the community, in order to avoid actual accountability for his role in leading up to disasters like that in East Palestine. Indeed, during his presidency, Trump oversaw numerous corporate-friendly deregulatory measures that made railroads less safe for the public, and more profitable for companies like Norfolk Southern.

With his party buttressed by millions of dollars in donations and lobbying from companies like Norfolk Southern, Trump overturned an Obama-era rule that required more adequate braking systems for trains carrying highly flammable and hazardous materials (instead of the Civil War-era brakes trains use now). He pulled a stalled Obama-era proposal that would have directed companies to have at least two-man crews on trains and banned states from instating such a requirement themselves. He also halted an auditing program of railroads that has since been revitalized by the Biden administration.

Much of these regulatory slashes were made at the behest of special interests like the Association of American Railroads, which represents massive corporations like Norfolk Southern and heavily lobbied for the deregulatory cornucopia that Trump provided.

Trump also tapped someone with deep ties to the chemical industry to head the EPA's chemical safety and pollution prevention office.

He also appointed someone who spent five years in a senior role at the American Chemistry Council—the foremost lobbying organization for chemical manufacturers like Dupont, Monsanto, and Exxon—to the same office. Beck proceeded to try weakening proposed protections against carcinogenic PFAS chemicals in drinking water supplies and consumer products; rewrite EPA rules to downplay how worker exposure to asbestos would factor into whether the cancer-causing mineral poses an "unreasonable risk"; and slash proposed Obama-era rules to protect workers and the public from the chemical TCE, which is linked to cancer, fetal heart defects, liver and kidney toxicity.

EPA staffing overall went down under Trump.

Of course, as The New Republic has previously reported, the blame for a dangerous industry that leads to over 1,000 train derailments a year is cross-partisan. Railroad companies inject millions of dollars into both parties—leading to deregulation of the rail industry, state Republicans in Ohio unwilling to promptly accept federal help, and a Democratic administration that has not properly advocated for rail workers or and advanced much needed rail regulation.

The common denominator of it all is a conservative politics that argues that the government is weak, and therefore weakens the government in order to prove it at all. So, as Trump visits East Palestine, and as fellow deregulation-chasing Republicans (and even conservative Democrats) may posture themselves as the benevolent voices on the issue, may we not allow them to weasel off the hook so easily.
Notwithstanding, this graph seems to explain the lying, either outright-out-of-the-mouth, or through fraud and criminal neglect, like former Arizona AG Mark Brnovich, A Republican, created 'alternative' results for an investigative report on voting fraud — crucial graph in The Washington Post story this afternoon:
The records show how Brnovich used his office to further claims about voting in Maricopa County that his own staff considered inaccurate. They suggest that his administration privately disregarded fact checks provided by state investigators while publicly promoting incomplete accounts of the office's work. The innuendo and inaccuracies, circulated not just in the far reaches of the internet but with the imprimatur of the state's attorney general, helped make Arizona an epicenter of distrust in the democratic process, eroding confidence in the 2020 vote as well as in subsequent elections.
Lying, the heart of the current GOPers.
And to play us out, Linda Ronstadt with a cover of "Lies" double shocked:
The truth soon, yet for now, here we are once again…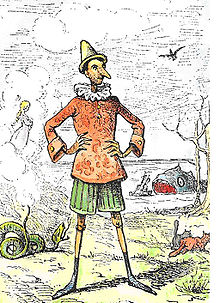 (Illustration out front: 'Pinocchio,' by Enrico Mazzanti, and found here.)