Rain and cold wind this early-evening Monday here in California's Central Valley — we are still in the throes of our second big winter storm in less than two months of the new year as snow in LA is not a movie about cocaine in Hollywood.
We're forecast for maybe some sunshine toward the end of the week, but I'll feel it when I see it.
Meanwhile, Fox News was back in the news again in the ongoing legal battle of lying to the public about T-Rump's obvious election lies, yet knowing the lies were lies. All that shit came out last week as part of Dominion Voting System's $1.6 billion lawsuit against the network; telling the truth about the lying in behind-the-curtain messages: '"But, the court document provided a mountain of evidence exposing Fox News as a right-wing talk channel void of the most basic journalistic ethics. The legal filing also underscored how worried Fox News executives and hosts were in the immediate aftermath of the election of losing its viewership to Newsmax, a smaller right-wing talk channel that was saturating its airwaves with election denialism."'
And then today, an unsealing of court documents reflecting more of the same, except this time, it's big, full-on-asshole himself, Rupert Murdoch, in the light of the lying zone:
But in the end Rupert went all in on the big lie https://t.co/aOWqDmetzT

— Molly Jong-Fast (@MollyJongFast) February 28, 2023
Details via The New York Times this evening:
Rupert Murdoch, chairman of the conservative media empire that owns Fox News, acknowledged in a deposition that several hosts for his networks promoted the false narrative that the 2020 election was stolen from former President Donald J. Trump, and that he could have stopped them but didn't, court documents released on Monday showed.

"They endorsed," Mr. Murdoch said under oath in response to direct questions about the Fox hosts Sean Hannity, Jeanine Pirro, Lou Dobbs and Maria Bartiromo, according to a legal filing by Dominion Voting Systems. "I would have liked us to be stronger in denouncing it in hindsight," he added, while also disclosing that he was always dubious of Mr. Trump's claims of widespread voter fraud.

Asked whether he doubted Mr. Trump, Mr. Murdoch responded: "Yes. I mean, we thought everything was on the up-and-up." At the same time, he rejected the accusation that Fox News as a whole had endorsed the stolen election narrative. "Not Fox," he said. "No. Not Fox."

Mr. Murdoch's remarks, which he made last month as part of Dominion's $1.6 billion defamation lawsuit against Fox, added to the evidence that Dominion has accumulated as it tries to prove its central allegation: The people running the country's most popular news network knew Mr. Trump's claims of voter fraud in the 2020 election were false but broadcast them anyway in a reckless pursuit of ratings and profit.

[…]

The document also described how Paul D. Ryan, a former Republican speaker of the House and current member of the Fox Corporation board of directors, said in his deposition that he had implored Mr. Murdoch and his son Lachlan, the chief executive officer, "that Fox News should not be spreading conspiracy theories." Mr. Ryan suggested instead that the network pivot and "move on from Donald Trump and stop spouting election lies."

There was some discussion at the highest levels of the company about how to make that pivot, Dominion said.

On Jan. 5, 2021, the day before the attack at the Capitol, Mr. Murdoch and Suzanne Scott, the chief executive of Fox News Media, talked about whether Mr. Hannity and his fellow prime-time hosts, Tucker Carlson and Laura Ingraham, should make it clear to viewers that Mr. Biden had won the election. Mr. Murdoch said in his deposition that he had hoped such a statement "would go a long way to stop the Trump myth that the election was stolen."

According to the filing, Ms. Scott said of the hosts, "Privately they are all there," but "we need to be careful about using the shows and pissing off the viewers." No statement of that kind was made on the air.

[…]

The filing on Monday included a deposition by Viet Dinh, Fox Corporation's chief legal officer, who was one of the many senior executive cautioning about the content of Fox's coverage. After Mr. Hannity told his audience on Nov. 5, 2020, that it would be "impossible to ever know the true, fair, accurate election results," Mr. Dinh told a group of senior executives including Lachlan Murdoch and Ms. Scott: "Hannity is getting awfully close to the line with his commentary and guests tonight."

When asked in his deposition if Fox executives had an obligation to stop hosts of shows from broadcasting lies, Mr. Dinh said: "Yes, to prevent and correct known falsehoods."
Further analysis on Dominion's case per CNN, also this evening:
"It's a major blow," renowned First Amendment attorney Floyd Abrams said of Dominion's motion for a summary judgment, adding that the "recent revelations certainly put Fox in a more precarious situation" in defending against the lawsuit on First Amendment grounds.

Rebecca Tushnet, the Frank Stanton Professor of First Amendment Law at Harvard Law School, described Dominion's evidence as a "very strong" filing that "clearly lays out the difference between what Fox was saying publicly and what top people at Fox were privately admitting."

Tushnet said that in her years of practicing and teaching law, she had never seen such damning evidence collected in the pre-trial phase of a defamation suit.

"I don't recall anything comparable to this," Tushnet said. "Donald Trump seems to be very good at generating unprecedented situations."
No shit. Despite all the evidence from so many different areas of illegal shit, T-Rump will most likely skate on everything — he's been doing it for decades now.
Fox News and Murdoch might get the financial cut, however.
Rupert has live-wired himself — but is the audience pissed, or even taken aback? I think not:
Lying for money, what a pisser! Yet here we are once again…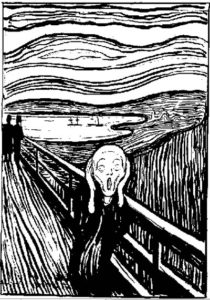 (Illustration out front: Edvard Munch's 'The Scream,' lithograph version, found here.)