Clear, sunny, and well on the warm side this late-afternoon Monday here in California's Central Valley.
Another start to another week of unreal. Today some politics of the sinking, the horrific Republican party, both as nasty racist and crazy gun nuts. There was also 'another' another shooting today in Kentucky, as the bullets kept flying without much care on the GOP side of the street, which is about the only street in town.
However, there are some signs of pushback — the Republican agenda, what of it there is, is way-way unpopular with a shitload, in fact, a decent majority of Americans.
And I bet that big shitload of Americans rejoiced this afternoon.
Despite the obvious hideousness of racists, turn-about is quick (NYT): 'Justin Jones, one of the two Black Democrats expelled from the Tennessee House of the Representatives for leading a gun control protest on the House floor, was sworn back in to his seat on Monday in a swift rebuke to the state's Republican supermajority.'
After being sworn in on the State Capitol steps, Jones raised his fist as he entered the House chamber while supporters chanted, "Welcome home!" — democracy in action:
Good commentary about this moment, too. https://t.co/gkDWv5Zzdh

— Heather Cox Richardson (TDPR) (@HC_Richardson) April 10, 2023
Although that didn't help with that shooting at a bank in Louisville, Kentucky, where a gunman killed four people and wounded nine others before police shot him. He was a 23-year old disgruntled employee, Connor Sturgeon, who was apparently about to be fired. Seemingly there were no warnings or an indication Sturgeon was going to do this.
This bit from the Louisville Courier-Journal late this afternoon: 'Sturgeon had an address in the Camp Taylor neighborhood in southern Louisville. By noon Monday, police had set up roadblocks on either side of the home. Police wouldn't allow anyone onto that part of the street and canvassed the neighborhood asking residents if they had any sort of video of the street. Late in the day, police entered the home and removed bags of evidence.'
'Another' in a long line:
The red line is when Republicans decided not to extend the assault weapons ban in 2005. Source: FT. pic.twitter.com/dRu5IgCZ9L

— Anirvan Ghosh (@anirvanghosh) April 10, 2023
A modern horror angle to that shooting in Louisville today: Rebecca Buchheit-Sims, a manager at the bank, witnessed the shooting on her laptop (per CNN): 'Buchheit-Sims said the shooting unfolded very quickly as she watched the bank's morning meeting virtually. "Shortly after the meeting started, the gunman, which is an employee, started shooting up the conference room," Buchheit-Sims said. "I witnessed people being murdered. I don't know how else to say that.'
Yet here we are once again…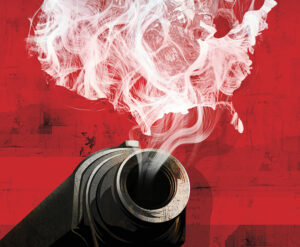 (Illustration out front by Taylor Callery, and found here.)