Warm with faded-yellow sunshine this late afternoon Saturday here in California's Central Valley. Spring has indeed sprung as we're slated to get a bit heated this weekend and into Monday, reportedly with temperatures a few degrees above normal.
This summer's going to be a hot one, I think.
Off a full week of hot news, from T-Rump's court shit, Tennessee racists acting-the-part shit, Clarence Thomas doing 'dearest friends' shit, a Wisconsin freedom win without shit, and all kinds of other shit too sad to mention — supposedly one of the more dramatic weeks in a while — and a fitting end with more shit from a good-old-fashioned military documents leak scandal that's seemingly caught the US-intel folks flat-footed:
"The original source of the leak remains unclear. The Post identified the user that shared the images in February and March who, according to a review of previous social media posts, is based in southern California."
https://t.co/6FCEehaA6E

— Dan Lamothe (@DanLamothe) April 8, 2023
Details from The Washington Post late this afternoon:
On Saturday, as U.S. officials and their foreign allies scrambled to understand how dozens of classified intelligence documents had ended up on the internet, they were stunned — and occasionally infuriated — at the extraordinary range of detail the files exposed about how the United States spies on friends and foes alike.

The documents, which appear to have come at least in part from the Pentagon and are marked as highly classified, offer tactical information about the war in Ukraine, including the country's combat capabilities. According to one defense official, many of the documents seem to have been prepared over the winter for Gen. Mark A. Milley, chairman of the Joint Chiefs of Staff, and other senior military officials, but that they were available to other U.S. personnel and contract employees with the requisite security clearances.

Other documents include analysis from U.S. intelligence agencies about Russia and several other countries, all based on information gleaned from classified sources.

The series of detailed briefings and summaries open a rare window on the inner workings of American espionage. Among other secrets, they appear to reveal where the CIA has recruited human agents privy to the closed-door conversations of world leaders; eavesdropping that shows a Russian mercenary outfit tried to acquire weapons from a NATO ally to use against Ukraine; and what kinds of satellite imagery the United States uses to track Russian forces, including an advanced technology that appears barely, if ever, to have been publicly identified.

Officials in several countries said that they were trying to assess the damage from the disclosures, and many were left wondering how they had gone unnoticed for so long. Photographs of at least several dozen pages of highly classified documents, which looked to have been printed and then folded together into a packet, were shared on Feb. 28 and March 2 on Discord, a chat platform popular with gamers. The documents were shared by a user to a server called "Wow Mao."

Some of the documents appear to be detailed Ukraine battlefield assessments prepared over the winter for senior Pentagon leaders. But officials only became aware that the documents were sitting on a public server around the time that the New York Times first reported the leak, on Thursday, according to people familiar with the matter, who spoke on the condition of anonymity to describe an unfolding investigation.

[…]

The documents also demonstrate what has long been understood but never publicly spelled out this precisely: The U.S. intelligence community has penetrated the Russian military and its commanders so deeply that it can warn Ukraine in advance of attacks and reliably assess the strengths and weaknesses of Russian forces.

A single page in the leaked trove reveals that the U.S. intelligence community knew the Russian Ministry of Defense had transmitted plans to strike Ukrainian troop positions in two locations on a certain date in February and that Russian military planners were preparing strikes on a dozen energy facilities and an equal number of bridges in Ukraine.
And a possible leaker:
The original source of the leak remains unclear. The Post identified the user that shared the images in February and March who, according to a review of previous social media posts, is based in southern California. A Twitter account using the same handle and avatar image as the Discord account wrote on Friday they had "found some info from a now banned server and passed it on."

A man who answered the door at a house registered to the Discord user's father on Friday evening declined to comment. "I'm not talking to anyone," he said, closing the door of the family's home at the edge of a cul-de-sac.

About three miles away, at a townhouse registered to the user's mother, a knock at the door went unanswered. The parents did not respond to calls or messages.

On Wednesday, images showing some of the documents were also circulating on the anonymous online message board 4chan and made their way to at least two mainstream social media platforms, Telegram and Twitter. In at least one case, it appears a slide which initially circulated on Discord was doctored to make it look like fewer Russian soldiers have been killed in the war than the Pentagon assesses.

There was no indication that other documents, including those that dealt with countries besides Ukraine, had been altered.
Pretty heavy-duty. As further noted (NYT): 'One senior U.S. official called the leak "a massive intelligence breach." The F.B.I. started an inquiry on Friday and will try to move swiftly to track down the source of the leak, officials said.'
GMA coverage:
Doc dump or not, once again here we are…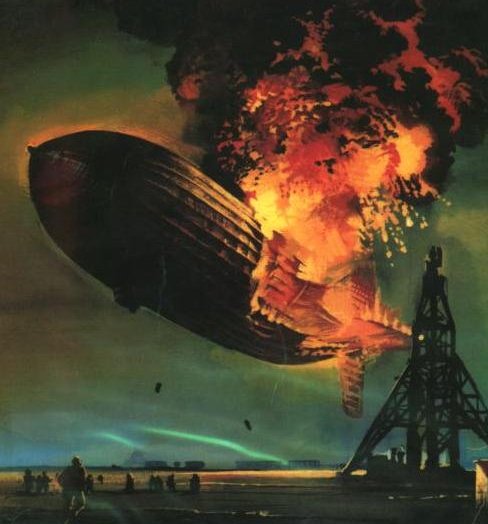 (Illustration out front found here.)