In the shape of our national discourse per the MAGA world, losing an election is impossible, beyond the scope of reality.
Case in point is Judge Janet Protasiewicz's wonderful win yesterday for the Wisconsin Supreme Court, knocking away Dan Kelly — an asshole who epitomizes the entire, complete Republican party:
Donald Trump's party is filled with classless, whiny, crybaby, snowflake, losers. pic.twitter.com/lsrwuxCCw8

— Ron Filipkowski ?? (@RonFilipkowski) April 5, 2023
Details via Common Dreams:
Daniel Kelly, the right-wing former Wisconsin Supreme Court justice who lost his bid to re-join the high court on Tuesday as liberal circuit court judge Janet Protasiewicz won by a decisive margin, refused to concede to his opponent in a speech that one critic said personified the Republican Party's approach to electoral politics in recent years.

"It brings me no joy to say this," Kelly told supporters. "I wish that in a circumstance like this, I would be able to concede to a worthy opponent. But I do not have a worthy opponent to which I can concede."

Kelly acknowledged that he lost the election and said he "respected" the decision made by more than 55% of Wisconsin voters who chose Protasiewicz, a Milwaukee County Circuit judge who was outspoken about her support for abortion rights and labor unions, to join the court, giving Democratic-aligned justices a 4-3 majority.

But he denounced Protasiewicz as a "serial liar" and accused her of disregarding judicial ethics and demeaning the judiciary "with her behavior."

[…]

In the two-and-a-half years since former Republican President Donald Trump urged his supporters to attempt to overturn the 2020 presidential election results and refused to acknowledge his loss, a number of losing GOP candidates have demanded recounts, claimed their elections were "rigged," and spread baseless conspiracy theories about voting irregularities.

"Among the Trumpian core of the Republican Party, this has become mainstream," Rick Hasen, the director of UCLA Law's Safeguarding Democracy Project, told Axios last year. "It's exceedingly dangerous, because a democracy depends on losers' consent."
Two words: No shame.
This was set up. Interesting take on the subject from Martin Edic at Medium from last February — the T-Rump makes it attractive to be shitty, sore losers:
Let's shoot straight with this numbers game. Approximately 28% of voting Americans consider themselves Republicans. Not right-leaning Independents; card-carrying GOP members. Since few of us change parties, it can be assumed they are lifelong members.

And their leadership, at every level, has embraced a new political belief in America, that if you lose the vote it must be corrupt. Yes, we have a nation's worth of sore losers and they are doubling down.

It's easy to trace this new reality back to its origins. Narcissists cannot admit defeat under any circumstances. To do so would bring down their entire psychological house of cards. You cannot be a loser if you are automatically the most important person in the room, in your own mind.

We all know who I am talking about, so I'll just let that pitiful bit of US history go and focus instead on what he has unleashed in our society. In virtually everything in life there are trade offs. Sometimes you come out ahead, sometimes you don't. But we now have a major party claiming to only experience the former.
Yet the kickback from the Protasiewicz situation can have ballot-box implications — maybe Republicans are cruising to be voted shit out of luck:
Americans, according to election polling in the 2022 midterm elections, expressed a strong dissatisfaction with the direction of the country, a dissatisfaction that was bipartisan. It should be noted that the other main concern in that election was the restriction of existing abortion rights by a religious minority and a politicized Supreme Court.

Americans made clear their unhappiness with both of these issues and the Republicans did exactly what we expected, given their de facto leader. They denied us leadership and embraced big lies as policy.

This looks like a critical miscalculation to put it mildly. The preferences of the majority of voters are being systematically ignored and are replaced with magical thinking that says, 'if we want it, we just take it'. And to hell with the country.
And hopefully, they'll be shit-canned at the ballot box by voters.
Just a crowd of losers, without 1990s killer poetry:
Until and as it stands, here we are once again…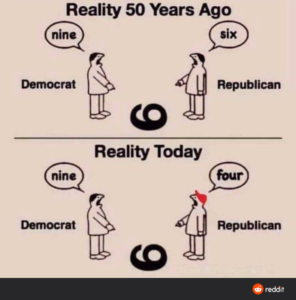 (Illustration out front found here.)