Clear and warm this late-afternoon Monday here in California's Central Valley — another Spring springing quickly into summer storylines.
In a different, anti-normal shocker today, Tucker Carlson was fired from his Fox News perch — this is the way-exact 'news' of the day. and is the lead story on blogs, news sites, and just about anywhere else on the InterWebs. There are all kinds of stories, from direct breaking news types to the reason behind the Rupert Murdoch family getting shit, or not, or just the liability of Tucker on the network's bottom line.
And that wasn't just the only media talking-head ouster story today — Don Lemon was fired from CNN. And it, too, was a pisser.
Gabriel Sherman at Vanity Fair has probably the best insiders look at Tucker's exit:
On Monday morning, Fox News CEO Suzanne Scott called Carlson and informed him he was being taken off the air, and his Fox News email account was shut off. According to a source briefed on the conversation, Carlson was stunned by his sudden ouster from his 8 p.m. show, the most watched program in cable news last month. Carlson was in the midst of negotiating the renewal of his Fox News contract through 2029, the source said. As of last week, Carlson had told people he expected the contract to be renewed.

Carlson has told people he doesn't know why he was terminated. According to the source, Scott refused to tell him how the decision was made; she only said that it was made "from above." Carlson has told people he believes his controversial show is being taken off the air because the Murdoch children intend to sell Fox News at some point.

The network provided few details in a Monday statement: "Fox News Media and Tucker Carlson have agreed to part ways," it read. "We thank him for his service to the network as a host and prior to that as a contributor."

A Fox News spokesperson declined to comment beyond the press release. Carlson declined to comment.

Details are emerging about Carlson's exit. The Los Angeles Times reported that "Carlson's exit is related to the discrimination lawsuit filed by Abby Grossberg," a producer fired last month, and that the decision to fire Carlson came from Fox Corp. chairman Rupert Murdoch. And The Washington Post reported that Carlson's comments about management, revealed in the defamation case brought by Dominion Voting Systems—which Fox settled last week for $787.5 million—"played a role in his departure."
Yet Fox continues without a blink:
It's not like there's anything else in the news today. https://t.co/0NlSjr4sn3

— Hemant Mehta (@hemantmehta) April 25, 2023
Brian Stelter, also at Vanity Fair has a good look at the Tucker shitstorm, including this:
So what doomed Carlson? Here is a theory. The revelations from Dominion's lawsuit against Fox, which the network settled last week for $787.5 million, were embarrassing for many individuals, including Carlson, whose private emotions about Donald Trump (a "destroyer," a "demonic force") and Fox's own journalists were published for all the world to read. Hundreds of pages of emails and text messages from within Fox were published in Dominion's pre-trial legal filings. But there is a huge number of other pages that remain out of public view. The redactions were voluminous. Only three groups of people know what those pages contain: Dominion's lawyers, Fox's top executives, and obviously the people who were sending and receiving the messages. So what was Carlson saying about, say, Fox News Media CEO Suzanne Scott? What was he texting about the Murdochs? We don't know. We may never know. But this theory may explain why Carlson's top producer and textmate, Justin Wells, was also terminated.
If you can, read Stelter's whole piece. He was fired from CNN and has a much different story than Tucker, whose firing seems to Stelter as more of an execution.
Meanwhile, in the Lemon/CNN shitstorm, there was another stunner — via The New York Times:
"CNN and Don have parted ways," Chris Licht, CNN's chairman, said in a statement. "Don will forever be a part of the CNN family, and we thank him for his contributions over the past 17 years. We wish him well and will be cheering him on in his future endeavors."

That benign language contrasted sharply with Mr. Lemon's interpretation of the day's events. In a scathing message on Twitter, he told viewers that his talent agent had abruptly informed him "that I have been terminated by CNN."

"I am stunned," Mr. Lemon wrote. "After 17 years at CNN I would have thought that someone in management would have had the decency to tell me directly. At no time was I ever given any indication that I would not be able to continue to do the work I have loved at the network." (CNN disputed Mr. Lemon's account, saying the anchor "was offered an opportunity to meet with management but instead released a statement on Twitter.")

In a clear sign of acrimony, Mr. Lemon has retained the aggressive Hollywood litigator Bryan Freedman to handle his exit. His contract with CNN runs through 2026, according to two people with direct knowledge of his deal.

Hours before the dueling statements, Mr. Lemon, 57, appeared on air in his usual anchor chair on "CNN This Morning," the show he had hosted since November with Poppy Harlow and Kaitlan Collins. He showed no signs of anxiety and signed off to viewers with a smile and a friendly "Bye, everybody."
Bye.
And closing out this shit, Tucker and his face coach (was he axed, too?):
One less liar, or maybe more, yet here we are once again…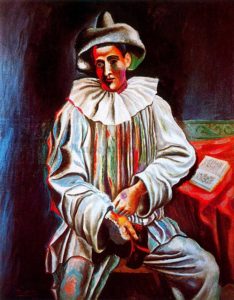 (Illustration out front: Pablo Picasso's 'Seated Pierrot,' found here.)