Overcast in a bit of brown-gray cloud coverage this near-noon Tuesday here in California's Central Valley — cool temperatures, though, it's expected to get hotter as this week progresses.
Beyond the horror of gun violence and the upsetting situation this country finds itself in right now, I sidetracked into the fevered mind of T-Rump people and the increasing aspect of the Orange turd being returned to the White House next year, and shit, does that shake the soul. A mass catastrophe incident for an entire America.
And within the fevered brains of an anti-reality bubble:
Can you fight off hostile invaders and smallpox by sitting on your ass in a mansion eating burgers and whining? pic.twitter.com/lkM9k9QYip

— Ron Filipkowski (@RonFilipkowski) May 9, 2023
Click on the tweet to get the full impression — a historical idiocy.
And as a posture to the possible:
NBC News has obtained a new ad from Liz Cheney's political organization, Great Task PAC, warning voters of the dangers of a second Trump presidency.

"Donald Trump is a risk America can never take again." @NBCNews pic.twitter.com/sI1cw3doCO

— Kyle Griffin (@kylegriffin1) May 9, 2023
Caleb Ecarma at Vanity Fair this morning:
After targeting a pair of Republican election deniers in last year's midterm elections, Liz Cheney, a former Republican congresswoman from Wyoming, has launched a new ad against Donald Trump, whom she has pledged to keep out of the White House. The 60-second spot, which will air on CNN ahead of and during Trump's Wednesday town hall on the network, describes the former president as "unfit for office" and "a risk America can never take again."

The ad—narrated by Cheney and funded by the Great Task, a political action committee she established—relitigates many of the findings made by the House select committee that investigated January 6, on which Cheney served as the Republican vice chair. "He lost the election and he knew it. He betrayed millions of Americans by telling them the election was stolen. He ignored the rulings of dozens of courts," the former lawmaker says in the video. "He mobilized a mob to come to Washington and march on the Capitol." With the ad bouncing between footage of Trump supporters charging the complex and assaulting police officers, Cheney notes that Trump still "celebrates those who attacked our Capitol."

CNN's town hall with Trump will be moderated by anchor Kaitlan Collins and held at a New Hampshire college, where he'll field questions from Republicans and undeclared voters. It will mark Trump's first appearance on CNN—the network he went to war with while in office—in nearly seven years. "They made me a deal I couldn't refuse!!!" Trump wrote on Tuesday. "Could be the beginning of a New & Vibrant CNN, with no more Fake News, or it could turn into a disaster for all, including me. Let's see what happens?"

As for Cheney, she has not ruled out an implausibly long-shot bid in the 2024 GOP presidential primary after losing her reelection fight to a Trump-backed candidate. She spent the midterms campaigning against fellow Republicans, including gubernatorial candidate Kari Lake and secretary of state candidate Mark Finchem, two election deniers who lost their respective races in Arizona. Last year Cheney also campaigned in favor of Representative Elissa Slotkin, a Democrat running in a historically red district who defeated her GOP challenger.

Cheney's opposition to Trump has made her a pariah among Republicans, so much so that Lake and Finchem viewed her attack ads as politically advantageous. "Your commercial should add another 10 points to our lead!" Lake wrote in October. "I guess that's why they call the Cheney anti-endorsement the gift that keeps on giving." However, following Lake's defeat less than a month later, it was Cheney who got the final jab, tweeting, "You're welcome, @KariLake."
Every little bit helps.
Liz joins a large crowd of T-Rump's 'nasty woman' club: from Hillary back in the day, to the current E. Jean Carroll:
Sick shitty, or not, once again here we are…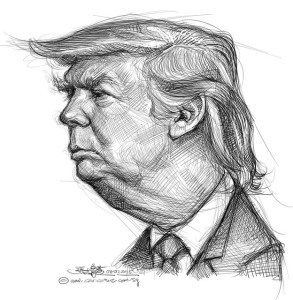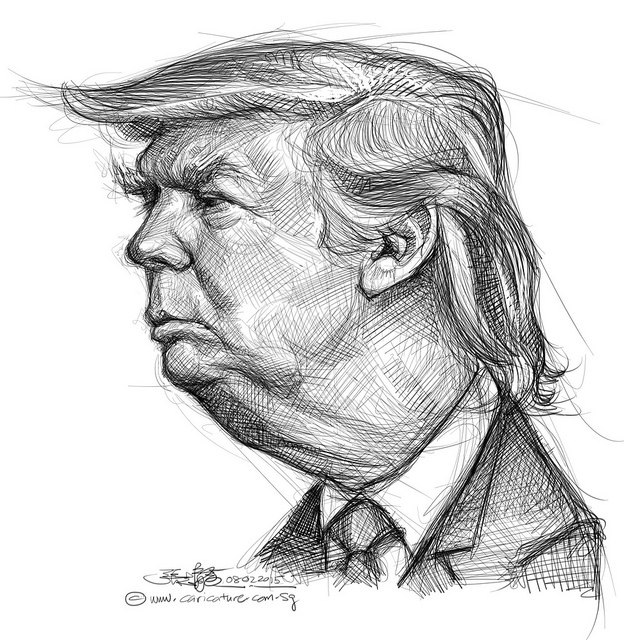 Image out front is my favorite of the T-Rump mugs, though, 'favorite' does not mean in any form or fashion, as in, 'my favorite movie,' or 'my favorite song.' It's more of an anti-appreciation/like.
And aptly titled, 'Basic Shapes,' by caricaturist/illustrator Chong Jit Leong (and found here), it's an image that displays the elemental form of a purloined sociopath — a bloated profile of flatulent bile and arrogant ignorance.