In just a few minutes after I posted earlier today, word flashed across the InterWebs that the jury in E.Jean Carroll's Manhattan rape case against the T-Rump had quickly returned a verdict finding the piece-of-shit had in fact sexually abused and defamed Carroll and awarded her $5 million in damages — the jury deliberated less than three hours.
Although the six men and three women found insufficient evidence of actual rape, the lesser charges were still the first in a too-long list of accusations from more than two dozen women to end successfully in court.
This shit comes just a day before the T-Rump is scheduled to supposedly 'take questions' at a CNN town hall — the event has gathered a new life after today's verdict. T-Rump's legal team claims it will appeal.
Despite the verdict and nasty subject, Republicans high in the self-centered, political sky are mute: 'Many of Mr. Trump's rivals and potential rivals stayed quiet as news of the verdict spread, including Gov. Ron DeSantis of Florida, Senator Tim Scott of South Carolina and former Gov. Nikki Haley of South Carolina.'
In deference to the cruel, and vocally-violent-prone T-Rump and his crazed followers, Judge Lewis Kaplan advised the jury not to go public:
Judge tells jurors that each of them has the ability to talk about their experiences — and publicly identify themselves, if they do so.

But he advises them not to: "Not now, and not for a long time."

The judge DIRECTS them not to identify other jurors.

— Adam Klasfeld (@KlasfeldReports) May 9, 2023
As if by timing, T-Rump responded: '"I HAVE ABSOLUTELY NO IDEA WHO THIS WOMAN IS. THIS VERDICT IS A DISGRACE – A CONTINUATION OF THE GREATEST WITCH HUNT OF ALL TIME!"'
Even beyond the fact a photo was furnished at trial on T-Rump and Carroll in the late 1980s.
The 'witch hunt' motif from the T-Rump is been part of his shit for a long time. He may be afraid of how deep the verdict will reach his nasty-ass base, even blubbering while in Ireland last week he was returning to New York to act the real, passionate asshole: '"I'm going to go back and confront this woman … This woman is a disgrace, and it shouldn't be allowed in this country."'
Of course, he was full of shit.
However, the verdict could be a turnaround event. Christina Cauterucci at Slate late this afternoon concludes the verdict was spot on:
This was a civil trial, not a criminal one, so Trump is not a convicted sexual assailant. But for the first time, a court of law has assessed the credibility of the former president against that of one of his accusers. A jury listened to the testimony of three women who said Trump forced himself on them. A judge allowed the Access Hollywood tape as evidence. The verdict, as obvious as it may seem — how many people believe Trump to be an honest man who disapproves of sexual assault? — was not merely a judgment on Carroll's claim. It was an official statement about his pattern of lies and mistreatment of women, and the imposition of an official consequence. Now, finally, he's being fined $5 million for what he's done.

This verdict will not end Trump's political career, right any of the wrongs of his presidential administration, or land a blow against any of the destructive American impulses that led him to power. It probably won't do much, if anything, to dim his popularity on the right. (It might even boost it.) But it is a heartening victory for a woman who made sure that this one particular powerful man did not get away with this one particular sliver of despicable behavior. In that way, it's a victory for all of us.
Despite the T-Rump's shitty history, the Carroll verdict might, hopefully, crush his political ambitions — per Just Security, also this afternoon:
The unanimous jury verdict that has turned Donald Trump from an alleged sexual assaulter into a proven one may create political shockwaves if recent history is any guide. As numerous empirical studies have shown, the American public has come to view sexual assault as a form of abusing power that can disqualify a perpetrator from holding public office. Trump may suffer significant political damage from this new majoritarian understanding.

In November 2017, 61% of voters – including 56% of men and a nontrivial margin of white men (50-43) and white women (55-37) – said then-President Trump should be impeached and removed from office if he were proven to have engaged in "sexual harassment," according to a Quinnipiac poll. That overall support – the eye popping number of 61% – was higher than any poll tracking public support for impeachment and removal from office for the scandalous conduct in Trump's first and second impeachments (see Five Thirty-Eight's complete collection of surveys for the first and second impeachment). What's more, Quinnipiac asked only about sexual harassment not sexual assault in the case of Trump. The latter, which is also the core crime in the E. Jean Carroll verdict, would have presumably produced even greater levels of support for removal from office.
Go read the whole piece, and although it's noted T-Rump has a horrible base of followers, the long arm of the public's perception of an asshole sexual criminal might flame his shit.
Yet still the result good for T-Rump accuser::
Verdict reality, or not, here we are once again…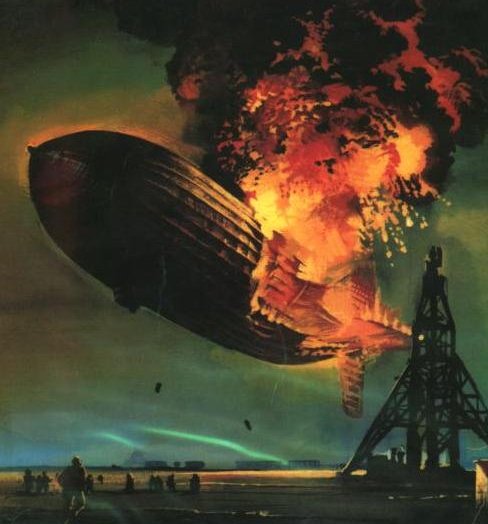 (Illustration out front found here.)